Liverpool manager Jurgen Klopp has opened up about the difficulties of working with striker Daniel Sturridge this season as his injury troubles continue.
The Reds have a full treatment room at the moment with Sadio Mane limping out of the Merseyside derby with a knee injury which could keep him out for the rest of the season.
Adam Lallana is already out, as is captain Jordan Henderson, leaving Klopp with a lack of options further up the field as Sturridge's injury problems continue to disrupt his career.
Sturridge has only made 14 appearances for Liverpool in the Premier League this season and has not featured at all since the 2-0 defeat to Hull on February 4th, due to illness and injuries.
That leaves Divock Origi as the man likely to lead the line against Bournemouth on Wednesday and Klopp bemoaned the lack of time he has had Sturridge available to him in the second half of the season.
"Unfortunately, Daniel has been out for 4 or 5 weeks," said Klopp. "Managing players is always a challenge. My job is difficult. I can't say all the time what players want to hear.
"But it's not more of a challenge with Daniel than with other players. Unfortunately we couldn't use him in this second part of the season as much as we needed.
"But now he's back and everything is good for me. He will be very important.
However, after spending so long out injured, while Sturridge could make the matchday squad to face Bournemouth at Anfield, his match fitness is so poor that he is highly unlikely to start – despite Klopp insisting he looked sharp in training.
"I saw his rehab training and he looked really fresh and sharp.
"On Monday he was team training but it was second day recovery for all the boys and he was part of that.
"He looked good. He's very optimistic about the situation and we will see.
"It's good news for us, it's not just bad news with Sadio being out."
Meanwhile, Klopp also gave updates on Emre Can, who he said had bruises all over his body meaning he was unable to train on Monday, and Joel Matip, who should be fit for Wednesday night.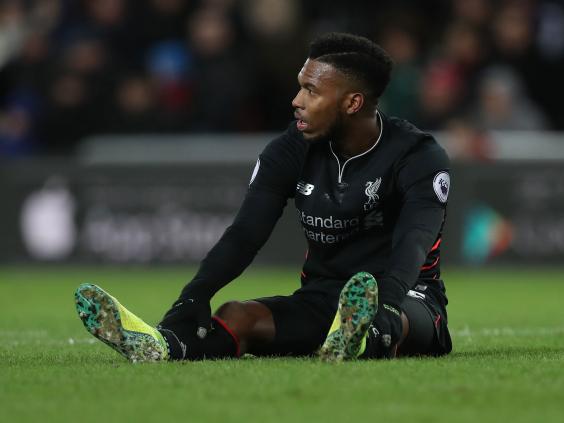 "Emre has a full body bruise," he said. "Everywhere. We left him out yesterday [Monday] because he had back pain, knee pain.
"Nothing serious, thank God, and hopefully he can train today [Tuesday], but really he has knocks everywhere. I hope he will be fit.
"Joel had a little bit of a back problem or two yesterday. He saw the doc before training, so we will see. He should be
Read more at independent.co.uk