One of the most senior civil servants in Government has admitted that Theresa May's new policies will not stop the country's housing crisis from continuing "as it has done for decades".
Melanie Dawes said she was "simply being honest" when she revealed that houses prices are set to stay out of reach of those who cannot offered a property and that homelessness will continue to rise.
The embarrassing admission from the Department for Local Government's Permanent Secretary comes just days after ministers launched a new White Paper promising "radical" policies to ease the crisis.
Political opponents slated the document as "feeble" and claimed it did little more than tweak existing policy, which have led to a situation in which London house process are now ten times the average salary.
Ms Dawes dropped her bombshell admission while she was being grilled by MPs on the CLG select committee about why the Government is not on course to build enough homes
When it was put to her that the housing crisis "will never resolve itself" under current conditions, she replied: "It will continue as it has done for decades, I agree, and that will show itself primarily in affordability and in some places in homelessness.
"I am simply being honest with you. For something on this scale and of this magnitude, we do not have some neat line that tells us when those paths will cross."
She also accepted the Government "can't say exactly at which point" the country will be building enough homes to meet the expected demand of 277,000.
Charities and campaigners say new policy to solve the housing crisis is desperately needed, with average prices across the country almost seven times people's incomes, while the number of homeless households has risen to more than 50,000 a year.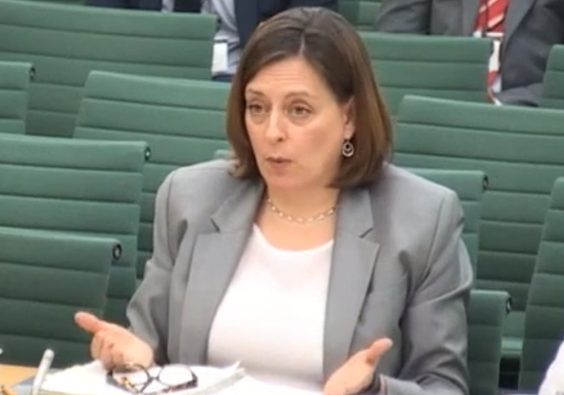 Labour's shadow housing minister John Healey said Ms Dawes' appearance confirmed the Government's policies were not working.
"It's clear that the Government's housing plans have failed, are failing and will continue to fail," he told The Independent.
"Since 2010, home-ownership has fallen, homelessness has more than doubled and affordable house-building fell last year to the lowest level in 24 years.
"After seven years in Government, there's now a huge gap between the rhetoric and record of Tory Ministers on housing. We need less hot air and more homes from Ministers to fix this housing crisis."
A DCLG spokesperson set out the Government's stated ambition is to deliver one million homes, arguing that the number of new home starts is at the highest level since 2007.
He added: "We know there's more to do – that's why we've set out ambitious plans in our Housing White Paper to help fix the housing market and build more houses in the places that people want to live."
The housing white paper required councils to come up with a local plan to meet housing demand in an area – as they had previously been required to do under the last government.
It also gave them more powers to speed up developments and required developers to use land more efficiently in areas near public transport links. It also changed the rules for starter homes and other affordable housing.
At the launch of the paper, Sajid Javid, the communities secretary, said: "The housing market in this country is broken and the solution means building many more houses in the places that people want to live.
"Today we are setting out ambitious proposals to help fix the housing market so that more ordinary working people from across the country can have the security of a decent place to live.
"The only way to halt the decline in affordability and help more people onto the housing ladder is to build more homes. Let's get Britain building."
The Independent recently revealed that a Government plan to extend the controversial Right to Buy policy to tens of thousands of new properties could "jeopardise" future affordable house building.
Read more at independent.co.uk