Golden State Warriors star Stephen Curry has insinuated President Donald Trump is an 'ass' during a sponsor's event in America.
Curry was appearing as a spokesman for American sports retailer Under Armour, who pay him a reported $4m-a-year and give him a stake in the company through to 2024.
However, he clashed with Under Armour CEO Kevin Plank over Trump, after he expressed his support for the President.
In a CNBC interview, Plank said: "To have such a pro-business president is something that is a real asset for the country."
Curry disagreed with this, and in a subsequent interview with The Mercury News he said: "I agree with that description – if you remove the 'et' [from 'asset']."
The basketballer is estimated to be worth around $200m to Under Armour, but admitted he could consider his place with the company if he didn't like the direction they are going in.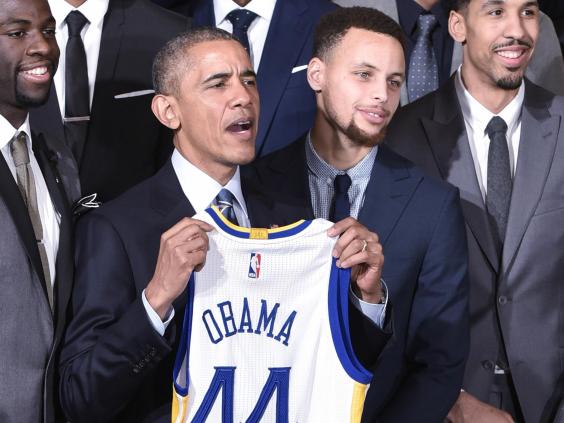 He said it Under Armour working with Trump wouldn't affect his deal and that he was only concerned if the company began adopting Trump's values.
"It's a fine line, but it's about how we're operating, how inclusive we are, what we stand for," Curry said.
"He's the president. There are going to be people that are tied to them. But are we promoting change? Are we doing things that are going to look out for everybody? And not being so self-serving that it's only about making money, selling shoes, doing this and that. That's not the priority. It's about changing lives. I think we can continue to do that."
"If there is a situation where I can look at myself in the mirror and say they don't have my best intentions, they don't have the right attitude about taking care of people.
"If I can say the leadership is not in line with my core values, then there is no amount of money, there is no platform I wouldn't jump off if it wasn't in line with who I am. So that's a decision I will make every single day when I wake up.
"If something is not in line with what I'm about, then, yeah, I definitely need to take a stance in that respect."
Read more at independent.co.uk