Spinning, hissing, arms and legs pistoning: the 12 men are like steam locomotives. Karate master Morio Higaonna is supervising their training session. His attention turns to me. "It's no good just watching," he says. "You have to take part." Higaonna takes one of my hands and interlaces his fingers with mine in what would be, in other contexts, an intimate clasp. There is a pause before, with shocking rapidity, he pulls my fingers up and back. I swear loudly and flap my hand to relieve the pain.
Normally, in Japan, loss of decorum is frowned upon but on this occasion there is laughter. With a mischievous smile, Higaonna apologises for hurting me. I look over at his hands. Decades of karate have distorted them into knuckly clubs. Higaonna is 78 but he doesn't want to stop practising karate. "I am not satisfied," he says. "I have to continue seeking."
Okinawa is an archipelago in southern Japan with tasty cuisine, coral reefs to dive for and more perfect beaches than you can shake a flip-flop at. It is also the historic home of karate. The main karate attraction here is the Karate Kaikan (or complex) that opened earlier this year at an apposite moment: karate is to be included in the Olympics for the first time, at the Tokyo 2020 games. We are in the dojo, or training hall, where visitors watch practice sessions and tournaments.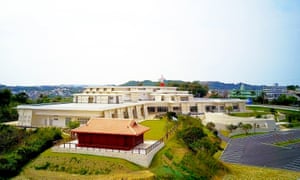 The kaikan is on a hill overlooking Naha city, the Okinawan capital, set amid cherry, palm and pine trees. The building is spare and low slung, made of local cream limestone. Natural light floods the interior, with gleaming pine flooring stretching in all directions.
Nursing my hand, I check out the kaikan's museum, which tells the story of karate. The genesis of this martial art, I learn, is all about synthesis. An indigenous fighting discipline called Ti was combined with Chinese martial arts – as well as kobujutsu (another Okinawan martial art), which adopted simple weapons, sometimes said to be based on farming implements.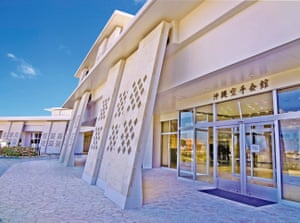 Interactive exhibits are prominent. Karate practitioners strengthened their fingers by clutching the rims of earthenware jars and lifting them. I manage the 4kg and 8kg jars but the 12kg defeats me. Then there is a game to assess the speed of fist strike. A punch that's fast enough can extinguish a digital image of a candle. Mostly, I fail. After confirming my martial limitations, I visit the kaikan's restaurant to console myself with karate soba (about £6.50), a hearty dish of stewed pigs' feet and ribs with noodles.
The kaikan is not Okinawa's only karate attraction. For long periods, the martial art was banned and enthusiasts practised in secret, using secluded beaches, graveyards and caves. The most spectacular of the latter is the Bugei-do cave in Gangala valley (guided tour £15). Wandering down what is actually a series of caves is relaxing enough although, rather than karate, the guided tour emphasises archaeological finds and natural history, notably stalactites, stalagmites, and an enormous banyan tree.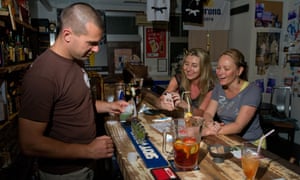 After a hike, refreshment is welcome. A popular hang-out for karate aficionados is the Dojo Bar in Naha City. It is owned and run by James Pankiewicz, an affable expat from Somerset and a black belt. His bar acts as an information centre for visiting enthusiasts, drawn by the island's reputation.
"Okinawa is the most special place in Japan for karate," he says. "There are more than 400 dojos here, and more experience and variety than anywhere else."
Pankiewicz is impressed with the new kaikan. "I love it; it's a great step forward. It will become a focal point for karate." He is pleased the Olympics is to admit karate because the exposure should boost its popularity, though he acknowledges that local practitioners have mixed feelings.
Karate master Tetsuhiro Hokama runs his own private museum (entry £2.30), which has an extensive collection of memorabilia and artefacts, including a formidable display of weapons.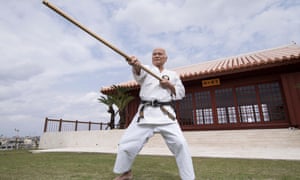 Tetsuhiro has a few reservations about the Olympics. "My heart is divided 50-50," he says. "If you just concentrate on the physical side of karate, that's no good. The mental side is very important. Karate is not really a 'sport' sport."
He is equally clear about the Olympics. "We have traditional karate and we have a sport karate. For the Olympics, sport karate is OK." When we bid each other farewell, in lieu of a handshake I offer him a polite bow.
Read more at theguardian.com