A mass funeral has been held for 24 school children who died when a school bus fell into a gorge in a mountainous region of India on Monday evening.
Tearful relatives placed wreaths on the bodies ahead of the cremation, while some mourners asked: "What wrong have these children done?"
Most of those who died were younger than 10 years old, while the bus driver and two teachers were also killed.
The incident occurred in the northern state of Himachal Pradesh.
Road accidents are common in India, often due to poor driving or badly maintained roads and vehicles.
The reasons behind the accident are not yet clear, according to an official statement.
Monday's accident, which occurred about 325km (200 miles) from the state capital, Shimla, involved a bus transporting some 40 students from Wazir Ram Singh Pathania Memorial school in Nurpur in the country's Kangra district.
Most of the victims came from two villages in the state, with a number of families losing more than one child.
---
'Even the policemen were crying'
Sarabjit Dhaliwal, BBC Punjabi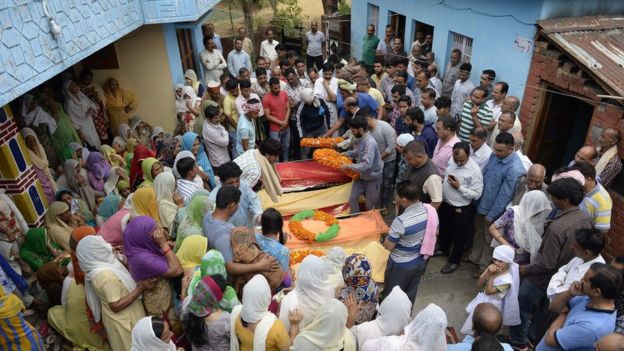 Mourners had come in large numbers – not just from the villages the young victims belonged to, but also from adjoining towns and villages which were all in grieving.
Not a dry eye was evident, with even the policemen who had been deployed for security struggling to keep their composure as the bodies were brought out for the final rites.
The families were understandably inconsolable. Suraksha Devi, who lost four of her grandchildren in the accident, said that all she had left of them were photographs.
"What wrong have these children done?" some villagers asked loudly. Others said that they would never be able to get over the incident, especially as the accident had happened so close to the main entrance of the village.
"It will be a constant reminder of what we have lost," one of them said.
---
Eyewitnesses said the vehicle skidded as it turned a corner and left the mountainous road, India's ANI news agency reported.
Prime Minister Narendra Modi's office tweeted that Mr Modi was "anguished" over the news of the deaths.
"My prayers and solidarity with those who lost their near and dear ones in the accident," he is quoted as saying in the tweet.
Source: bbc.com