Why go now?
Vietnam is one of the fastest growing tourist destinations in the world, with the number of UK arrivals soaring to more than 200,000 this year as Brits took advantage of a new visa waiver programme, launched in January.
To keep the newcomers happy, the Department for Tourism is now offering free walking tours around Hanoi (see below). And while the whirlwind of mopeds is part of the the city's charm, taking a stroll has been made less fraught thanks to newly pedestrianised areas.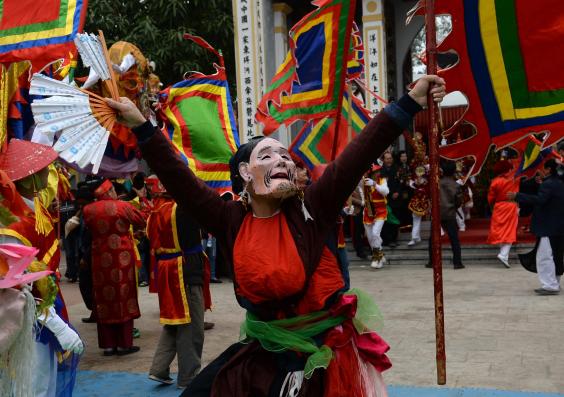 Visit for Tet, the Vietnamese New Year, when you'll find the streets overrun by parties and traditional ceremonies during the seven-day public holiday, which starts 28 January.
Get your bearings
Although the population is over seven million, Hanoi feels modest compared to Vietnam's second city, Ho Chi Minh City. A lot of that has to do with the compactness of the capital's time-worn Old Quarter, where most visitors will start their visit. The district sits in the corner of a right angle formed by the Red River to the east and the West Lake to the north. Most historic landmarks can be found in the Old Quarter, but the up-and-coming neighbourhoods around the West Lake are also worth exploring.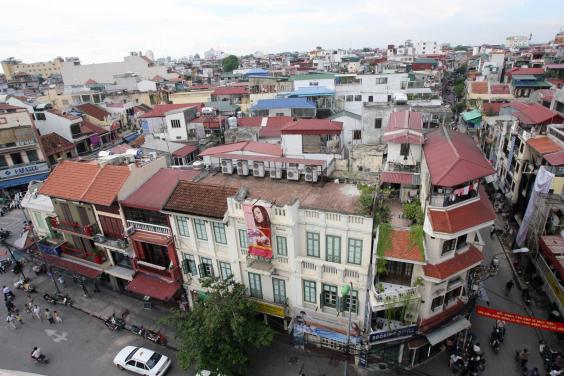 A new tourist information centre (1) recently opened at 28 Hang Dau Street (00 84 941 336677; open daily 8am-6pm). The free tours depart from here several times a day, Wednesday to Sunday, but stop by first to check exact times and to reserve a place if necessary.
Day one
Take a hike
Brace yourself for the whirlwind of the Old Quarter. The constant stream of mopeds can take some getting used to, especially given the lack of pavements. Despite the traffic, it's an enthralling maze of little streets and quaint houses that have stood the test of time – Hanoi celebrated its 1,000th birthday in 2010.
Needle your way through the area until you reach tranquil Hoan Kiem Lake (2), mist-kissed and heaving with trees. Crossing its red-painted wooden bridge brings you to an islet with a temple dedicated to the 14th century military leader Tran Hung Dao (3). An even smaller islet on the other side of the lake hosts the elegant 19th century Turtle Tower (4).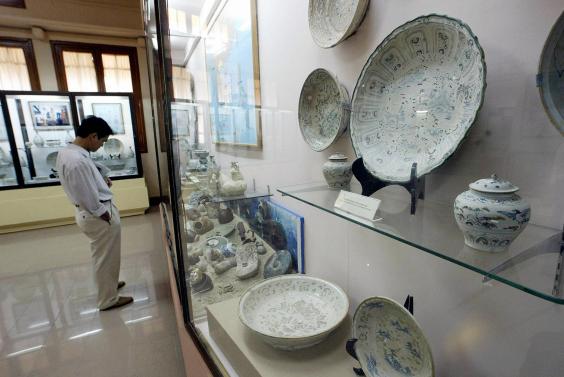 From the lake, stroll a few blocks to the Vietnam National Museum of History (5) (open 8am-5pm daily). Housed in a colonial building that was once the French School of the Far East, the museum exhibits ceramics, statues and tablets dating back to Vietnam's prehistory, as well as from the centuries of Chinese rule and the contemporary struggle against imperialism.
Lunch on the run
Head back towards the Old Quarter, past the 19th century faux-Gothic cathedral (6) for some traditional pastries, or banh. Quan Goc Da (7) at 52 Ly Quoc Su, offers plates of assorted deep-fried banh, including different types of meat-stuffed dumplings, both sweet and savoury doughnut-type cakes, and various spring rolls.
Cultural afternoon
Before the sun goes down, make your way to the Temple of Literature (8). This picturesque site, founded in 1070 to honour Confucius, is dominated by traditional Vietnamese houses, their red-tiled roofs sporting the distinctive upturned corners. There are also grand archways dividing the pretty gardens, as well as tablets dedicated to scholars and writers propped up by giant stone tortoises.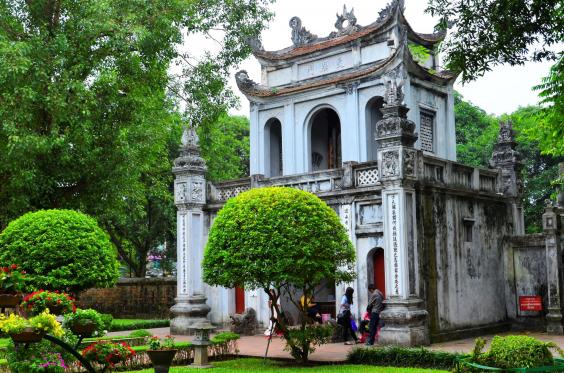 Window shopping
Hanoi is home to an array of antique shops and clothing boutiques. Next to the Temple of Literature, one such is Indigo Store (9), which sells traditional clothes from the Sapa region, one of Vietnam's last preserves of traditional Asian culture. The materials and dyes used are all natural, while the seamers working upstairs are all deaf – a common disability in Vietnam, where the legacy of Agent Orange endures.
Dine with the locals
In the modern Ba Dinh District, north of the Old Quarter, is Hanoi Cooking Centre (10). The chefs there take you on a tour of a food market before showing you how to make local classics like banana leaf salad, spring rolls in rice paper, and clay-pot chicken in a ginger, garlic and fish sauce. You can, of course, eat the fruits of your labour.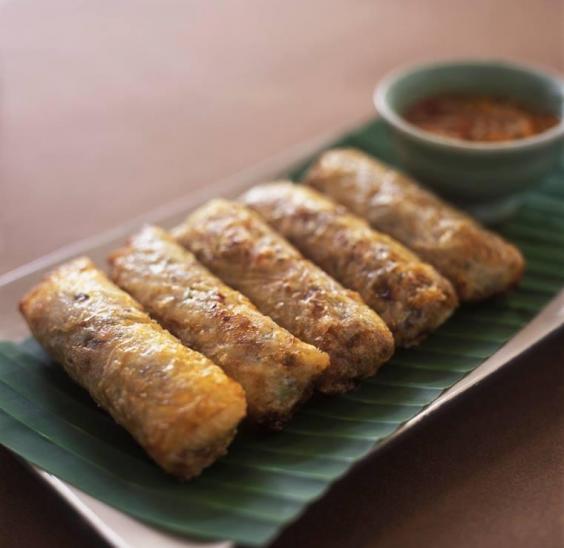 For authentic Vietnamese fare that you don't have to cook yourself, head to Mot Ngay Moi, or A New Day (11) in the Old Quarter. Opened in 1997, it has a traditional wood-panelled setting. Try the bun cha, pork served with rice noodles, broth and salad.
A nightcap
End the evening at Cama Atk (12), a hip bar with an art space and live music.
Day two
Sunday morning: Out to brunch
Any fan of Vietnamese cuisine will recognise pho as its most iconic dish, but few realise that the noodle soup is meant for breakfast. Early in the morning, the chilly Hanoi air is filled with scents of delicious broth served in bowls with rice noodles, slivers of beef, fresh mint, coriander and bean sprouts. Any one of the street stalls in the Old Quarter, all crowded with locals on their way to work, will do the trick. Pho 10 (13) at 10 Ly Quoc Su Street is a winner if you prefer to sit in a restaurant. Finish with a potent Vietnamese coffee with condensed milk.
Take a ride
Join Vietnamese pilgrims getting in line to visit their foremost national hero at Ho Chi Minh Mausoleum (14) (open 8am-11.30am, 2pm-4.30pm, closed Monday and Friday). The quickest – and most thrilling – way to get there from the centre of town is via motorbike taxi for around 40,000 (£1.40), though if you're not alone, it'll be cheaper to take a metered taxi. Rather like Lenin's tomb in Moscow, visitors to the mausoleum walk round in respectful silence to catch a glimpse of the embalmed corpse of the revered leader of Vietnamese independence.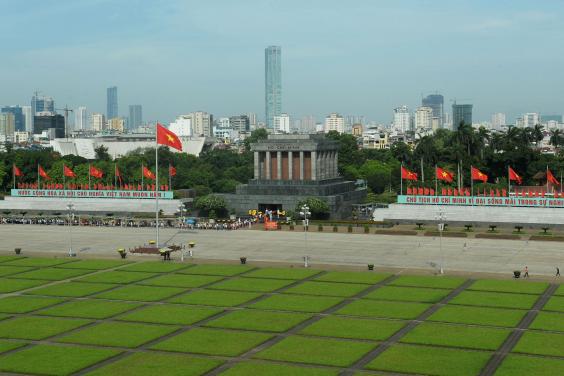 A walk in the park
A short walk north of the mausoleum brings you to the large West Lake, whose banks host a number of temples. Walk down a tree-lined pathway that crosses the lake to see one of the oldest pagodas in Hanoi, the soaring, needle-like Tran Quoc Pagoda (15). You'll see locals praying and taking part in ceremonies, such as plodding in solemn circles around the ancient tree there.
An aperitif
Cross back into the Old Quarter a few blocks to Beer Corner (16)(Bia Hoi Corner) at the intersection of the streets Ta Hien and Luong Ngoc Quyen, where there are several bars selling bia hoi, the cheap local draught beer. Tiny plastic chairs sprawl out into the road, with locals and foreigners making up a lively crowd until late.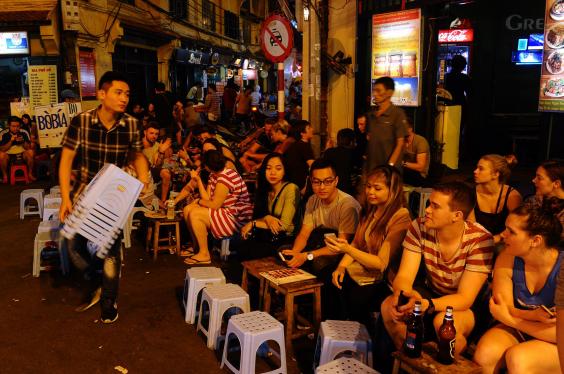 Icing on the cake
For a refined dinner to cap off your stay, try La Badiane (17). Sit in the plant-filled courtyard and choose from the playful menu of Mediterranean-inspired dishes with an Asian twist, concocted by the French chef. The spiced lamb moussaka and fish curry in coconut milk with hints of saffron are guaranteed to please.
Travel essentials
Getting there
Vietnam Airlines flies from Heathrow to Hanoi's Noi Bai International Airport (18). One-stop options are available on airlines including Emirates and Qatar Airways.
A shuttle bus outside departures connects the airport with the Old Quarter for 40,000 VND (£1.40) one way.
Staying there
A pleasant boutique property, Essence Hanoi Hotel (19) manages to block out the din from nearby Beer Corner. It's also great value for money with a fantastic breakfast included. Doubles from $35.
Few are disappointed by the trendy De Syloia (20) and its colonial-style facade. The sleek, stylish rooms start at $100 including breakfast.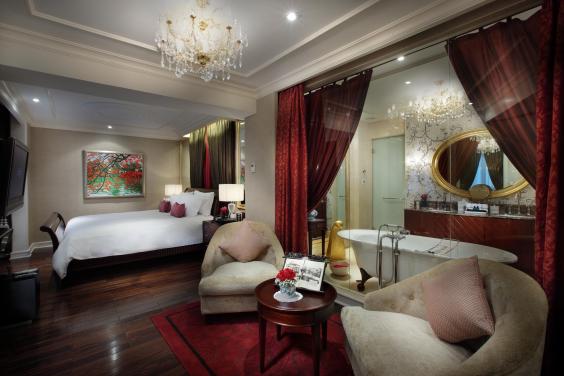 Part of Sofitel's Legend range, the Metropole (21) is just that. Dating back to 1901, the historic property can claim Charlie Chaplin and Jacques Chirac as past guests. Expect the ultimate in Old World grandeur. Doubles start at €286, excluding breakfast.
Read more at independent.co.uk