England manager Gareth Southgate has called on London to "stand firm" and not allow terrorism to scare people into stopping what they do "day-to-day" after the attack on Westminster on Wednesday afternoon.
The Three Lions will be back in the capital on Sunday evening for their World Cup qualifier against Lithuania at Wembley and the Football Association has already confirmed there will be a tribute prior to kick off in remembrance of those who were killed in the attack.
England played Germany hours after the attack in Dortmund on Wednesday night – a game they lost 1-0 – without observing a minute's silence or wearing black armbands as events were still unfolding at home.
However, FA chairman Greg Clarke confirmed they would "be recognising the bravery of the security services and all those involved" before Sunday's World Cup qualifier.
And while the FA are understood to be reviewing their own security procedures after Wednesday's attack, Southgate called on the country to stand together in the face of terrorism.
"Events in London, you probably feel more when you are away, because of your connection back to home," Southgate said as details of the attack were trickling through in the wake of the Germany defeat.
"We are proud of wearing the badge and representing the country at a time like that. As a nation, we talk about our identity, but part of our identity is to step forward in moments like that and not be put off by people, not be put off by terrorism.
"We stand firm in moments like that, London has before, and we won't, as a country, allow people put off what we do day to day, within that our thoughts go to those who have suffered and the families that have suffered."
Given the circumstances and with England looking to make a show of solidarity and strength on Sunday, Southgate was asked whether a London, rather than Wednesday night's captain Gary Cahill, should skipper the team.
Chris Smalling, who was born in Greenwich, would be the leading candidate should Southgate go down that route but he insisted that while it is important for the team to pay their respects, they still have to beat Lithuania.
When asked if a Londoner should be a captain he replied: "I'm not sure. It is important we pay our respects and the fact we are playing at Wembley allows us the opportunity to do that.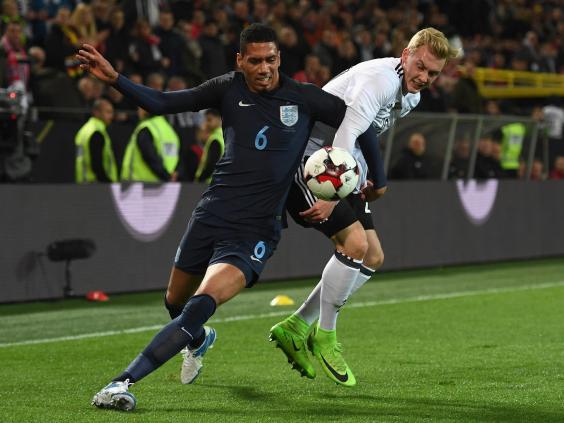 "But the flip side of that I have to make the correct football decision for a qualifier we want to win. I don't know about armbands, but I am imagining so.
England fans were widely criticised for their actions in Dortmund as a mindless, drunken few sang anti-German war songs on the streets hours after the attack on Westminster.
FA chairman Clarke condemned their behaviour on Thursday, calling it "inappropriate, disrespectful and disappointing" and Southgate said England fans needed to remind themselves that they are representing the country as much as the team is when playing away from home.
"The part on our supporters is we have incredible support in terms of numbers and vocal support wherever we travel around the world, but it is also always important that they remember they are representing the country and we'd want them to do that in the right way," he said.
Read more at independent.co.uk