Boris Johnson is to begin a two-day visit to Scotland later, but will not meet the country's first minister for talks.
The prime minister is expected to meet police officers and visit renewable energy projects on Wednesday.
Labour's leader Sir Keir Starmer is also in Scotland for a two-day trip, beginning in Glasgow.
Nicola Sturgeon had invited the PM to her official residence to discuss Covid recovery.
But that will not happen, according to a letter seen by the BBC.
Instead, Mr Johnson has suggested a meeting with other first ministers at a later date.
In a letter to Ms Sturgeon seen by the BBC, Mr Johnson said as he was "keen to arrange an in-person meeting" with her.
He said that, at a previous meeting between them, it was agreed they should set up a "structured forum for ongoing engagement" – and officials had made good progress on this.
"There is much for us to discuss as all parts of the UK work together on our shared priority of recovering from the pandemic," he said.
"The UK government is working closely with the devolved Scottish government on a variety of different issues."
And he added: "I look forward to meeting with you soon and working together in the interests of people in all parts of our country."
Ms Sturgeon tweeted on Monday that she had invited the PM to Bute House. She said the prime minister's trip would be the first chance for the pair to meet in person for a while.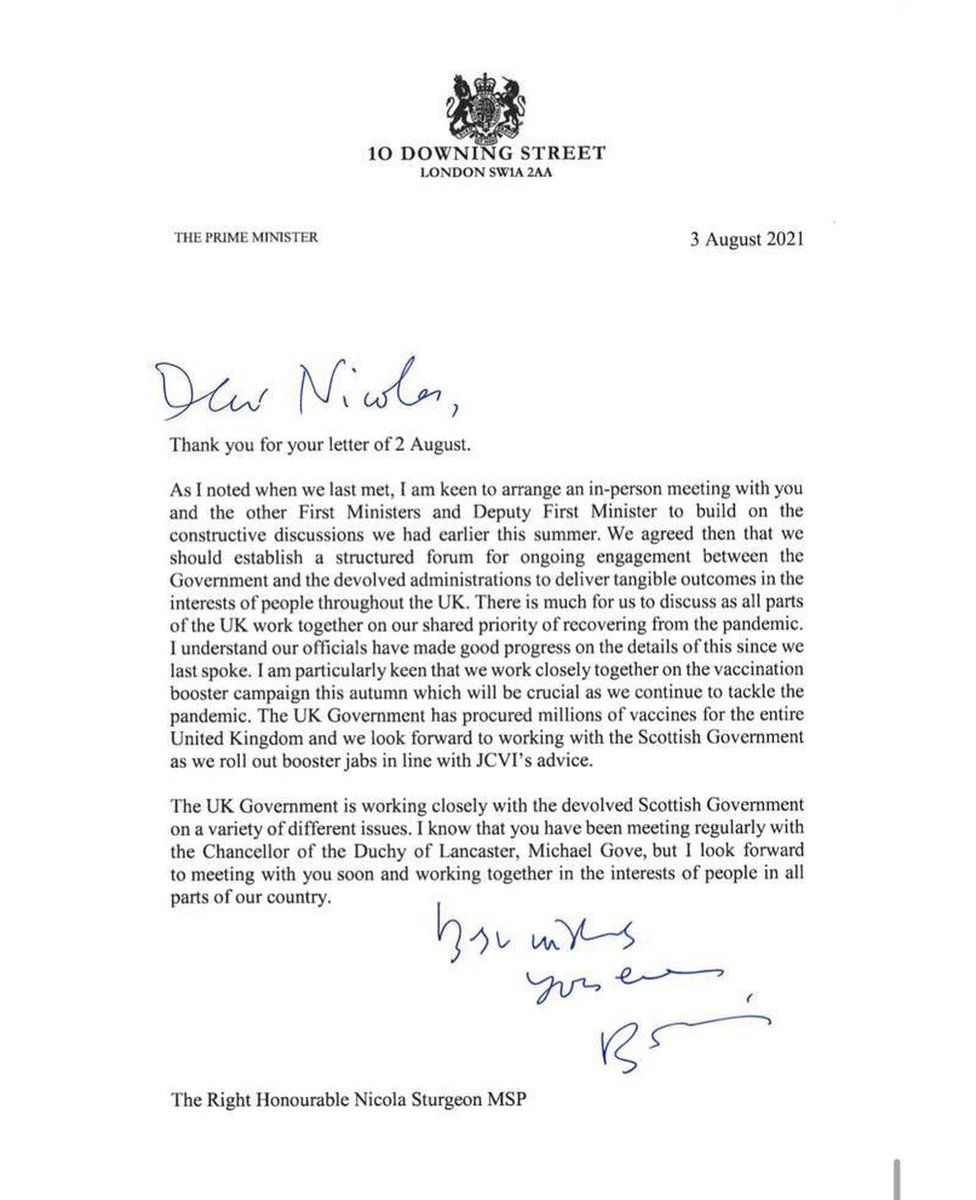 It will be Mr Johnson's first visit since January – and his first since a pro-independence majority was returned at the Holyrood election in May.
There is no prospect of the pair seeing eye-to-eye on another referendum – but Ms Sturgeon had said she wanted to discuss how the governments could work together on "Covid recovery".

They may not be meeting in person, but that doesn't mean Boris Johnson and Nicola Sturgeon can't engage in some political games.
The first minister threw down a gauntlet very publicly when she posted her invitation to Mr Johnson on Twitter.
It was a win-win proposition for Ms Sturgeon, presenting the prime minister with the choice of looking like a visiting dignitary from a foreign power – or a scaredy cat swerving the jeering crowds which turned out for his last visit to Bute House.
Ultimately Mr Johnson has refused to take the bait, preferring to suggest a summit of leaders from around the UK – presumably where he can take the role of magnanimous host.
For all the talk of grown-up dialogue there is plainly no love lost between the pair, who will no doubt trade rhetoric via the media rather than face-to-face.
And with the constitutional question of Scottish independence still looming between them, the political power-plays are likely to continue for the foreseeable future.
Scottish Conservative leader Douglas Ross said Ms Sturgeon had put out her invitation to the prime minister via Twitter, adding: "I'm not sure if he got it before everyone else got it on Twitter".
Mr Ross said: "His response was quite right. Nicola Sturgeon had agreed with the prime minister that governments across the UK would meet together. That is the right approach to take and that was the agreement made recently.
"There's constant dialogue between the Scottish and UK governments."
Downing Street said it was important for the prime minister to be "visible and accessible" during the pandemic.
www.bbc.co.uk