At least five migrants have been shot during a mass brawl between Afghans and Eritreans in the French port city of Calais, local officials say.
A 37-year-old Afghan man is suspected of firing shots at a queue for food handouts. Four Eritreans aged between 16 to 18 are in a critical condition.
Hundreds of migrants have converged on the area in an attempt to cross the Channel to the UK.
A sprawling camp known as the "Jungle" was dismantled near Calais in 2016.
Interior Minister Gérard Collomb said the violence had reached a new level and accused gangs that try to smuggle migrants to the UK of instigating the violence.
This is the worst outbreak of violence between migrants in Calais for months, and the use of firearms is a worrying escalation of the tensions, the BBC's Hugh Schofield in Paris reports.
How did the violence unfold?
The cause is not yet clear but an initial fight on the city's southern outskirts broke out on Thursday afternoon, where migrants had been queuing for food handouts.
Around 100 Eritreans and some 30 Afghans were caught up in the violence, which lasted almost two hours after the shots were fired.
The four critically injured were shot in the neck, chest, abdomen and spine, AFP news agency reported.
A second melee erupted shortly afterwards at an industrial site around 5km (three miles) away, when between 150 and 200 Eritreans armed with iron rods and sticks clashed with about 20 Afghans, the local prefecture said.
Later in the afternoon further violence broke out at a food distribution point in an area of Calais not far from the site of the old "Jungle" camp.
Security forces were sent to the area and there were no reports of incidents during the night.
In total, 22 people were injured, including some with stab wounds, AFP added.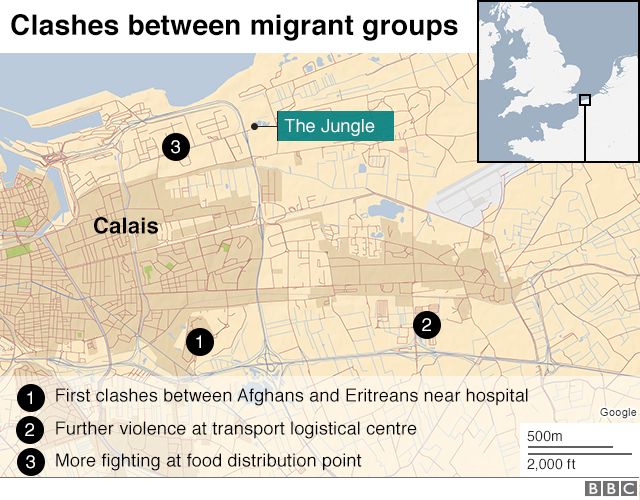 Visiting Calais, Mr Collomb added: "There's been an escalation of violence that has become unbearable for both the people of Calais and the migrants".
The government would take control of food distribution, currently done by charities, with those groups working in association with authorities, he said.
Why are the migrants there?
Though the "Jungle" camp was demolished in 2016, hundreds of migrants are still living rough in the nearby woods, hoping to reach the UK. Many are young men.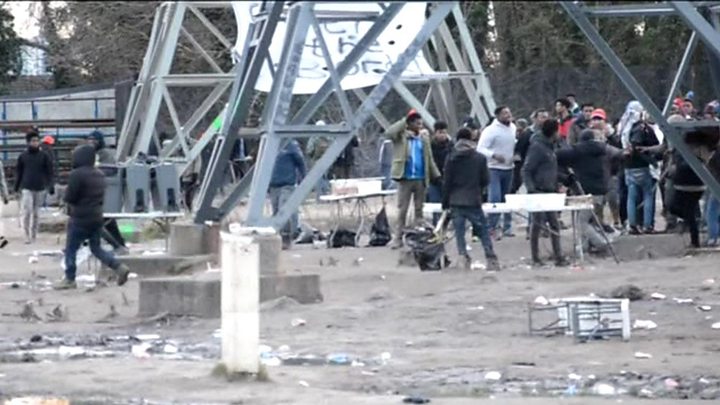 Local charities put the number of such migrants living in Calais at around 800, while the authorities say there are between 550 and 600.
Mr Collomb urged migrants not to head to Calais if they wanted to try to get to the UK, saying their attempts from there – often trying to hide themselves in lorries – would be unsuccessful.
The Calais "Jungle" became the French symbol of the European migrant crisis, and some 7,000 people – most from the Middle East and Africa – were living there before the area was cleared.
Earlier this month, President Emmanuel Macron and UK Prime Minister Theresa May signed a treaty to speed up the processing of migrants in Calais.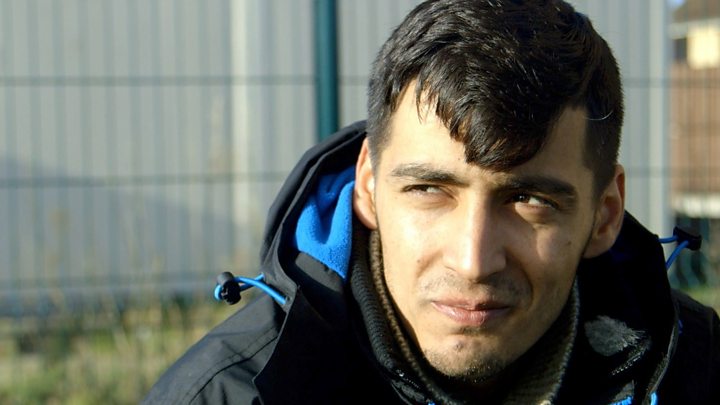 Mr Macron has said that France will not allow a new migrant camp to be set up in Calais, and French police have been accused of brutality by some activists.
He is expected to unveil a new migrant policy next month, which will include speeding up the application process for asylum seekers and faster removal of those who fail to be accepted.
Charities and some of the president's allies have accused the government of taking a hard line on immigration.
Read more at bbc.co.uk