The UK's proposed "backstop" plan for trade with the EU after Brexit has been published after an "expected" end date – of 2021 – was included in it.
It followed crunch meetings between Prime Minister Theresa May and Brexit Secretary David Davis, who insisted a cut-off date be included.
The proposal would see the UK match EU trade tariffs temporarily in order to avoid a hard Irish border post-Brexit.
Brexiteers want to ensure the backstop could not continue indefinitely.
Responding on Twitter, EU chief negotiator Michel Barnier set out the criteria on which he would judge the UK's proposal, including the need for a "workable solution" to avoid a hard border in Northern Ireland.
The European Parliament's Brexit co-ordinator Guy Verhofstadt went further, saying it was "difficult to see" how this could be achieved.
"A backstop that is temporary is not a backstop, unless the definitive arrangement is the same as the backstop," he added.
The UK is due to leave the EU in March 2019, and the government is trying to make progress before a crucial meeting of EU leaders later this month.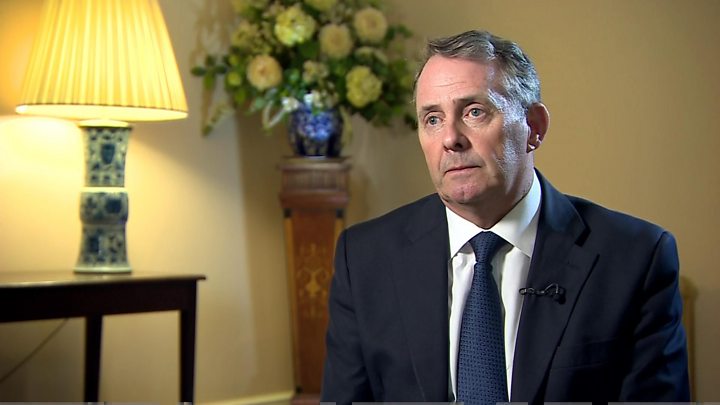 BBC political editor Laura Kuenssberg said Mr Davis had "pushed back very hard" against the proposals on Wednesday and had two meetings with the prime minister on Thursday before a deal was agreed.
After the publication, Mr Davis's chief of staff said there had been a "helpful dialogue" and that the document had now been "clarified and amended".
According to the document – which has yet to be agreed with the EU – the "temporary customs arrangement", if it is needed, would be "time-limited".
A long-term "future customs arrangement" will be in place "by the end of December 2021 at the latest", it says.
Another cabinet Brexiteer Liam Fox, who also met the prime minister on Thursday, told the BBC: "As everybody knows from the referendum, opinions and feelings run high on this issue but we've shown we can reach an agreement civilly and collectively."
Who's the real winner?
David Davis is the victor of the hour, it seems, writes BBC political editor Laura Kuenssberg.
The Brexit secretary threatened to quit the government if the prime minister refused to change her proposal to fix the customs conundrum – after he demanded a time limit on the "backstop", the insurance policy for avoiding a hard Irish border if trade talks break down.
There is a date in the document that is now on its way to Brussels.
Source: www.bbc.com