A body has been found in the search for a pilot who fell out of a military helicopter during an air show in eastern Belgium, Belgian media report.
Police discovered the body close to a valley at Amay near Liège.
Three troops had jumped with parachutes from the Agusta A-109 helicopter, but the pilot did not have a parachute.
Forensic experts have been sent to the site, a wooded area near the town of Huy. Investigators are believed to be examining suicide as a possible motive.
According to reports, the co-pilot helped the three parachutists jump, but then turned to see the pilot's seat empty and his door wide open.
He then grabbed the controls and landed the helicopter safely.
The search for the pilot, who fell several hundred metres in the incident on Sunday, was resumed on Monday after police and troops were forced to abandon their efforts at nightfall.
The reason for the pilot's fall remains a mystery.
The sliding door alongside the pilot seat had been opened and the radio connection between the pilot and other crew members had been cut, Belgium's Nieuwsblad reports.
Police are investigating the incident.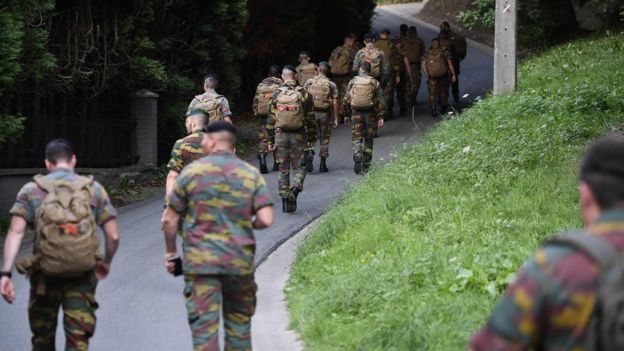 Read more at bbc.co.uk