British Airways passengers are facing a third day of disruption at Heathrow as the airline deals with the impact of a worldwide computer system crash.
BA says it aims to operate a full long-haul schedule and a "high proportion" of short-haul services after the outage caused by a power failure.
So far on Monday, 13 short-haul flights at Heathrow have been cancelled.
Cancellations and delays affected thousands of passengers at both Heathrow and Gatwick on Saturday.
All flights operated from Gatwick on Sunday but more than a third of services from Heathrow – mostly to short-haul destinations – were cancelled.
In a statement, BA said its IT systems were moving "closer to full operational capacity", and chief executive Alex Cruz has posted videos on Twitter apologising for what he called a "horrible time for passengers".
But no-one from the airline has been made available to explain the cause of the system crash, and it has not explained why there was no back-up system in place.
BA added: "At Heathrow, we have operated virtually all our scheduled long-haul flights, though the knock-on effects of Saturday's disruption resulted in a reduced short-haul programme.
"We apologise again to customers for the frustration and inconvenience they are experiencing and thank them for their continued patience."
One of the affected passengers is Ian Sanderson who is stuck in-transit in London after setting off from his home in Luxembourg to travel to Iceland.
He said he was "incandescent with rage" after being unable to rebook his flight, or speak to a member of staff.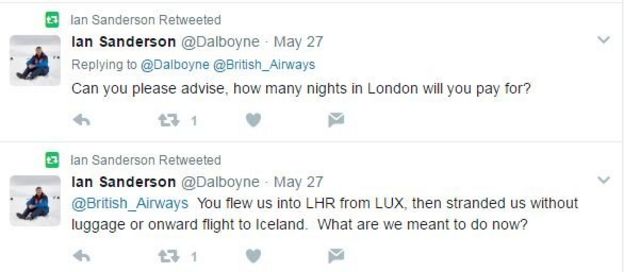 Speaking on Sunday evening, he said: "I've bombarded them with about 100 tweets in the last 24 hours. I know that's annoying but there's nothing else I can do.
"We've tried to call them on the numbers they give and all we've got is the same recorded message which then cuts off at the end."
Former Virgin Airlines spokesman Paul Charles said: "What seems remarkable is there was no back-up system kicking in within a few minutes system failing.
"Businesses of this type need systems backing up all the time, and this is what passengers expect."
Yoga mats
BA is liable to reimburse thousands of passengers for refreshments and hotel expenses, and travel industry commentators have suggested the cost to the company – part of Europe's largest airline group IAG – could run in to tens of millions of pounds.
Customers displaced by flight cancellations can claim up to £200 a day for a room (based on two people sharing), £50 for transport between the hotel and airport, and £25 a day per adult for meals and refreshments.
Consumer expert Franky Brehany said travellers stranded in a "high-value city" like London may be able to claim more and should keep all receipts.
But he added that it might be harder for passengers to claim compensation, as BA may blame "extraordinary circumstances" – "like an act of God or force majeure" – meaning the airline would only have to reimburse hotel and food costs.
On Saturday, travellers spent the night sleeping on terminal floors at Heathrow on yoga mats provided by BA.
The disruption continued into Sunday, with queues building up as passengers tried to rebook flights. Conference rooms at the airport were opened to provide somewhere more comfortable for passengers to rest.
BA said Heathrow was still expected to be congested on Monday and urged travellers not to go to the airport unless they had a confirmed booking for a flight that was operating.
It said passengers could get a full refund or rebook to travel up to the end of November but recommend they use its website.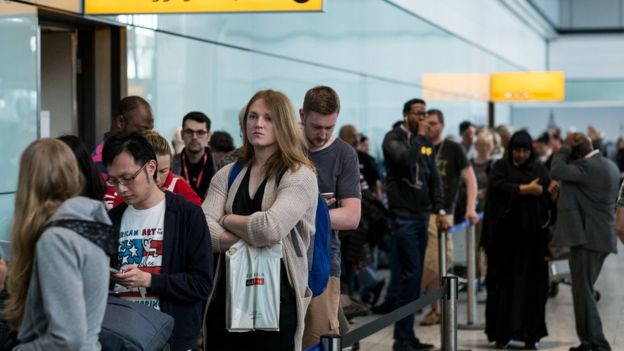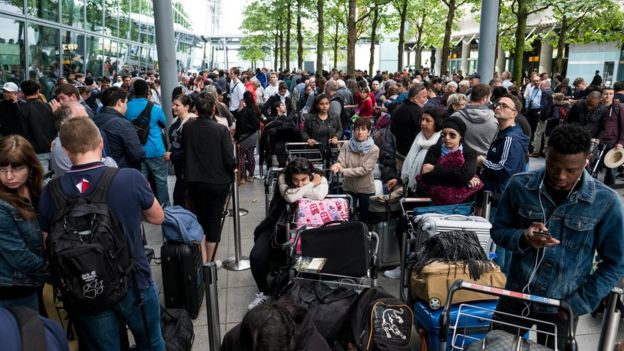 Thousands of bags remain at Heathrow Airport, but BA has advised passengers not to return to collect them, saying they will be couriered to customers.
The airline said there was no evidence the computer failure was the result of a cyber attack. It denied claims by the GMB union that problem could be linked to the company outsourcing its IT work.
Gatwick Airport said it was continuing to advise customers travelling with British Airways to check the status of their flight with the airline before travelling to the airport.
---
EU flight delay rights
If your flight departed from within the European Union or was with a European airline, you might have rights under EU law to claim if the delay or cancellation was within the airline's control.
Short-haul flights: 250 euros for delays of more than three hours
Medium-haul flights: 400 euros for delays of more than three hours
Long-haul flights: 300 euros for delays of between three and four hours; and 600 euros for delays of more than four hours
If your flight's delayed for two or more hours the airline must offer food and drink, access to phone calls and emails, and accommodation if you're delayed overnight – including transfers between the airport and the hotel.
Read more at BBC.co.uk