Manchester United's Ander Herrera has stated that it is his desire to finish above Manchester City and Liverpool this season, because of the emotional significance that would bring to the club's fans.
United sit four points behind City and now just one behind a listing Liverpool in the Premier League table and though the Spaniard said that the title remains an aspiration for Jose Mourinho's side, he acknowledged that finishing above their two prime rivals would be "special."
"I cannot lie," Herrera said. "For our fans it would be special to finish above them, but they are very good teams and I think it will be very tough. We believe in our qualities and we can do it, but we have to respect them as well because they are very good teams. Liverpool are not playing for another competition, so they will be very focused on the league."
Though Herrera has only 16 months to run on his current United contract, he revealed that United are yet to begin contract talks with him. "I have nothing to talk about," said Herrera. "Of course, if they want to talk with me, I will be very happy to do that. But so far, nothing."
Mourinho did not initially include Herrera in his starting XIs at the start of the season, but after impressing hugely when being given his chance in the League Cup at Northampton, the midfielder has become a bulwark of the United midfield and looked like future captain material.
Herrera said the change in his form this season was in part due to Mourinho giving him a more defensive midfield role – akin, the player feels, to the Sergio Busquets role at Barcelona.
"Since the beginning of the season in a few games my role changes, " Herrera said. "He (Mourinho) has helped me a lot to get the knowledge about that role. I am so happy to be a bit more of a defensive player than last season. I can share my energy with the team in that position and I am very happy. He is helping me a lot, but not only me. The team is playing very good."
Herrera said that a top four finish was a fundamental requirement for United but echoed the words of his teammate Zlatan Ibrahimovic in stating that the title remained an objective.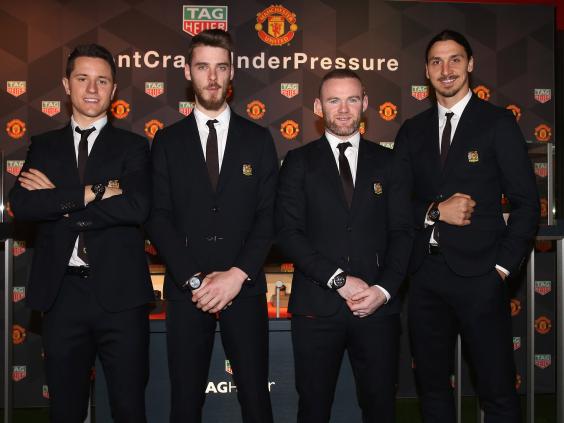 "Of course we have to be in the top four but we also have three titles to play. Last season was not our best season. We finished 5th but we won the FA Cup which is very good. This year we started with the Community Shield which is good for the club. Now it is time to get more trophies for the club. Three competitions to fight for and the Premier League we have to finish in in the top 4…
"We're still alive in three competitions," he said. "When we are on the pitch you can recognise a big team playing. OK, sometimes we don't win but we are always the protagonist team, we are always getting more chances than the opponent. Almost always – I just remember Liverpool away was different, but most games if I am not wrong – we have had more possession than our opponents.
Of course, if they want to talk with me, I will be very happy to do that.
"Normally the best keeper of the opponent has been their best player, so that shows we are a big team. We are playing always attacking football and sooner or later the goals will come."
Ander Herrera was speaking at the unveiling of the TAG Heuer Manchester United Watch Collection. The new TAG Heuer special edition Manchester United watches will be sold at the Manchester United Megastore boutique as well as selected TAG Heuer retailers. The collection is also available online at www.store.manutd.com and www.tagheuer.com
Read more at independent.co.uk