Two French schoolchildren and a Ukrainian tourist have been killed in an avalanche at a ski resort in the French Alps, officials say.
Three others – two pupils and a teacher – were seriously injured. The two pupils were found in state of cardiac arrest and the teacher was unconscious.
All members of the group have now been accounted for by rescue teams.
The avalanche struck the group, their teacher and the Ukrainian on a closed piste in the Les Deux Alpes area.
More than 60 rescuers with dogs assisted by four helicopters went to the scene, the local prefecture said in a statement (in French).
Witnesses told the France Bleu radio station that the avalanche was likely to have been triggered by groups skiing through the area.
French President Francois Hollande offered "sincere condolences" to the victims' families and said "the solidarity of the whole nation" was with them.
France's education minister will visit Lyon on Wednesday evening, Mr Hollande said.
The Bellecombe piste is situated on a particularly icy north-facing side of mountain, the radio station said. It is black-rated – the most difficult level.
The piste had been closed since the beginning of the ski season because of a lack of snow over the holiday period, a manager at Les Deux Alpes told local media.
However, large quantities of snow have fallen on the French Alps in recent days, raising the risk of avalanches.
Four other people – two Lithuanians, a Spaniard and a Czech – have died since the New Year in avalanches in the French Alps, AFP reported.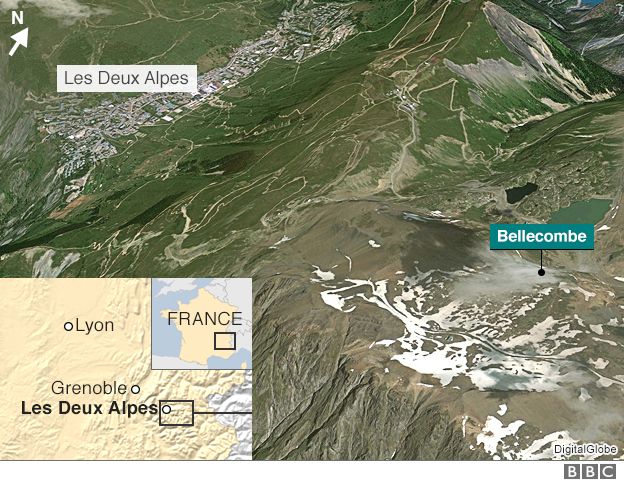 Source: https://www.bbc.com