uring my 14 hours in Manchester, for seven of which I was asleep, four people warned me off walking the 0.9 miles between my hotel and Piccadilly station. It seems the spice-smokers of Piccadilly Gardens have imbued the locals with a weary, unvarnished tilt on tourist info. Manchester's social problems don't affect my tastebuds in the slightest, or my yearning for the culinary scene to flourish in my beloved north-west, so I'd booked to eat at Wood, the new baby of 2015 MasterChef winner Simon Wood. Still, how do exciting, scene-building projects such as Wood or Aiden Byrne's forthcoming 20 Stories, or indeed all Manchester's great newcomers, prosper in this curious landscape? Do all out-of-towners flocking to the wonderful Adam Reid at The French get this same frightening pep talk?
I reassured said Mancs that there's a certain Shaun of the Dead quality outside a lot of fancy restaurants down in London, too. And that I'd made a Radio 4 documentary on the zombification of synthetic cannabis users in Strangeways, and felt confident that, even in mid-heels, I could outrun one. But then I gave up and took a minicab.
First Street – where Wood resides in a purpose-built, pedestrianised space with an arts complex, five cinemas, two theatres and a gallery – is the epitome of safe: CCTV-monitored, neon-lit and wholly sanitised. Its busiest attraction that evening was Kettlebell Kitchen, which preps protein-heavy dinners for the health-vigilant and local weightlifters. I made a mental note to return soon for a vegan superbox and a new husband.
Wood itself, for a cold, pre-payday, pre-tax bill January evening, was also buoyant. It's a large, glass-fronted space with an open kitchen that serves high-end but not off-puttingly pretentious British dishes such as belly pork with sage, pigeon with fig, and venison with parsnip and ginger. Simon Wood also strews his menu cagily with tiny nods to ingredients that make MasterChef critics such as myself coo: tar, romanesco, burnt onion. Prices might be viewed as punchy for Manchester, with mains around the £25 mark and £80 for a shared tomahawk steak, but portions verge on the hearty, especially for this style of cooking. Service is bright and adorable. In fact, Wood seems to have taken flight beautifully.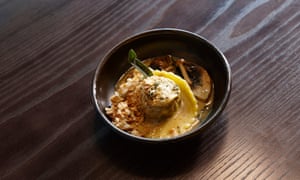 On the night I popped by, a mesmerisingly well-behaved office dinner had taken over about 40 seats, and they ate and drank without so much as a single screeching raised voice, table-hop or singalong. Is it just London wankers who can't book a table of more than six without treating the place like a private dining room?
My guest's starter of huge, plump, beautifully coloured scallops came on a bold pulp of herby gremolata and sardines, was devoured in moments and talked about for weeks. His main of cod with leek, tar, fennel and parsley, on the other hand, was not great: the fillet had no discernible features and came with enough al dente leek to satisfy a donkey. I'm not certain where the tar was, either. Tar strikes me as the sort of thing one eats shortly before watching one of Channel 5's spurious, "not laughing, just looking" health documentaries.
My wild mushroom ravioli starter (singular and vaguely Smurf-shaped), featuring an enormo-raviolo stuffed with porcini, shiitake and oyster, was joyous. It arrived in a stew of assorted fungi that blared with sage and chestnut. My main of cauliflower and romesco with Mrs Kirkham's lancashire cheese looked better than it tasted, but gosh, it was beautiful: a sort of Game of Thrones opening title sequence made of cruciferous veg and wontons. Shame it was lukewarm and oily.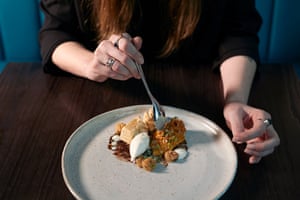 With puddings, you take your chances. The menu description "beurre gelato" gives no warning, but it turned out to be a sugar rush-inducing bunk-up of fresh honeycomb – tons of the stuff – with tiny globes of madeleine-like sponge and a healthy churn of salty-sweet gelato. We picked away at it for a time before admitting defeat. Our other dessert, "milk & cookies", was sort of the same thing, though more meagre and arranged with a thick line of spicy sherbet. Not lovely, but also unforgettable.
There's a lot to love at Wood, and I'll definitely go back. As I sped over the Pennines the next day, I mulled over the whole "Manchester's dining scene" v "Piccadilly spice problem" thing. I want this city to be on the culinary map. And I want things to be better for everyone. Avoiding the city centre helps nobody at all.
• Wood, Jack Rosenthal Street, Manchester M15, 0161-236 5211. Open Tue-Sat, lunch noon-2.15pm, 6-10pm. About £50 a head à la carte; tasting menus £45 (lunch) and £65 (dinner), all plus drinks and service.
Food 7/10
Atmosphere 9/10
Service 10/10
Grace's week in other dishes
1 The almond milk double-shot rose latte at Farm Girl in Notting Hill, west London: I like to feel smug and saintly while getting high as a kite on caffeine.
2 Salt-and-vinegar martini with pickled samphire at Gilly's Fry Bar in Finsbury Park, north London: once drunk, never ever forgotten.
Source: www.theguardian.com