A group of men sit round a table and make one of the most memorable bits of TV I've seen. In a perfect remake of 12 Angry Men, Paul Giamatti, Jeff Goldblum, and Dennis Quaid argue furiously across an episode of Comedy Central's Inside Amy Schumer, their shirts becoming increasingly rumpled. But instead of debating the innocence of a boy accused of murdering his own father, the jurors must decide whether or not comedian Schumer is hot enough to be on TV. "Look, we've all at some point in our lives gotten a semi for a girl with a pillowy stomach or Muppet tits," the Fonda stand-in sweats, attempting to persuade his peers that comedian Schumer, while not hot, is still "bangable". "And that's all the system demands for us to acquit Amy." The room becomes claustrophobic. A man breaks down. This is probably the best, most political comedy sketch to feature duelling dildos that you'll see all year.
There's a scene in Tina Fey's memoir Bossypants where Amy Poehler is practising a new joke on her Saturday Night Live colleagues, and Jimmy Fallon shouts: "Stop that! It's not cute! I don't like it." "I don't fucking care if you like it," Poehler replies, with dark-eyed calm. "With that exchange, a cosmic shift took place," Fey recalls. "Amy made it clear that she wasn't there to be cute." Like the 12 Angry Men – real-life incarnations of whom you can find right now commenting below-the-line – much of Schumer's comedy (the second season of Inside Amy Schumeris out in the UK this summer) is the embodiment of this exchange. Fey cameos in an episode, along with Patricia Arquette and Julia Louis-Dreyfus. Schumer stumbles across them having a picnic – they're performing a Viking funeral to celebrate what the media have decided is Julia's "last fuckable day".
Schumer's genius is in delivering a message as a hilarious joke. She pierces female stereotypes, Hollywood beauty standards, body-image issues and misogyny without ever using the words "female stereotypes, Hollywood beauty standards, body image issues" or "misogyny". But the trouble with becoming a feminist icon, as we've seen with heroes such as Lena Dunham, whose fearlessness became too much for her critics to handle, is that the higher we hold them, the further they fall. In our culture, when we find a feminist star we love, we hype them all the way to an inevitable backlash. Like Lennie and the puppy, we stroke their talent sometimes to death.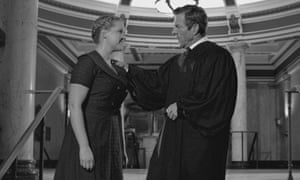 With Dunham, the first wave of backlash came with the note that she hadn't represented women of colour in Girls. The second with reports of the $3.5m fee for her memoir. The third, when her book was released, came with its own natty hashtag – #DropDunham – after a right-wing website published an extract and headlined it "Lena Dunham Describes Sexually Abusing Her Little Sister". Despite child development experts (and her sister) defending her, she cancelled the European leg of her book tour and issued a formal apology. Some of the outrage was warranted, some really, really not, but to every criticism she responded thoughtfully and with elegance. And each time I worried that she wouldn't, that the weight of the outrage would crush her. So as Amy Schumer (with her upcoming Judd Apatow-produced film) goes mainstream I wonder how, how, will the world organise to bring her down? Will Jezebel publish a photocopy of a marriage certificate proving her comedy of casual sex makes a mockery of her single fans? Will she fail to reply to a tweet from Caitlyn Jenner and thus spark a civil war between radical feminists and the trans community? Will Buzzfeed trace the provenance of her human hair extensions or ivory nails?
Why do we demand that our favourite women are not just great artists but perfect role models, too? Part of me wants to scream Amy Schumer quotes in caps lock all day, but the rest of me wants her name firewalled from the UK to prevent another female star from being felled by a single domestic mistake. Or for failing to speak for every woman everywhere. Call this a preemptive strike, a deep sigh heard from space. No outrage this time. Hype needn't lead to humiliation. This time let's just… not.
Source: https://www.theguardian.com