Right off the bat, let's just concede that Top Gear is now our primary national barometer. If it is in crisis, Britain is in crisis. For reasons that may never be fathomed, the motoring show joins the health of Marks & Spencer sales and the porosity of Manchester United's back four as key indicators of Where We Are At as a country.
Maddeningly, some people still haven't got the memo. Interviewing Tony Hall on his programme last Sunday, Andrew Marr completely let the BBC director generaloff the hook, questioning him for what felt like a mere 37 minutes on the matter of Top Gear. Disappointing, Marr: I accept you asked 98.7% of all possible questions relating to the programme in its past and future incarnations, but you had a real opportunity to probe Hall on the precise clauses relating to hot-steak provision in Chris Evans's contract, and you flunked it. Is it true that the DG personally ordered the destruction of all footage of the time James Spader and Rosanna Arquette did Star in a Reasonably Priced Car, believing its depravity capable of destroying the corporation? It would have been nice if he had been asked.
That said, could the current motoring show battle be any sexier? In the south, Jeremy Clarkson marshals his forces to unleash a rival programme, probably viaNetflix, while undermining his successor by claiming a BBC executive offered him his job back in the days before Chris Evans was announced as the new Top Gear host. In the north, Evans retaliates by alluding to "the voices" in Jeremy's head. Then, purring up on the inside in the Compact Pussycat comes Carol Vorderman, who says she was in the hotel bar where Clarkson met the BBC executive and that he told her the job offer story at the time. By Christmas, every British citizen will have had to pick a side – if you can't choose, just do Eeny Meeny Miny Mo – and the country will erupt into cathartic civil war.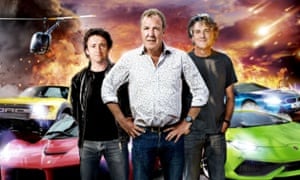 The main thing to realise is that it can only be this way. Like "desert mode" on a Range Rover Vogue, controversy comes as standard, because if you can't use cars to examine the fissures in civil society, then what on earth is the point of cars? My feeling is that the breakaway Clarkson show will consider revisiting the segment in one of last year's Top Gears when Richard Hammond revealed he had painted a confederate flag on the roof of his Toyota Corolla when he was 17. "Twelve Years a Hammond," observed Clarkson, much to the delight of the studio audience. (I have a terrible weakness for the studio audience: where else can you see crowds of blokes gathered round a car, shifting slightly awkwardly from foot to foot and trying not to meet each other's eyes? All right, where else apart from a secluded layby off the A404 of a Saturday night?)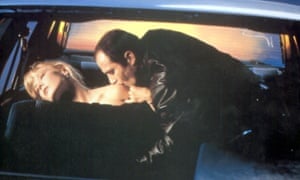 In the end, only the most linear of thinkers could dislike Top Gear, the BBC's hugely courageous attempt to tackle mechanophilia without the vast majority of the audience even realising that this was, in fact, what was happening. When David Cronenberg tried something extremely similar with his brilliant movie Crash, where did it get him? Banned (shamefully) by Westminster council. That, I'm afraid, is what market failure looks like, and it is to the eternal credit of the BBC that it realised the national broadcaster needed to step in and covertly service those given to lurking in motoring forums and typing "I would literally have sex with this car" under pictures of a blacked-out Audi RS5.
Indeed, it is a tribute to the gossamer touch of the show's production team that this surreptitious celebration of the other kind of auto-eroticism was possible for so long. It certainly required extensive misdirection. Biannual race rows, international diplomatic incidents: these were all wildly successful ploys to get the spluttering classes to look the other way while Clarkson & Co took a hot hatch to the dark side.
Clearly, both the Evans and Clarkson vehicles will now be looking for eye-catching initiatives to draw the headlines and ratings. Might Lost in Showbiz respectfully suggest a campaign for the decriminalisation of mechanophilia? Heaven knows how it is still possible in this day and age that those whose only crime is to have had it off with a car are still required to sign the sex offenders' register if they're caught – but it is. In the name of sanity, let one or other of these vehicular warrior programmes use their immense power for good. Let's end the stigma. Let's get this show on the road.
Source: https://www.theguardian.com