The US is to impose tariffs on steel and aluminium imports from allies in Europe and North America.
The US said a 25% tax on steel and 10% tax on aluminium from the EU, Mexico and Canada will start at midnight.
The move immediately triggered vows of retaliation from Mexico and the EU, which called the tariffs "protectionism, pure and simple".
The UK said it was "deeply disappointed" by the US decision, which followed weeks of negotiations.
EU trade commissioner Cecilia Malmstrom said it was a "bad day for world trade", while European Commission president Jean-Claude Juncker said the move was "totally unacceptable.
The EU had "no choice" but to bring a case before the World Trade Organization and impose duties on US imports, he added.
Europe had previously outlined a list of items, including US bourbon, cranberries and jeans as potential targets for retaliation.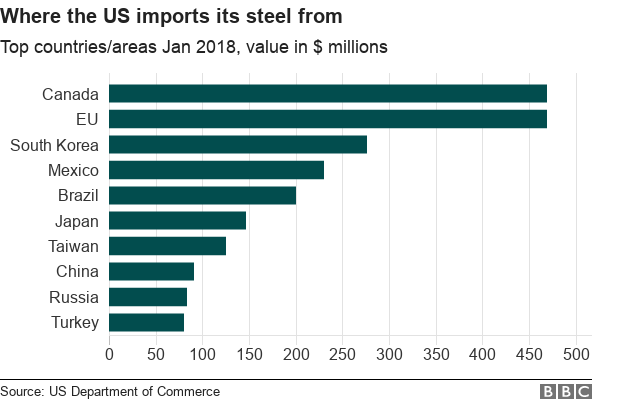 How did this start?
President Trump announced plans for tariffs on foreign steel and aluminium in March, justifying them on national security grounds.
He has argued that global oversupply of steel and aluminium, driven by China, threatens US steel and aluminium producers, which are vital to the US.
Since that announcement, South Korea, Argentina, Australia and Brazil have agreed to put limits on the amount of steel and aluminium they can ship to the US in lieu of tariffs.
The US granted temporary exemptions to the EU, Canada and Mexico amid negotiations over limits. That deadline was due to expire on 1 June, having already been extended by a month.
US Commerce Secretary Wilbur Ross announced the sanctions from Paris, where he had been negotiating with EU leaders who were trying to avert the tariffs.
Mr Ross said talks had not made enough progress to warrant a further reprieve either for Europe or for Canada and Mexico, which are in negotiations with the US over the region's free trade agreement.
Mr Trump has the authority to lift the sanctions or alter them at any time, he added.
"We continue to be quite willing and indeed eager to have discussions with all those parties," Mr Ross said.
How has business reacted?
Ben Digby, of UK business lobby group the CBI, called the tariffs "deeply concerning" but urged the parties to be cautious, given the potential costs of a trade war.
"Now is not the time for any disproportionate escalation, and we urge the EU to consider this when initiating its response," he said.