Britain's key services sector continued to expand at a healthy pace in November, according to a closely watched survey.
The purchasing managers' index, compiled by the Chartered Instituted of Purchasing and Supply, rose for the second consecutive month, from 54.9 in October to 55.9 — the fastest growth since July, and well above the 50 mark that signals expansion in the sector.
With manufacturing and construction growth faltering, the services sector, which includes everything from hairdressers to management consultants, has been a key engine of Britain's economic recovery.
Chris Williamson, chief economist at data provider Markit, which compiles the survey, said the reading suggested the UK "continues to enjoy the 'Goldilocks' scenario of solid growth in the UK economy, with the highest growth of new economic growth, and low inflation"
City analysts said the strong survey reading suggested that GDP growth, which dipped to 0.5% in the third quarter from 0.7% in the spring, may be reversed in the final three months of 2015.
"The improvement in the report on services in November reinforces our view that the economy will reverse its temporary slowdown seen in Q3, offsetting the slowing in the manufacturing and construction sectors," said Ruth Miller, UK economist at Capital Economics.
Stepping back from volatility, both the official index of services and the PMI have shown a gradual weakening in services growth over the past year.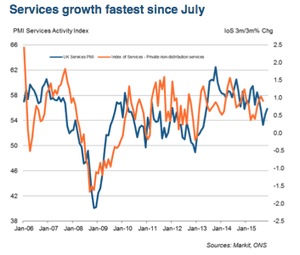 Williamson said combining survey results from different sectors of the economy, GDP growth was expected to bounce back, to 0.6% in the fourth quarter.
Evidence that the slowdown in the third quarter of the year was temporary is likely to strengthen the argument of anti-inflation hawks on the Bank of England's monetary policy, who believe interest rates should rise soon.
Mark Carney, the Bank's governor, has suggested the decision about when to tighten policy is likely to come into "sharper relief", around the turn of the year.
Howard Archer, of IHS Global Insight, said: "the improved November services survey reinforces our belief that the Bank of England is more likely than not to raise interest rates from 0.50% to 0.75% sometime in the first half of 2016, most probably in May."
However, the PMI survey also pointed to weak pricing power among services firms, which suggests there is little inflationary pressure building up.
Source: https://www.theguardian.com