Up to 50in of rainfall expected as storm pours on to a city poorly prepared for inundation, prompting recommendation that residents should take to rooftops
Donald Trump will visit Texas on Tuesday, the White House said as tropical storm Harvey brought intense rainfall that threatened "historic" flooding in Houston, freeways turning into rivers and water rushing into homes in America's fourth-largest city.
As coastal Texas cleaned up from Harvey, which made landfall as a Category 4 hurricane on Friday night before weakening, the storm shifted its attention inland. Amid predictions that as much as 50in of rain could fall, waters rose so high that people were advised to climb to their roofs rather than take refuge in attics, unless they had "an axe or means to break through".
Heavy rains were predicted to linger for several days and the National Weather Service (NWS), issuing a flash flood emergency warning, said "catastrophic flooding in the Houston metropolitan area is expected to worsen and could become historic".
More than 6.5 million people live in the region. Several deaths were reported. Early in the day Harris County sheriff Ed Gonzalez reported on Twitter that a woman and child had died in a submerged vehicle on Interstate 10. The deaths were not confirmed, because the location was unreachable. Texas governor Greg Abbott later told CBS he was "not capable at this time of confirming" the number of fatalities caused by the hurricane.
In an indication of just how high water was rising, officials advised residents to go on to their roofs and call for help if necessary, though 911 services were said to have been at capacity before dawn.
"Have reports of people getting into attic to escape floodwater," Houston police chief Art Acevedo tweeted. "Do not do so unless you have an ax or means to break through onto your roof."
On Sunday afternoon, the evacuation of the city's Ben Taub hospital was delayed as the building was surrounded by waist-deep water. The George R Brown Convention Center was prepared as a shelter, with the first of a planned 1,000 people arriving.
At a press conference, Abbott said 3,000 national guard and state guard troops had been activated, and 500 vehicles and 14 aircraft put into service. There were 250 highway closures around Texas, he said.
Among hundreds of rescues, police evacuated two apartment complexes in the Greenspoint neighbourhood, saving more than 50 children. The US coast guard reported more than 300 requests for search and rescue in the Houston area. Five coast guard helicopters were working and New Orleans was asked to send more.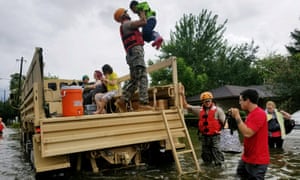 At a press conference, Houston mayor Sylvester Turner said more than 2,000 emergency calls had been received and more shelters, which he called "lily pads", would be opening. Turner defended his decision not to call for an evacuation ahead of the flooding, citing likely traffic gridlock. "If you think the situation right now is bad and you give an order to evacuate," he said, "you are creating a nightmare."
The NWS said the Houston area had received 24.1in of measured rain in 24 hours, sending water levels soaring in the bayous that meander through the core of the city. Some areas were expected to receive as much as 7in of rain in an hour.
Speaking to CBS, Trump homeland security and counterterrorism adviser Tom Bossert said: "We're going to see continued rain, upwards of 30in. I don't think people understand what 30in of rain [is] … I've been around dozens and dozens of major disasters and hurricanes, hundreds of disasters. I've never seen 30in of rain."
Later, NWS meteorologist Patrick Burke said rainfall totals would end up around 40in or more for Houston on average, but some isolated spots would hit or exceed 50in, or more than 4ft. That would exceed all state rainfall records.
Abbott told CNN he had asked Trump to add Harris County, which covers Houston, to the federal disaster declaration signed on Friday, releasing funds.
The president spent the morning tweeting his thoughts from Camp David, from where he took part in a cabinet meeting. "Wow," he wrote. "Now experts are calling #Harvey a once in 500 year flood! We have an all out effort going, and going well!" He would visit Texas, he added, "as soon as that trip can be made without causing disruption. The focus must be life and safety."
Harvey made landfall on the Texas coast on Friday night with 130mph winds, the most powerful hurricane to hit the US since 2004, and wrought destruction on Corpus Christi and the small towns of Rockport and Port Aransas. At least one person died in Rockport and more than 300,000 lost power. The storm weakened to a Category 1, then tropical storm status. But rotating bands of rain began to pummel the Houston area, some 200 miles north-east.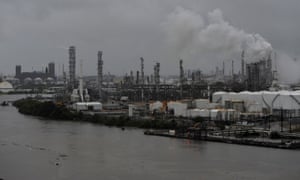 Houston is one of the country's most flood-prone cities, with thousands of homes on floodplains and next to bayous and creeks. The city endured severe storms in 2015 and 2016 that caused loss of life and widespread damage. Harvey's effects are likely to be worse.
The city is also home to large oil industry facilities, dangerously vulnerable to flooding. On Sunday, Exxon Mobil, Petrobras and Shell said they were shutting refineries in the area and Chevron Phillips said it was shutting its Cedar Bayou petrochemical complex.
Bakeyah Nelson, executive director of Air Alliance Houston, said in a statement such shutdowns would release pollutants, and added: "Harvey is also a threat to the air we breathe."
The NWS issued 37 tornado warnings for Houston on Saturday and 35 on Friday and small tornadoes damaged structures. More warnings came early on Sunday but water was clearly the primary threat.
On Sunday, the water outside Sheila Thurau's west Houston townhouse rose sharply, to knee height.
"It's over the pavement," she said by phone. "It's just one sheet of water from a hedge on one side of the road to the other side."
A couple of hours later, the 90-year-old British-born widow was set to be rescued by boat. "There are people swimming down the street," she told her daughter. "I'm fine. I can swim."
From his 13th-floor apartment near downtown, Damien Balais told the Guardian his usual, enviable view of parkland on the banks of the Buffalo Bayou had gone.
"It's basically a lake," he said. A cemetery had flooded. Highways were completely submerged. "Bridges across the bayou are nearly all covered," he said, adding that the flood was "super high", a line of tree-tops poking out above muddy water.
"It's still raining," he added
Read more at theguardian.com