Treves and Hyde, 15-17 Leman Street, London E1 8EN (020 3621 8900). Meal for two, including drinks and service: £90
The last dish to land on my table in 2017 is a ray of sunshine as drawn for a children's book: a triangle of wobbling lemon tart the colour of daffodils or beaches or buttercups. The filling has been infused with basil, and punched up with lime, then sprinkled with sugar and given a glancing burst from a blowtorch. The pastry is crisp top and bottom. Alongside, is a scoop of ricotta and sour cherry ice cream. It is a bunch of simple things done exceedingly well, which describes the whole of my lunch at Treves and Hyde in the City.
It is a fitting end to a year which boasted more reasons to be cheerful at the table than not. Fewer than a fifth of my reviews in 2017 were unrelentingly negative, though it is a mark of just how horrible you all are that one of those managed to get almost as many page views – more than 2m – as half the others put together. I didn't go to Le Cinq in Paris to be controversial. I went for dinner, and to spend a slab of my own money and to write a column about the stupid glories that wealth can buy. It didn't work out like that.
In what must have been a slow news week, the somewhat negative review – I think of it as therapy – made global headlines. The end result: the entire French nation thinks I am a head-banging, Brexit-loving, rich-bashing commie with the palate of a washing machine. The rest of the planet, meanwhile, seemed rather encouraged by it all.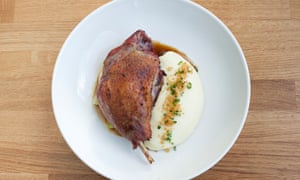 The other negatives are not worth dwelling on: a Test Kitchen that made me feel too much like a lab rat, a steak house from Jamie Oliver that left me moaning about the sommelier, and a Scottish country house hotel whose idea of hospitality extended to slagging me off in the comment section under the review. I didn't enjoy their company when I was there, let alone two weeks later.
Instead, in the words of the great Johnny Mercer, let's accentuate the positive. Skosh in York proved that first-rate food does not require the selling of a kidney or an atmosphere akin to the cremation of a disliked aunt. Chef Neil Bentinck's egg, full of frothy whites and shards of toasted Dale End cheddar with, at the bottom, a mushroom duxelles cooked down in sherry, remains a dish of the year. The contents of that egg changes but it still costs just £3.30.
At the other end of the price continuum, chef Claude Bosi took over Bibendum and made it all shiny and new. His explosive cuttlefish and tripe stew made me moist and hormonal. Meanwhile, the Game Bird opened at the Stafford Hotel and felt like it had been there for ever. There were repeated outbreaks of splendid suet puddings – well, two – both at the Game Bird and at the Cartford Inn, Lancashire. I celebrated by coining the phrase Gravy Moderne to describe robust British cooking built on French classical technique. The Cartford Inn's chef, Chris Bury, is threatening to get a Gravy Moderne tattoo.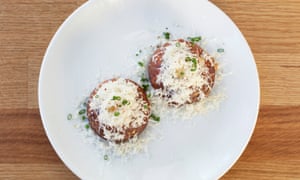 Courtesy of both Wilson's and Box-E – and others reviewed by my former Guardian colleague Marina O'Loughlin – Bristol continued to prove that it is the most interesting place for small independent bistros outside London. I bored almost everybody, including myself, by whingeing about lists exclusively made up of so-called natural wines, at Westerns Laundry, the Other Naughty Piglet and Louie Louie. All three served terrific food at a good price, and then sabotaged the bill via wine pricing. Still, Louie Louie's braised ox cheek on hummus and the Other Naughty Piglet's XO linguine were other dishes of the year.
Small plates proliferated, they would come out in the order that suited the kitchen – honourable mention for Skosh, which didn't do this – and waiters continued taking my order without a notebook. Weirdly, I became almost inured to all of this. Indian street food paired with craft beers made a successful bid for non-kerbside greatness at the Cat's Pyjamas in Leeds and, even more impressively, at the cavernous Bundobust in Manchester. A howl of outrage at a planning application that would have wiped the tiny Da Mariatrattoria in Notting Hill off the map, resulted in the council turning it down.
Treves and Hyde, with which I am finishing this year, occupies a new building that probably breezed through the planning process. It's a hard-edged lump of modern London. Still, if you go at lunch, you might get a good view of the demolition across the road. Pay attention instead to chef George Tannock's deceptively simple food: to warm, airy cheese puffs, covered with grated chestnut as if it were a savoury Mont Blanc. They melt away to nothing on the tongue. Pay attention to a piece of smoked and glazed pork belly with subtle striations of fat, and soft, pliable meat that tastes like the very best bacon; and to slices of seared salmon with sesame, avocado purée and a balanced hit of acidity.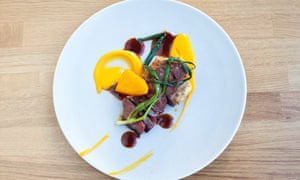 His food is all about the killer detail. Duck confit is soft and crisp-skinned. A duvet of mash is pure comfort. And here, across the top, are fried breadcrumbs to give crunch. Slices of bavette, that grown-up steak for people with all their own teeth, come with suety bacon "pudding" and curls of pumpkin purée. But it's made by their own sweet-sour barbecue sauce. We coo over buttered carrots with goat's curd; over a Little Gem salad with spirals of fennel. A chocolate delice, with segments of orange and an impeccable pistachio ice cream, plays support to that glorious lemon tart.
Pricing is keen for cooking of this quality. Apparently it's the start of a group across the country which makes a slightly depressing kind of sense. Nothing depressing about this kind of food being mirrored elsewhere. It's just that the economics of 2017 make the stand-alone restaurant less viable than ever before. To survive you apparently have to go big. You have to build in economies of scale.
And 2018? Where to start? The deformed, twisted aggression of Brexit has put ingredient costs up by 20% and discouraged vital European staff from staying, let alone coming. Property prices are dysfunctional, and business rates have been violently re-assessed. And, going from the comment section on my reviews, too many people in this country still resent paying a fair whack because they think they could make it at home for a fiver. I'll keep my fingers crossed that, despite all this, Britain's brilliant restaurants manage to endure in 2018. Because, if you can afford it, a good meal cooked by someone else just makes life better. Happy New Year.
Jay's news bites
The restaurant from 2017 to which I'm giving an extra fist bump is Noble in Holywood, just outside Belfast. None of the menu writing will make you swoon. It's just a whole bunch of nice things done exceptionally well, be it grilled langoustine, a classic risotto, or a pear and frangipane tart. Both chef Pearson Morris and general manager Saul McConnell run a brilliant operation (nobleholywood.com).
Figures for the last full month of 2017 show that eating (and drinking) out really has become an ingrained habit. Visa UK's most recent Consumer Spending Index showed that household expenditure was down in November by 0.9%. But spending in restaurants, hotels and bars was up 4.2%.
You've had all your presents, but what can you look forward to food-book wise in 2018? There are new recipes from Michel Roux Jr and a memoir from Prue Leith, but most thrilling of all is a reissue (with new commentary) of Graham Kerr's Galloping Gourmet Cookbook. Be still my aching heart. Yours come 24 April.
Source: www.theguardian.com