While the January transfer window has been underwhelming thus far, you can be sure managers up and down the country will be readying their fountain pens and keeping their mobiles firmly charged as deadline day approaches.
As the Sky Sports News ticker whirrs, Jim White straightens his yellow tie and Harry Redknapp hangs out of a car window, football clubs, agents and players will be frantically trying to push through deals at the last minute.
Last year nearly 15,000 international transfers of professional football players took place across the world – and each one of those moves has a nine-step process that must be followed in order to be sanctioned by Fifa's International Transfer Matching System (ITMS).
The intricacies of how a club must use the ITMS – which is designed to improve transparency in the transfer market – was laid out in Fifa's Global Transfer Market Report 2017, released this week: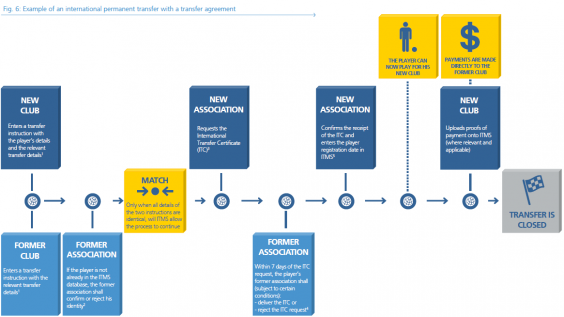 Step 1
The buying club must approach the selling club with details of the player they want to buy/loan and for how much money.
Step 2
One those terms have been agreed, the association representing the selling club (e.g. the FA) must confirm the player's identity in the ITMS.
Step 3
Once that confirmation is in place, Fifa will allow the process to continue.
Step 4
The association representing the buying club requests an International Transfer Certificate (ITC) from the selling club's association.
Step 5
The selling club's association either delivers the ITC or rejects the request.
Step 6
If delivered the buying association must then enter the player's registration date in the ITMS.
Step 7
The player becomes eligible to play for his new club.
Step 8
His new club completes payment to the selling club and uploads receipts to the ITMS.
Step 9
The transfer is complete.
---
With each step in that process a potential stumbling block, it perhaps becomes clearer how, in the dying hours of deadline day, Peter Odemwingie could end up stranded in a west London car park or David De Gea's move to Madrid could be called off all thanks to a dodgy fax machine.
Read more at independnent.co.uk