Much has been written about Margate's transformation from seaside has-been to hip, arty hangout. Even nearby Ramsgate was reckoned to be reinventing itself a few years ago, with a boutique hotel and a fancy chef at its Royal Harbour Brasserie. But Broadstairs, sitting primly between the two, has never gone in for that sort of thing, thank you very much.
Why would it need regenerating when it has cute fishermen's cottages, sandy bays – one within a sheltering harbour arm, another a popular surf spot – more literary connections than you can shake a pen at, quaint pubs and two retro ice-cream parlours?
There have, however, been updates to Broadstairs' old-fashioned charm. A cafe where we used to take our children for fish and chips is now Wyatt & Jones, a restaurant serving dishes such as turbot on the bone with confit fennel potatoes (mains from £17.50). And in Stark, at the other end of the front, chef Ben Crittenden has just 12 covers, a six-course tasting menu for £45, and a long waiting list.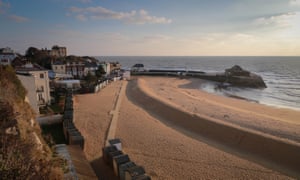 Broadstairs also has some stylish B&Bs and, since 2016, the Yarrow hotel-cum-training facility but its newest opening, the Bay Tree, ups the ante with its warm welcome and enviable position by the white cliffs and golden sand of Stone Bay.
We see how it got its name as soon as we pull into the hotel car park. Shading what will be a pretty patio is a splendid bay tree, stout of trunk and over 10 metres tall. It's supposedly Kent's largest and oldest bay tree, owners Robert Stone and Alistair Dixon tell us once we were inside. The detached red-brick house is also large and old, feeling in some ways like the family home it was built to be in 1896. There's no reception: just an enticing "library bar" – with a bell for attention – and a bay-windowed, sea-view sitting room.
It's all repurposed antiques and pleasing paint shades that reflect the original Minton floor, found under carpet in the hallway. It was a different story when the couple bought the house in 2015. "The decor was pure 1984," says Alistair, "but we'd already fallen in love with it."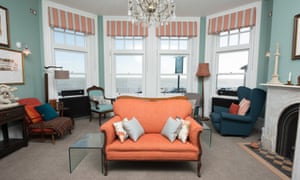 That love was tested over the ensuing years as they ran the business, noting all the flaws and failings, the aluminium windows and in-room washbasins, before closing for a refurb that took much longer than expected. The reopening was this winter with 10 bedrooms: four with sea views, all with Swiss Laufen bathrooms. Our room, though not large, is in shades of red and a grey that, today, matches the expanse of North Sea we admire from the window
A seaside B&B, however sumptuous, is still just that, and Robert and Alistair wanted to make more of the place. So, on a stretch of front with no pubs or cafes, they open the bar and restaurant to all. Indeed, as we chat, three women blow in from the beach to sit round the library fire with glasses of wine. We're tempted to do the same but the town centre is five minutes' walk away, so we take a pre-dinner stroll to Viking Bay, checking out the prom, tiny Palace cinema and discreet amusements. We warm up at The Chapel, a real ale bar that wears its history on its walls: once part of 14th-century St Mary's chapel, it was a bookshop before becoming a pub, and still has shelves crammed with secondhand volumes, and regular live music.
Back at the Bay Tree, we peruse a pleasingly short dinner menu – four starters, four mains. Some things are admirable: warm homemade rosemary bread, and my starter of tempura veg with punchy chilli sauce. I've never tried tempura'd cherry tomato, and it's a juicy flavour bomb. Husband's scallop starter and main of local sea bass are also good, though there's a lot of pea purée around in both. But my roast chicken breast is, well, dull: moist and tender but with no oomph from its madeira jus and lacking the advertised chicken crackling.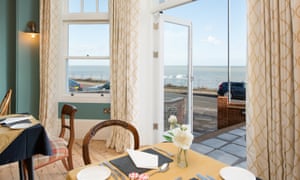 Opening our curtains next morning to the sun coming up over the sea is pure delight, though, as are Alistair's expertly cooked breakfasts of kippers (him) and bacon and egg (me), accompanied by a generous jug of coffee.
Broadstairs may not think it needs regenerating but the Bay Tree's offbeat charm could end up having that effect. It worked on us.
• Accommodation was provided by The Bay Tree (doubles from £99 B&B, 01843 862502, baytreebroadstairs.co.uk)
Ask a local
Kiki Case, editor, Isle Magazine and co-owner, The Ravensgate Arms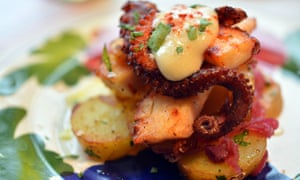 • Eat
For tapas, head to Albarino. It was opened a few years ago by Broadstairs-born Steven Dray, who has cooked at places all over the world, before returning home. If the weather is fine, you can't beat a bacon sarnie or Greek salad by the beach at Louisa Bay Cafe. For an ice-cream, Morelli's on the seafront, serving homemade gelato, is a must.
• Drink
Pubs offering local real ale and dining with gorgeous sea views include the Tartar Frigate, which specialises in seafood, and the Charles Dickens. The area is also home to several micropubs: meet locals at Four Candles, the Yard of Ale or The 39 Steps.
• Do
Walk or cycle the Viking Coastal Trail, which follows the coast to Margate one way, and Ramsgate the other. On a Thursday or Saturday morning from March to September, take the St Peter's Village Tour, a free costumed guided walk.
• Shopping
Broadstairs has interesting boutiques and gift shops, such as Kit, Arrowsmithsand the La De Da boutique. And in Ramsgate, Petticoat Lane Emporium offers under-cover shopping with its 175 stalls of antiques, crafts, curios and vintage clothes.
Read more at theguardian.com