Nato defence ministers will assess the "troubling escalation of Russian military activities" in Syria, the alliance's secretary-general says, ahead of talks in Brussels.
Jens Stoltenberg says he is concerned about Russia's use of cruise missiles as well as air strikes, and that Nato is ready to defend all allies.
Nato member Turkey says Russian jets have violated its airspace recently.
Mr Stoltenberg urged Moscow to stop backing Syrian leader Bashar al-Assad.
Moscow denies Western accusations that it has mainly targeted Assad opponents, insisting its strikes have hit Islamic State (IS) infrastructure, and other militant groups.
IS militants have seized swathes of territory in Syria and Iraq.
A US-led coalition has been carrying out air strikes against IS in both Syria and Iraq for months. But Western countries support rebels who have been fighting to oust Mr Assad since 2011.
---
Analysis: Sarah Rainsford, BBC Moscow correspondent
Russia wants to show that Western policy in Syria has failed and there are other forces to be supported there, primarily President Bashar al-Assad.
The Kremlin's desire appears to be aimed at keeping America on the back foot.
The use of cruise missiles on Wednesday does not change the situation militarily – the same effect could have been achieved by air strikes.
But Mr Putin wants to project his power on the world stage, to show that he is a force to be reckoned with.
---
The Russian air strikes had "weakened" IS, Syrian Army Chief of Staff Gen Ali Abdullah Ayoub said on Thursday, enabling the army to start a "big attack" to retake towns and villages.
Nato ministers are meeting amid a deepening sense of crisis, says BBC defence correspondent Jonathan Marcus.
They are expected to express their solidarity with Turkey as well as to address increased concern among Baltic member states following Russia's involvement in eastern Ukraine.
Nato, Mr Stoltenberg said, "has already responded by increasing our capacity, our ability our preparedness to deploy forces, including to the South, including in Turkey, if needed".
The UK is to station about 100 troops in Estonia, Latvia and Lithuania amid tensions with Moscow. It is also sending 25 soldiers to a training mission in Ukraine.
On Wednesday, Russia said it had launched missile strikes against IS from warships in the Caspian Sea – about 1,500km (930 miles) away.
Russia's foreign ministry also said Moscow was willing to establish contact with the Free Syrian Army – a Western-backed rebel group – to discuss fighting IS "and other terrorist groups".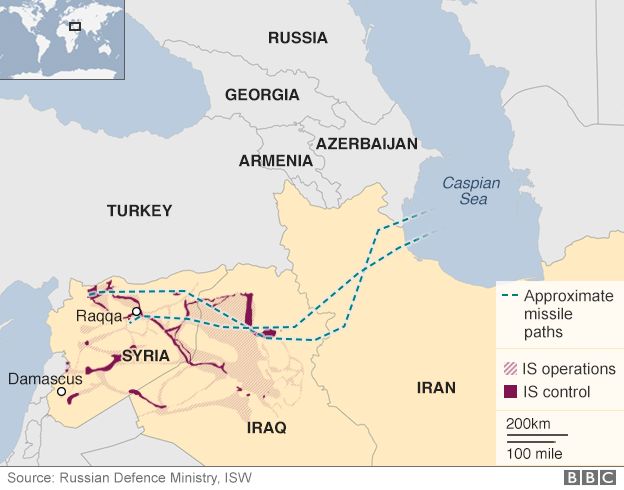 But US Defence Secretary Ash Carter said coalition forces fighting IS in Syria would not co-operate with Russia.
"We believe Russia has the wrong strategy," he said. "They continue to hit targets that are not IS."
Airspace violations
Russia's air campaign in Syria has raised fears of accidental contact between Russian warplanes and those of the US-led coalition which have been targeting IS for the past year.
Pentagon officials revealed they recently had to carry out at least one "safe separation" manoeuvre to avoid a US jet coming too close to a Russian aircraft over Syria.
Turkish President Recep Tayyip Erdogan warned Moscow that it stood to make huge financial losses if Ankara were to stop importing natural gas from Russia and withdraw from a deal for Russia to build Turkey's first nuclear power plant.
"Losing Turkey would entail significant losses for Russia," Mr Erdogan said.
The Syrian civil war began with an uprising against President Assad in 2011 that was brutally put down.
It has since deteriorated into fighting between pro-government forces and various rebel groups – some of which also fight each other.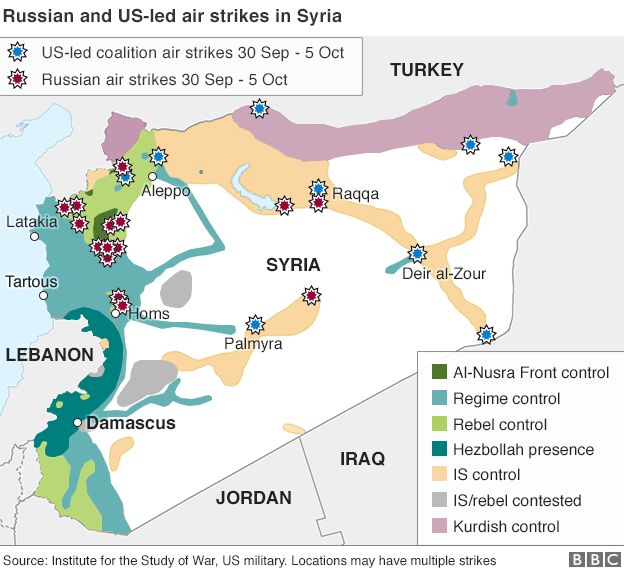 Source: https://www.bbc.com