A US art installation that will let people control a paintballing robot in a mock art gallery has been condemned by the firm that made the robo-dog.
Boston Dynamics criticised the project, calling it a "provocative use" of its quadruped robot, Spot.
It warned that it the "spectacle" goes ahead, Spot's warranty might be voided, meaning it could not be updated.
The group behind it, MSCHF, argues that Spot or robots like it will probably be used for military applications.
The group is known for creating viral stunts, stories and products.
The project, entitled Spot's Rampage, is due to start at 13:00 EST (18:00 GMT) on Wednesday, and will let people "remotely control a Spot robot" via a website.
Every two minutes, the controls will be passed to a new person, chosen randomly.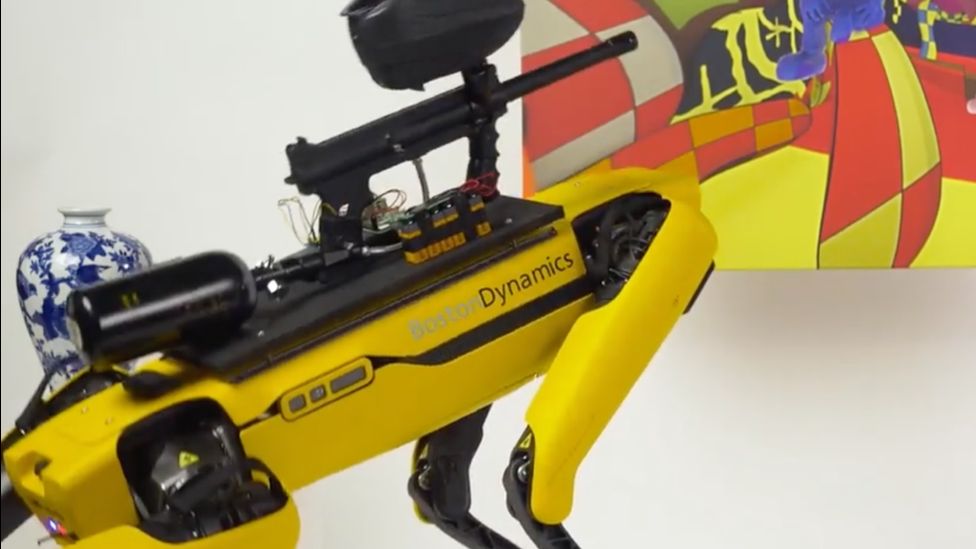 The website shows a video clip of Spot wandering around an art gallery with a paintballing gun on its back. It details the robot's specs, including its $74,500 (£55,000) price tag and describes it as a "war dog".
In its FAQ, the group writes: "We talked to Boston Dynamics and they hated this idea. They said they would give us another two Spots for free if we took the gun off. That just made us want to do this even more."
While Boston Dynamics' original research was funded by the military, it has been keen to distance itself from that image as it starts to offer its sophisticated robot creations for sale.
In recent videos from the firm, Spot is shown doing far more benign tasks such as gardening, cleaning and skipping.
In the last year, the firm has sold 400 Spot robots, which are being used in a range of industries including construction, mining and nuclear power, as well as on oil rigs.
Spot's contract states that it must be used "in compliance with the law, and cannot be used to harm or intimidate people or animals".
www.bbc.com