Recent evidence, at least, would seem to suggest that space camp – that all-American rite of passage for generations of young math wizards, science geeks and wannabe astronauts – ought to have disappeared into a black hole by now.
Nasa doesn't launch humans into orbit any more, the US government's investment in its own space agency is as low as it has ever been, and the last rocket sent from Cape Canaveral with supplies for the international space station exploded into a fireball last month just seconds after liftoff.
On the face of it, there doesn't seem to be much for the next wave of explorers and adventurers to get excited about.
Yet for the thousand or so children who will attend the space camp at the Kennedy Space Center in Florida this summer, and the many more who will enjoy a similar experience at the US Space and Rocket Center in Huntsville, Alabama, their dream burns as brightly as a supernova in a nearby galaxy.
Despite what many industry analysts and even former astronauts acknowledge is currently a low point in America's storied space history, Nasa has big plans for the future. And the camp children, who are more inspired by the stunning first closeup images of Pluto and the discovery of a distant "cousin" planet to Earth than they are by political wrangles in Congress over the space agency's budget, are keen to be part of them.
"I want to see Mars; I don't want to hear somebody else's description of it," said 11-year-old Haley Smith, whose goal is to be among the first crew of humans to set foot on the red planet.
"I'm going to be a computer engineer, helping to launch rockets to go deeper into space," said Colin Cox, who with his 11-year-old twin brother Cameron is enthralled by the Florida camp they are attending on the recommendation of a classmate who went last year.
"Our future is in space. This stuff never gets old," said Michael Hancock, 13, who hopes his passion for biomechanical engineering and software development earns him a career in the industry when he leaves school.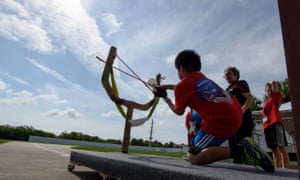 To Kerri Lubeski, chief educator of Camp KSC, it is not enough just to give the children a cool experience during their summer holidays. It's about allowing their natural curiosity to run its course, inspiring them to reach their potential in whatever area they wish to pursue and in many cases sowing the seeds that might eventually lead them into space.
From constructing and launching model rockets made of paper tubes and PVC pipes, to experiencing the pull of a microgravity simulator, to planning and executing a mission aboard a full-size space shuttle mock-up, each activity is carefully planned to challenge the children and bring to the surface the team-building and problem-solving skills essential to every role in the fields of science, space and engineering.
"The kids coming here, their dream is very much alive, whether it's something of who they are or something that their family and school has helped bring out in them," Lubeski said.
"They very much believe they can be the next person in that spacecraft. We might not right now be launching people, but by the time they've finished school we'll be there; we're going to be doing that again. It's happening."
Lubeski said it's important to keep the programme current as American operations in space shift towards the private sector. Commercial contractors such as SpaceX and Boeing have taken over the responsibility of ferrying astronauts and supplies to the space station, with the first manned flight scheduled for 2017, while Nasa concentrates on the development of the Space Launch System.
The SLS, which will give Nasa its first deep-space capability in four decades, will be the largest rocket ever built, with the longer-term aim of taking humans to Mars by the 2030s. Its first unmanned test flight is set for no later than November 2018.
"We try to focus on what Nasa's doing, the theme of going to Mars, the New Horizons with Pluto, giving an idea of the past, the present and the future," Lubeski said.
"In terms of what's happening now, we have a slingshot activity where the kids design a capsule that can go beyond earth's orbit. It's just keeping up with what's current, keeping it fresh. Then there's the things that are cool no matter what – building and launching rockets. It's timeless. Everybody loves that."
Of last week's class of about 170 young adventurers, aged seven to 16 and split into smaller groups by grade level, more than half were girls, an encouraging sign for the scientific community, which has traditionally been male-dominated.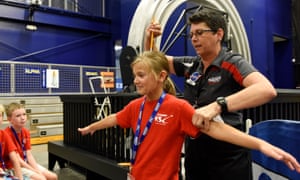 And many campers, such as cousins Jaiden Bomar, nine, and Jackie Marks, 10, from south Florida, and 11-year-old Tattiana Selbach from Cumming, Georgia, had been driven long distances by parents keen to give their children an experience of their nation's rich space-faring history.
Selbach was impressed with the space shuttle Atlantis, which carried the last astronauts into the heavens from US soil more than four years ago and is now a museum piece at the KSC visitor centre.
But to her, the orbiter, the most complex spaceship ever built and a mainstay of Nasa's three-decades long shuttle programme – which built the international space station, among other extraordinary achievements – is merely a relic.
"The future is on Mars, and I want to be the first person on the spaceship to go there," she said. "I'm really into space and exploring and it's something I can't wait to be doing."
Retired Nasa astronaut Fred Gregory, a veteran of three shuttle missions who was also the agency's deputy administrator a decade ago, sees "a bright future" for the US in space. He handed out graduation certificates to the most recent campers on Friday and was encouraged by what he saw.
"We've become risk-averse, very conservative [in space]," he said. "What we need is a new group of people out there who are not burdened and shackled with this tradition and with this legacy.
"It is clear to me that kids today are much more informed than their parents. When I was a kid, we didn't have astronauts. We had Buck Rogers, but it wasn't reality – it was science fiction for us. Now we're looking at Mars, Pluto, the Kuiper Belt … This isn't science fiction for these kids; it's just another step down the road. They know that this will eventually happen, people will be on Mars, and then it's: 'Where do we go next?' That's what I really like about this."
Space camp, he believes, can have a significant influence on young people's dreams. He said his own three grandchildren pursued careers in the military that they hadn't considered before they attended the camp.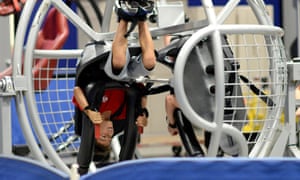 "When I was young, my parents realised that you learn so much in school, but those summer journeys, those explorations and adventures you take, are just as important, and perhaps even more important than what you learn in school," he said.
"Each generation has more knowledge than the older generations, and that is fantastic. It means that intellectually we as a people are becoming smarter and smarter and gaining even greater wisdom."
For Lubeski and her team of about 20 teachers and camp staff, a successful summer will see the children returning to their schools with their thirst for knowledge invigorated by the experiences of space camp.
Among them, she hopes, might just be that one individual who one day gets to take their passion for space and learning into the first capsule launched towards the red planet.
"We tell our kids: if you reach Mars, make sure you look out of the window and wave down hi to us," she said. "Let us know you made it."
Source: https://www.theguardian.com