Southern rail passengers are facing a second day of strike travel chaos amid hopes of a resolution to the dispute over who should operate train doors.
Talks will be held between the rail firm and the RMT and Aslef unions later at the conciliation service, Acas.
The rail company said no Southern trains would operate on Wednesday and advised passengers not to travel.
London Mayor Sadiq Khan said the government should stop "playing party politics" and "get a grip".
On Tuesday, the government said it may consider banning strikes on the railways.
A limited Gatwick Express shuttle service to and from London Victoria is operating every 30 minutes and Thameslink is operating a normal timetable.
The 48-hour strike by members of the drivers' union Aslef over the introduction of driver-only trains is due to end at midnight.
Southern strikes: Latest live updates
Southern was forced to cancel more than 2,200 services on Tuesday, disrupting hundreds of thousands of passengers.
A further 24-hour strike is planned for Friday.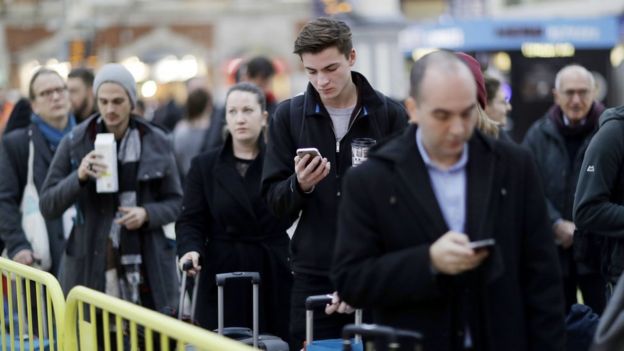 Southern's parent company, Govia Thameslink Railway, has advised customers not to travel on the dates affected by the drivers' strike, and to expect disruption every day until further notice because of an overtime ban.
The RMT union, which has been staging separate strikes since April over changes to the role of conductors, is also planning further stoppages either side of Christmas.
'Anger and frustration'
On Tuesday transport secretary Chris Grayling dubbed the action a "deliberate act of militancy" and claimed Aslef had warned him to expect "10 years of industrial action" at a meeting in September.
He further accused unions of "deliberately trying to bring [the railway] to its knees" and dismissed claims the strike was about commuter safety as "palpable nonsense".
Mr Khan said Mr Grayling was "playing party politics with commuters".
"I share the anger and frustration of commuters. My message to the trade unions is get back round the table and sort this out through Acas," the London Mayor said.
"My message to the government is 'get your head out of the sand, get a grip and let's sort this out'.
"Govia has been taking the government and passengers for a ride now for years."
"It can't be beyond the wit of the government to get their head out of the sand and get a grip."
The politics behind the Southern rail dispute
What's the Southern Rail strike about?
How bad have Southern rail services got?
---
Southern planned rail strike dates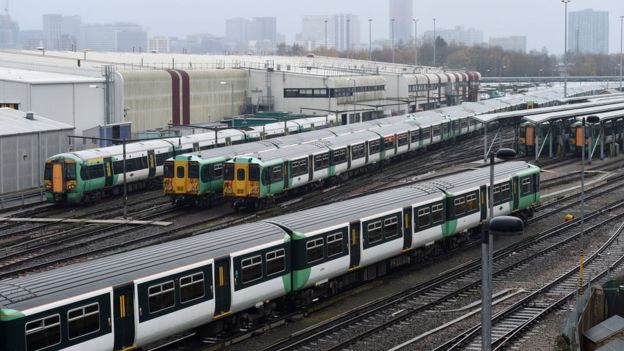 00:01 Tuesday 13 December to 23:59 Wednesday 14 December (Aslef)
00:01 Friday 16 December to 23:59: Friday 16 December (Aslef)
00:01 Monday 19 December to 23:59 Tuesday 20 December (RMT)
00:01 Saturday 31 December to 23:59 Monday 2 January (RMT)
00:01 Monday 9 January to 23:59: Saturday 14 January (Aslef)
Read more at BBC.co.uk