As someone who has been with him for the last six years at Manchester City, played with him in World Cups and Copa Americas, Pablo Zabaleta would have a better idea than most how deep the wound is to Sergio Aguero's pride.
Ever since his first season with City finished with the goal that snatched the championship from Manchester United, Aguero has been the club's undisputed first-choice striker. The timing of that goal – 93 minutes and 20 seconds – is commemorated on the walls of the Etihad Stadium.
However, in the aftermath of Gabriel Jesus's 92nd-minute winner against Swansea on Sunday, Aguero was talking to journalists questioning his own future at Manchester City, saying he would like another season but "only if the club want me". Manchester City have been at pains to suggest that, yes, they would like it very much if he played another season.
The question is, whether, deep down Aguero could face being second choice to a teenaged Brazilian, however talented. Zabaleta argued that in the formation Pep Guardiola is now favouring at the Etihad, there would be room for only one of them.
"Of course, if the manger decides to play them both together, they could do that," said Zabaleta. "But we play in a 4-3-3 with one central striker, two wingers wide. That's why probably at the moment one of them needs to play up front on his own."
Zabaleta suggested that at a pinch Jesus could play on the left but the reality is that there are other clubs who might seem a lot more attractive to Aguero. Having scored the first league goal of Guardiola's reign, he has become a strangely peripheral figure at Manchester City.
There have been 11 league goals but none has come against the top six and his last telling contribution came in the 2-1 win at Burnley in November. As his quotes were relayed around the world, there were links with the usual suspects, Paris St Germain and Real Madrid.
To Zabaleta, Aguero is a big boy who is strong enough to cope with a loss of form or the loss of his starting place. "He will be okay, he's a mature guy," he said. "Listen, years ago it was Tevez, Balotelli, Dzeko and Kun (Aguero). It's not the first time he's been dropped. We need a strong squad to win titles."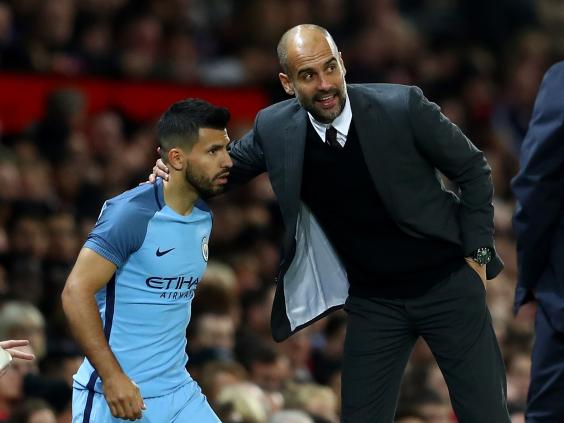 Before the season began, the 2017 Premier League title was supposed to be a straight fight between Guardiola and Jose Mourinho, replaying their old battles from La Liga. Mourinho has already conceded that the prospect of Manchester United winning the league is "practically impossible" and had Jesus's 92nd-minute winner not materialised, Guardiola would probably have made the same speech.
Manchester City may have moved into third but the distance between the light and the dark blues is still 10 points with 14 matches remaining. "That gap with Chelsea is really big and we cannot drop points if we want to catch them," Zabaleta said. "Of course, it is important to believe. Winning in the last minute is a huge win. We had that situation before when we won our first Premier League title and we were eight points behind Manchester United. Of course, we need that same belief."
Read more at independent.co.uk