Freewheeling along San Sebastián's six kilometres of coastal cycle path, you can't help but think this must be one of the most naturally blessed seaside cities in Europe. Clinging to the curves of the Basque country's rugged shore, its historic centre is also photogenically bookended by the imposing slopes of Monte Urgull to the east and Monte Igeldo to the west, with the glittering pin-up of La Concha beach in the middle.
But of course there is more to San Sebastián than geographical good looks. There are the narrow, honeyed streets of the Parte Viejo or Old Town, a tiny, boat-cluttered port, manicured public spaces such as the Alderdi Eder Gardens beside City Hall, museums, galleries and grandiose, white-washed Belle Epoque villas.
Donostia, as it is called in the native Basque, rose to prominence in the mid-19th century when it became the seaside resort of choice for Spain's Queen Isabell II and later, Queen Maria Cristina, who set up her summer court in the Miramar Palace, overlooking La Concha beach.
More recently, after decades of unrest at the hands of the Basque separatist group Eta that ended in a ceasefire in 2011, San Sebastián's quiet confidence has returned and the city has been reinventing itself through commerce and culture. The latter looms particularly large this year, with San Sebastián assuming the title of European Capital of Culture (dss2016.eu) – along with Wroclaw in Poland. The city's cultural calendar is even more packed than usual, starting with the inaugural celebration from 18 to 24 January.
The theme of San Sebastián's cultural celebrations is "co-existence", with a year of exhibitions, performances, special events, explorations and debates. Highlights will include a special event in June entitled A Midsummer Night's Dream that will celebrate the 400th anniversary of the death of William Shakespeare with an al fresco picnic and performance.
With its pintxos bars and new wave restaurant scene, San Sebastián's other great claim to fame is as one of Europe's gourmet hotspots. You can wander the aroma-filled Old Town stopping in at one of more than 200 pintxos bars serving the Basque version of tapas night after night; or unfurl your napkin in a Michelin-starred restaurant such as Arzak (arzak.info), Martin Berasategui (00 34 943 366 471; martinberasategui.com), Akelarre (00 34 943 31 12 09; akelarre.net) or Mugaritz (00 34 943 522 455; mugaritz.com). Then there's the annual San Sebastián Film Festival (sansebastianfestival.com) in September, which attracts a stellar line-up of darlings of the indie film-making scene.
Beyond the city limits, the velvety green Basque countryside also begs to be explored – one of the legacies of the city's tenure as Capital of Culture will be the new GR Sarea, a network of walking trails interlinking the seven main GR footpaths through the surrounding Gipuzkoa province.
UNPACK
With its spare, clean lines, Zenit Hotel (00 34 943 325 325;sansebastianzenithoteles.com) is one of San Sebastián's newest places to check in, about 15 minutes' walk from the Old Town. Doubles start at around €70 (£52), room only. And, if your tastes tend towards the more traditional, the Villa Soro (00 34 943 297 970; villasoro.es) is a handsome villa set in a quiet residential neighbourhood across the River Urumea that has doubles from €100 (£74), room only.
THINK LOCAL
The wave-bashed, sandy expanse of Zurriola beach, in the bohemian neighbourhood of Gros, is considered by those in the know to be one of best urban surfing beaches in Europe. Join the saltwater-licked fun with a surf lesson with Pukas Surf (00 34 943 320 068; pukassurf.com; from €43/£32), which also has its own label selling surf boards, T-shirts and swimwear.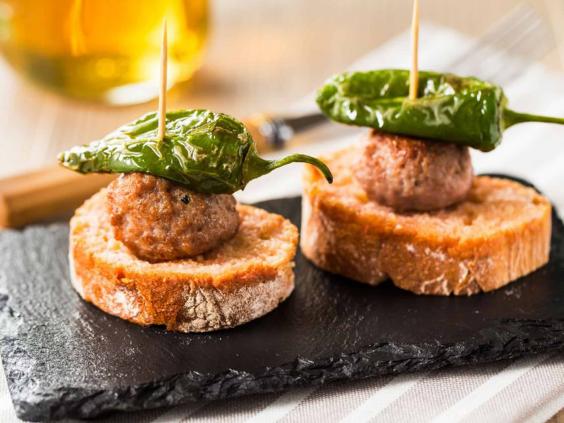 EAT
There is so much to explore gastronomically, from pintxos bars to Michelin stars. If you fancy a refined but relaxed sit-down meal, head to the slopes of Monte Ulia to familyrun Zelai Txiki (00 34 943 274 622; restaurantezelaitxiki.com). Many of its dishes are cooked over an open grill and as much as possible is made on site, including the butter, which cheese. Make sure you order the slowroast suckling pig when you book your table, as this needs to be requested in advance (around €40/£30).
DRINK
A recent craze for gin and tonic has gripped the city. But the supersized measures are a far cry from the British version, so go easy. La Gintoneria (00 34 943 021 956) in Gros displays more than 100 different types of gin, which can be customised to your taste by infusing an array of herbs and spices.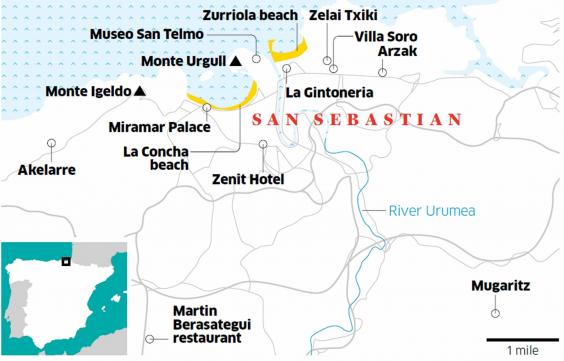 SPEND
San Sebastián has a thriving scene of independent shops and boutiques. Nautical-inspired clothes and decor can be found at the branch of Getaria-based Batela (00 34 943 424 7797; batela.com) in the Old Town. Don't leave without some gourmet souvenirs in your suitcase. These can be picked up at the San Sebastián Food shop (00 34 943 421 143; shop.sansebastianfood.com), which cherry-picks delicious food and wine from the Basque country and all around Spain.
DON'T MISS
A 16th-century former Dominican monastery in the Old Town is home to the Museo San Telmo (00 34 943 48 15 80;santelmomuseoa.com; admission €6/£4.50), one of the city's foremost cultural institutions. It reopened three years ago with a new contemporary wing, and houses an exhibit of Basque culture as well as temporary displays. In its erstwhile church there is a series of works depicting important events in the region's history, painted by Spanish artist José Maria Sert.
GETTING THERE
The nearest airport, Biarritz in France, is served by Ryanair (0871 246 0000; ryanair.com) from Stansted. The nearest Spanish airport, Bilbao, is served by easyJet (0843 104 5000;easyjet.com) from Manchester and Stansted; British Airways (0344 493 0758; ba.com) from Heathrow; and Vueling (0906 754 7541; vueling.com) from Gatwick.
MORE INFORMATION
Source: https://www.independent.co.uk