Ryanair has said its average fares fell faster than "initially planned" in the final three months of last year, while profits at the airline also declined.
Average fares were down by 17% and profits fell 8% to 95m euros (£82m).
However, passenger numbers rose by 16% to 29 million in the third quarter, and its planes flew at 95% capacity.
The carrier said it was "cautious" about the remainder of the financial year, but that profits would be in line with expectations.
Ryanair's average fares were 33 euros (£28) per passenger in the October-to-December period, the third quarter of its financial year.
It said it was increasing capacity and adding new routes and bases at a time when other airlines were also adding capacity, and "accordingly the price environment remains weak".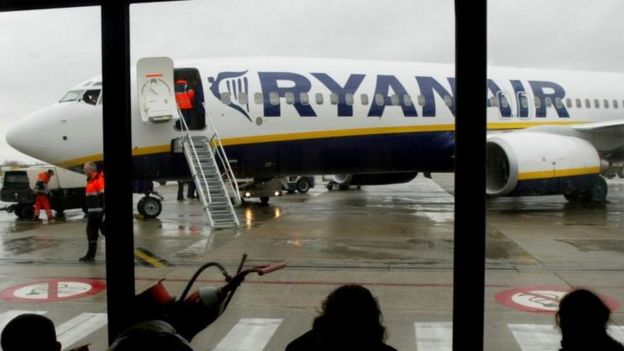 Ryanair added that uncertainty following the Brexit vote, weaker sterling and the switch of charter capacity from Turkey, Egypt and North Africa into Spain and Portugal, would "continue to put downward pressure on pricing for the remainder of this year" and next.
The airline said its outlook for the remainder of this year was "cautious".
However, it said it was "maintaining its full-year profit guidance in the range of 1.30bn to 1.35bn euros", although it added that "this guidance heavily depends on the absence of any unforeseen security events".
In the next financial year it said it seemed clear that "pricing will continue to be challenging and we will respond to these adverse market conditions with strong traffic growth and lower unit costs".
Ryanair chief financial officer Neil Sorahan told the BBC that while the airline had plans to expand in the UK "we have been quite clear that as we move closer to Brexit… that we won't grow as quickly in the UK as we might otherwise have done".
"We have 15% market share now all across Europe so there's an awful lot more to play for and we're seeing a lot of great opportunities outside of the UK," he added.
Read more at BBC.co.uk