The international chemical weapons watchdog has confirmed the UK's analysis of the type of nerve agent used in the Russian ex-spy poisoning.
The Organisation for the Prohibition of Chemical Weapons did not name the nerve agent as Novichok, but said it agreed with the UK's findings on its identity.
Russia has denied it was behind the attack on Sergei and Yulia Skripal in Salisbury, as Theresa May has claimed.
Foreign Secretary Boris Johnson said: "There can be no doubt what was used."
He added: "There remains no alternative explanation about who was responsible – only Russia has the means, motive and record."
A team from the OPCW visited the UK on 19 March, 15 days after the Skripals were found slumped on a park bench in Salisbury and taken to hospital, along with a police officer who was among the first on the scene.
Ms Skripal was discharged from hospital on Monday but the 33-year-old has said her father is "still seriously ill".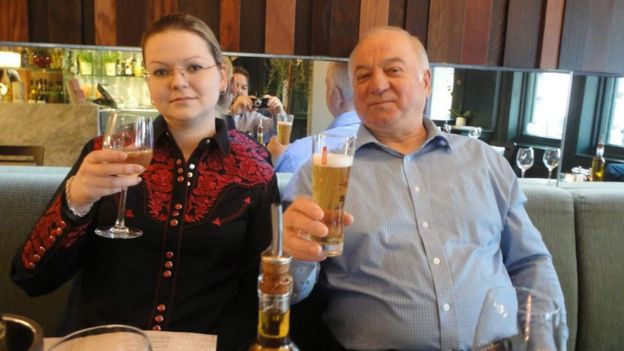 The OPCW said it received information about the medical conditions of the Skripals and Det Sgt Nick Bailey, it collected their blood samples, and it gathered samples from the site in Salisbury.
Mr Johnson said the UK had invited the OPCW to test the samples "to ensure strict adherence to international chemical weapons protocols".
UK inspectors from the Defence Chemical Biological Radiological and Nuclear Centre at Porton Down in Wiltshire first identified the nerve agent as belonging to the Novichok group.

What are Novichok agents?
The name Novichok means "newcomer" in Russian, and applies to a group of nerve agents developed by the Soviet Union in the 1970s and 1980s.
Novichok's existence was revealed by chemist Dr Vil Mirzayanov in the 1990s, via Russian media. He says the nerve agents were designed to escape detection by international inspectors.
Novichok agents are liquids, although others are thought to exist in solid form and could be dispersed as an ultra-fine powder.
Some of the agents are also said to be "binary weapons", meaning the nerve agent is typically stored as two less toxic chemical ingredients that are easier to handle.
When these are mixed, they react to produce the active toxic agent which can cause convulsions, shortness of breath, profuse sweating and nausea.

The OPCW does identify the toxic chemical by its complex formula but only in the classified report that has not been made public.
In its summary, which has been published online, the report notes the toxic chemical was of "high purity".
The BBC's diplomatic correspondent James Landale said: "This is understood to strengthen the argument that this substance came from Russia because it is more likely to have been created by a state actor with the capability to make the nerve agent."
The report does not name the source of the nerve agent, a subject which is beyond the remit of the inspectors.
Source:bbc.com