Roy Hodgson has broken his silence on his England managerial reign which abruptly ended with the excruciating defeat to Iceland this summer, declaring that at times his players simply didn't understand his instructions in the way that he imagined.
The 69-year-old has not discussed England since he appeared at a press conference against his will in late June and heard the Football Association chief executive Martin Glenn tell a packed audience at the team's Chantilly base that the team had been psychologically "brittle."
But Hodgson, reflecting on four-year tenure in the Uefa coaching magazine The Technician, suggests that he 'overestimated' how much his players grasped his instructions and would ask them to recite them back to him, to ensure that they had.
"One of the things I've learned in the last two years was overestimating players' understanding of exactly what you want," Hodgson said. "You have to make certain that they themselves take ownership of the situation.
"In the last couple of years with England, we filmed the training sessions, we filmed the games in wide angle, and we started having meetings in smaller groups. The goalkeepers and the defenders. The midfield players and the attackers. Sometimes defenders and midfield players. Sometimes midfield players and attackers. We went through things but we got them to tell us back what we had been telling them."
There actually seemed to be uncertainty from the manager himself, not least when he made six changes for the Euro 2016 group stage match against Slovakia, resting Wayne Rooney and Dele Alli when England needed to win to qualify as leaders. They could only draw 0-0. Iceland manager Lars Lagerback recently told The Independent that there was also a psychological deficiency. "Mentally that wasn't the normal England I played," Lagerback said.
But Hodgson focuses on the need for players to take ownership of the messages their coaches are trying to deliver.
"We will work on it in training but then I want the player in the unit meeting, when he sees fit, to say: 'I should have gone out there; I should have gone quicker there.' Or 'I've gone too fast. I should have slowed down there. I've gone so quickly. That the guy's gone past me before I can hold him up with the ball.' That type of thing. We got the players to take ownership."
Hodgson also tells fellow coaches in the publication that the written press are "dangerous" and an entity against which you "cannot win."
In words reflecting the mood witnessed at close quarters as the European Championships campaign unravelled, he said: "The television is the most important media because people see your face and they hear the nuances in your voice and they feel to some extent what they think you are feeling.
"The written press is very dangerous. They can take the words that you say and make it seem very different to how it actually was but you can't beat them. You've got to avoid the temptation to get a sort of revenge the next time you are in front of that media group when you read something you didn't like."
He also states the importance of not rushing to comment in the aftermath of a match and making observations you later regret.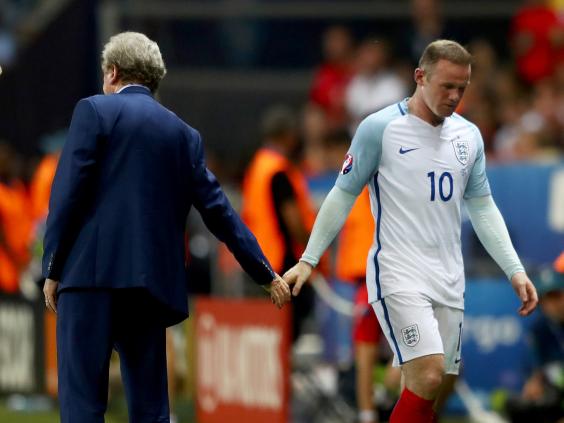 "It's important you have someone with you who you trust and who understands the media world; who can give you some advice before you go into press conferences," he said. "I think it's dangerous, directly after a game, to go out with the emotions you are feeling because you can make mistakes. You need to settle down. It could just be your assistant coach who says 'don't forget, be careful.'"
Captain Wayne Rooney said on reflection that England "lost momentum" because of the Slovakia game when tournament football should be about building confidence.
"It was Roy's decision to make those changes against Slovakia. I wouldn't have made six changes," he said in August. "It's more than half the team. It was a gamble and it didn't pay off."
Rooney also observing of the Hodgson team's possession-based game that "possession's fine, but it needs to have direction to it, and most times that has to be towards goal."
Read more at independent.co.uk