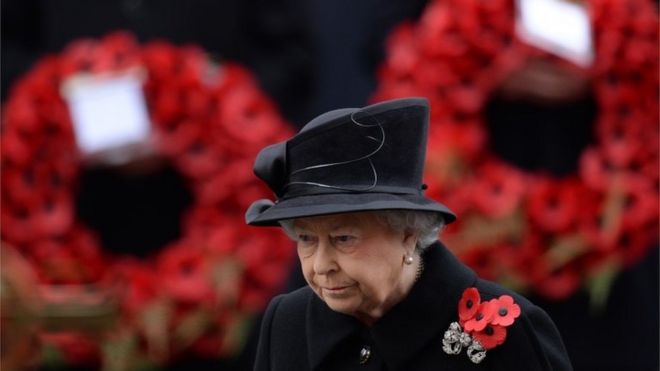 The Queen will lead the tributes as the UK pays its respects to the country's war dead this weekend.
The monarch will attend the annual Royal Festival of Remembrance at London's Royal Albert Hall later.
She and the Duke of Edinburgh will also lay a wreath at the Cenotaph on Sunday, during the traditional Remembrance Sunday service in Westminster.
A display of thousands of ceramic poppies from the 2014 Tower of London exhibit has opened in Liverpool.
The Weeping Window section has been draped down St George's Hall.
Sunday's service at the Cenotaph, which honours those killed in World Wars One and Two, as well as later conflicts, is going to be shorter than in previous years, in an effort to reduce the amount of time war veterans are made to stand.
However, plans to make political leaders lay wreaths together in order to save time were dropped after some political leaders argued they were being overlooked.
Meanwhile, the UK Independence Party (UKIP) has written to the Queen to complain about not being represented during the Remembrance Sunday events.
Falling poppies
Mike Hookem, a UKIP MEP and ex-soldier, has urged the monarch to "intervene" on behalf of the 3.8 million people who voted for the party in May's election.
Government ministers have said a 30-year-old agreement stipulates that only leaders of parties with more than six MPs can take part.
Parliamentary authorities have announced that a film of falling poppies will be projected on to the Palace of Westminster's Elizabeth Tower throughout the evening of Remembrance Sunday.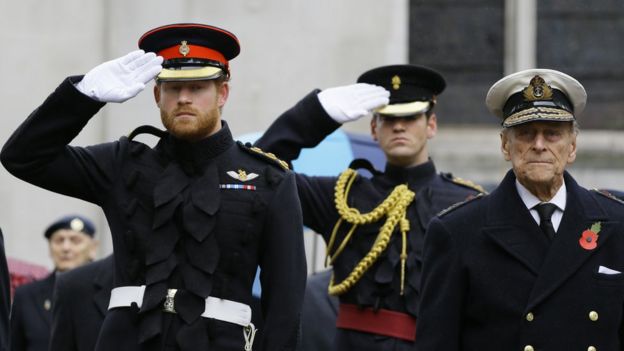 It is the second year that the tower has been used in this way to commemorate those who died in World War One.
Projected alongside the flowers will be the names of battles in which British and Commonwealth soldiers fought and died in 1915.
On Thursday, Prince Philip and Prince Harry opened Westminster Abbey's Field of Remembrance.
The pair also spoke to veterans and their families beside the annual display of more than 100,000 small wooden crosses, each with a poppy and personal message.
Source: www.bbc.com