There has been widespread international condemnation of President Trump's announcement that the US is withdrawing from the 2015 Paris climate agreement.
UN chief Antonio Guterres's spokesman called it "a major disappointment" while the European Union said it was "a sad day for the world".
However, senior Republicans and the US coal industry backed the move.
Mr Trump said the accord "punished" the US and would cost millions of American jobs.
In an address at the White House, he said he was prepared to negotiate a new agreement or re-enter the accord on improved terms.
"I was elected to represent the citizens of Pittsburgh, not Paris," he said.
The Paris agreement commits the US and 187 other countries to keeping rising global temperatures "well below" 2C above pre-industrial levels and "endeavour to limit" them even more, to 1.5C.
Only Syria and Nicaragua did not sign up to the deal.
Why did Trump pull out of the accord?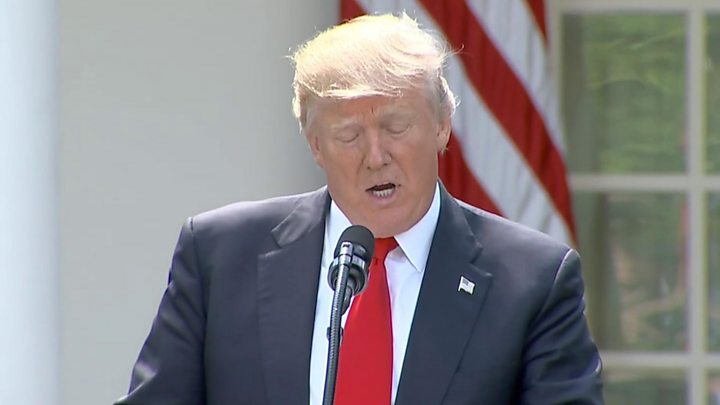 Mr Trump characterised the Paris agreement as a deal that aimed to hobble, disadvantage and impoverish the US.
He claimed the agreement would cost the US $3tn (£2.3tn) in lost GDP and 6.5 million jobs – while rival economies like China and India were treated more favourably.
Mr Trump said he was fulfilling his "solemn duty to protect America and its citizens".
He added: "We don't want other leaders and other countries laughing at us anymore – and they won't be."
Mr Trump did not give a timescale. However, under the agreement, a nation seeking to leave the pact can only give notice three years after the date it entered into force – 16 November 2016.
The process of leaving then takes another year, meaning it would not be complete until just weeks after the US presidential election in 2020.
US payments to the UN Green Climate Fund, which helps developing countries cope with the effects of climate change, will stop.
What has the reaction been?
Former US President Barack Obama, who agreed to the Paris deal, immediately criticised the move, accusing the Trump administration of "rejecting the future".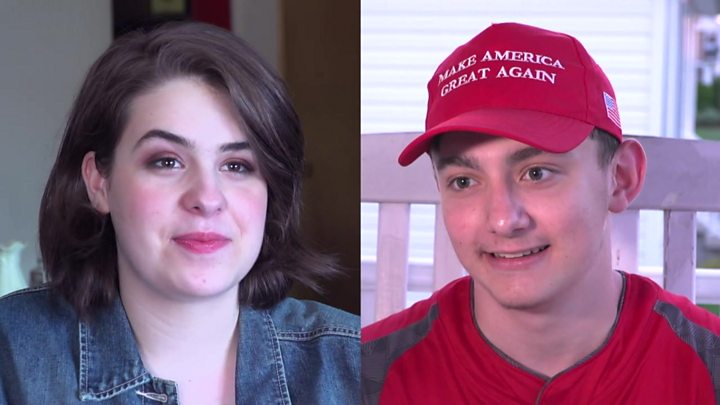 Disney's chief executive Robert Iger and the entrepreneur Elon Musk both resigned from White House advisory councils.
"Climate change is real. Leaving Paris is not good for America or the world," said Mr Musk, the head of tech giant Tesla.
However, Republican congressional leaders and the US coal industry backed the move, with Senate Majority Leader Mitch McConnell supporting Mr Trump "for dealing yet another significant blow to the Obama administration's assault on domestic energy production and jobs".
Peabody Energy, America's biggest coal mining firm, said the agreement would have badly affected the US economy.
Senate Democratic leader Chuck Schumer called the decision "one of the worst policy moves made in the 21st Century because of the huge damage to our economy, our environment and our geopolitical standing".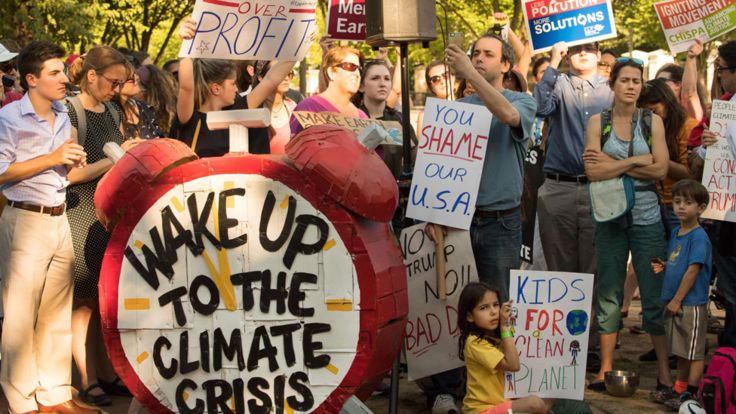 Canada was "deeply disappointed" by President Trump's decision, Prime Minister Justin Trudeau said.
This was echoed by UK Prime Minister Theresa May, who expressed her disappointment and told Mr Trump in a phone call that the deal protects the "prosperity and security of future generations".
France's President Emmanuel Macron said he respected Mr Trump's decision but believed it was a "mistake both for the US and for our planet".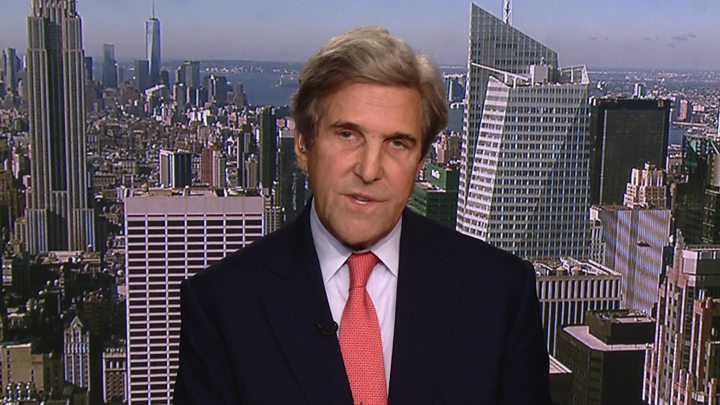 Japan's Finance Minister Taro Aso said: "I'm not just disappointed, but also feel anger."
A United Nations spokeswoman said it was a "major disappointment for global efforts to reduce greenhouse gas emissions and promote global security".
Small island nations whose existence is threatened by rising sea levels were critical of the move. The President of the Marshall Islands, Hilda Heine, said it was "highly concerning for those of us that live on the frontline of climate change".
What happens next?
Mr Trump indicated he was open to another climate deal, saying he would "begin negotiations to re-enter either the Paris accord or a really entirely new transaction on terms that are fair to the United States".
However, his words suggested this was not a priority. "We will see if we can make a deal that's fair. And if we can, that's great. And if we can't, that's fine," he said.
During his election campaign he dismissed climate change as a "hoax".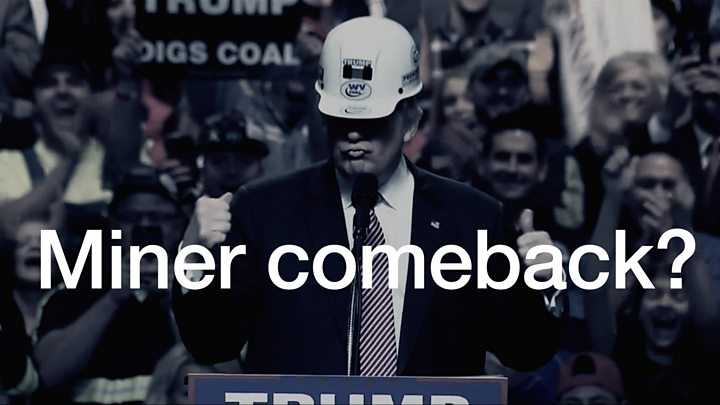 The leaders of France, Germany and Italy quickly issued a joint statement rejecting a renegotiation of the agreement.
"We deem the momentum generated in Paris in December 2015 irreversible and we firmly believe that the Paris agreement cannot be renegotiated, since it is a vital instrument for our planet, societies and economies," it said.
Mr Macron reflected the defiance among the remaining signatories, saying "we are fully committed".
Reworking one of Mr Trump's own phrases, he added: "Wherever we live, whoever we are, we all share the same responsibility: make our planet great again."
China's foreign ministry said the parties to the Paris accord "should cherish this hard-won outcome".
In the US, the Democratic governors of New York, California and Washington states all quickly vowed to respect the terms of the Paris deal.
What was agreed in Paris?
Climate change, or global warming, refers to the damaging effect of gases, or emissions, released from industry and agriculture on the atmosphere.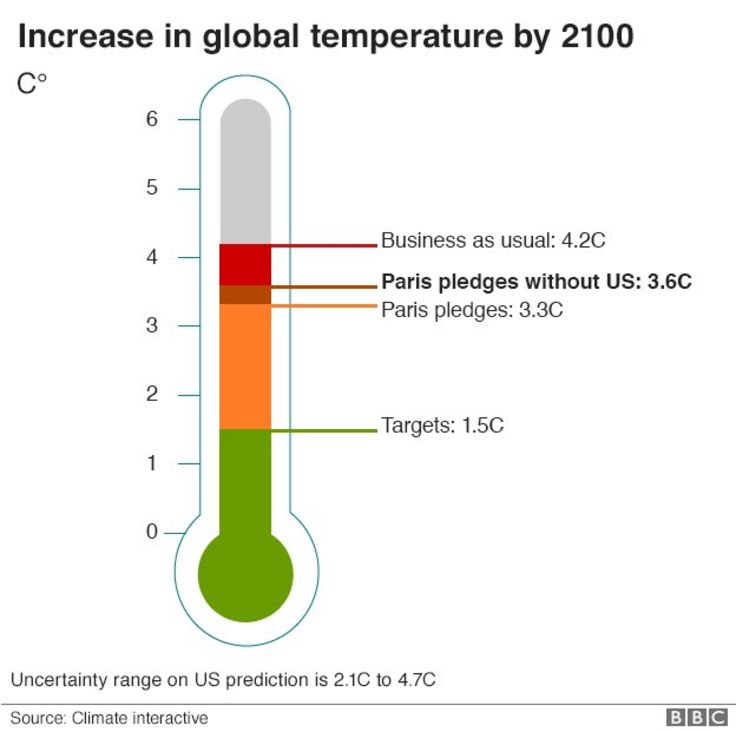 The Paris accord is meant to limit the global rise in temperature attributed to emissions.
Countries agreed to:
Keep global temperatures "well below" the level of 2C (3.6F) above pre-industrial times and "endeavour to limit" them even more, to 1.5C. However, Climate Interactive predicts that if all nations fully achieve their Paris pledges, the average global surface temperature in 2100 is expected to be 3.3°C, or 3.6C without the US
Limit the amount of greenhouse gases emitted by human activity to the same levels that trees, soil and oceans can absorb naturally, beginning at some point between 2050 and 2100
Review each country's contribution to cutting emissions every five years so they scale up to the challenge
Enable rich countries to help poorer nations by providing "climate finance" to adapt to climate change and switch to renewable energy
What is climate change?
Read more at BBC.co.uk