Walking along windy paths through the forest, I can hear faint screams in the distance. They aren't the blood-curdling type, more screeches of fear mixed with delight, and offer the only clue that we are staying in one of the oldest amusement parks in the world.
Efteling, near Tilburg in the south of the Netherlands, isn't on the radar of most Brits, even though it's just over an hour's drive from Amsterdam or the Hook of Holland. This is a shame, as its old-fashioned allure, based on traditional Bothers Grimm fairytales, is a refreshing change from modern theme parks – and the natural landscape has a starring role, too.
This year, the park's 65th anniversary, has also seen the opening of a new accommodation option: Loonsche Land, a holiday village with hotel and woodland houses, 15 minutes' walk from the main entrance. Opened in May, it was designed to be an affordable option for families wanting to immerse themselves in the fantasy experience. Loonsche Land boasts "you can't get closer to nature" than staying here, and it does feel more Center Parcs (another Dutch invention) than Disneyland.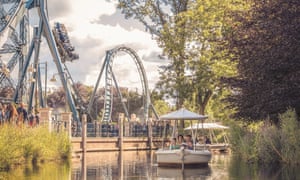 The 75-room hotel, overlooking a purpose-built lake, is a modern take on the hunting lodge, a mix of brick and wood with gigantic antlers above the entrance. We (husband, one- and two-year-old sons and me) are in a family room. It's basic but cosy, with dark green curtains, charcoal walls, and a wooden ladder leading to bunk beds.
Those who want more space and privacy (and don't mind the higher price tag) might prefer the houses and cabins dotted around the grounds – some on stilts, some up in trees, some by the lake, all blending into the forest. They sleep between two and 12, and a few have kitchenettes for self-catering. Breakfast is a great buffet, served at set time slots in De Proeftuyn restaurant. A contemporary open-plan space with alfresco tables by the lake, it's also a good option for simple, tasty dinners – and there's a play area.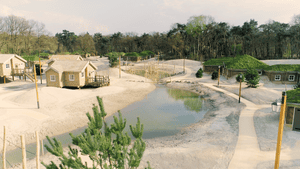 Adding an overnight stay to a park visit definitely has its perks. We get two days unlimited entrance to the park and access 30 minutes before it officially opens – handy in peak season when you can queue 90 minutes for the new Symbolica: Palace of Fantasy ride. The 180-acre site is split into four fantastical "worlds", so you need at least two days to see everything.
Piped classical music accompanies us as we navigate the maze of woodland paths and gardens. In the fairytale forest the boys are mesmerised by the animatronic displays – a talking parrot and Rapunzel are firm favourites.
Though many characters may only be familiar to Dutch visitors – Pardoes or Jokie & Jet, anyone? – it doesn't detract from the magic: we simply make up our own tales. The boys love the Dreamflight ride, where a chairlift transports us into a twinkly world of fairies, elves and trolls. And they're wowed by a fire-breathing dragon in the live theatrical Ravelijn show – which is free but must be booked.
After an action-packed day at the park, the calm of Loonsche Land is the perfect antidote. My boys are as content rolling around in the sandy playground or befriending sheep and goats (the holiday village has its own animal enclosure in a mini-barn too) as on the park rides. There are also two wooden activity bridges suspended over water to keep older kids entertained.
For more immersion in nature, the Loonse en Drunense Duinen national park is on the doorstep. We hire bikes and in less than five minutes are inside the reserve, its thick forests and red toadstools mirroring the fairytale stories of Efteling. A gentle cycle ride leads past swathes of purple heather to expanses of shifting sand dunes (and the handily sited De Roestelberg restaurant).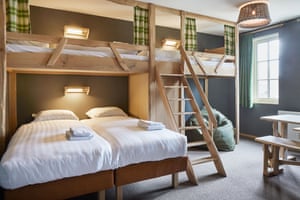 At Efteling itself, nature plays such a starring role that it's easy to forget this is a theme park. Just a few subtle touches act as a reminder: Efteling's own cartoon series, based on characters in the park, playing on TVs and there's merchandise for sale in several spots.
As we left there was more screaming, this time from my boys: they didn't want our enchanting adventure to end.
Read more at theguardian.com