Nuala, 70-74 City Road, London EC1Y 2BJ (020 3904 0462). Meal for two, including drinks and service, £120
Sometimes this job is akin to going down the bookies, only with more despair and no fruit machines. You're looking for a winner, so you study the lineage, like some dodgy eugenicist. Where have the key personnel been? What promise is buried deep in their DNA? Then you look at current form. What are they doing? How does it compare to the rest of the field? If it all adds up you invest a slab of time and money in the hope they'll romp home.
And so to Nuala which, on paper, has everything going for it. It belongs to the highly regarded Irish chef Niall Davidson, most recently of the Chiltern Firehouse. Alongside him in the kitchen is Colin McSherry, from the Fat Duck. Front of house is run by Charlie Sims, previously of Noma in Copenhagen alongside John O'Dowd of Bistrotheque. The wine list belongs to a recruit from Noma Mexico called Honey Spencer who sounds like a character from a Wes Anderson movie. Noma! The Fat Duck! Chiltern Firehouse! Think Nijinsky and Northern Dancer. Add to that the bang-on-trend fire pit, the certified way to shout authenticity in 2018. This is a kitchen in touch with its inner, grunting caveman. I calculate the odds. It has to be worth a punt.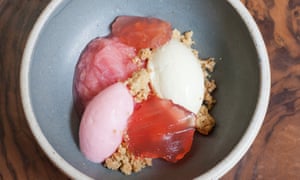 Nuala occupies a corner site in London's Shoreditch marked on a wet evening by a huddle of young people fagging away. Ah smoking. How I miss it. Not that I have to miss it this evening because through the door and bang, whatever they're burning on that fire pit catches right at the back of your throat. The air inside smells like a suburban bonfire set in next door's garden by a neighbour called Brian. (He's always called Brian.) There are bare brick walls, and dangly lights. Seating is mostly in a set of low, circular booths with almost no lumbar support. You come here to lean in.
Happily, there is much to lean over. From a list of snacks comes a cracker laden with, on one side, a frothy mousse of bright green chervil and, on the other, smokey cod's roe. Grated across the top is cured egg. It's an awful lot of flavour on a small surface area. Another cracker is formed out of the crunchy dehydrated skin of a Jerusalem artichoke. That's one way to use up the peelings. It's piled with lightly acidic diced pear and another frothy mousse of the artichoke. Alongside it is their own solidly engineered sourdough, with a big scoop of Abernethy's seaweed butter.
It's a serious start, reinforced by Honey Spencer's brilliant wine list. Yes, it has a bunch of fearsome "naturals". But they are cordoned off on their own page under the heading "Wild Things". There are other pages called "Tried and true", "The classics" and "A touch out of the ordinary". It's a wine list with a map. If you want to experiment you can. If you want to go vanilla you can do that, too. Other restaurants should come and study the Nuala wine list to see how it's done.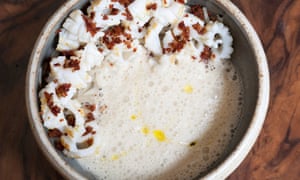 By now I'm not just leaning in. I'm happily slumped, like a well-used sofa. This is a good place to be. The starters make me sit up a little. A heap of softly cooked, pearly-white squid, the surface intricately scored so it folds in on itself, is mixed through with pieces of crisped bacon, because bacon improves everything. Alongside, is a deep pool of an almond cream, punched up with a hefty dose of ginger. It is that rare thing: a unique dish, which isn't trying too hard. It's not an echo of anything else. There's something profoundly nourishing about it, especially for £8.
Next up are two pieces of their sourdough toast, piled with white crab meat and leaves of lovage. It's overlaid with gossamer slices of lardo, the cured back fat of the pig, which has been allowed to go translucent courtesy, I presume, of a short trip under the pass lights. There is the crunch of the toast, and the seafood hit of the crab and the silk stocking of the lardo. So now I am swooning, and congratulating myself on my good judgement. Nuala was a good bet. And look: here is an impeccable dauphinoise under a deep lamb gravy, dotted with jewels of molten fat, for £4. It is potato as blessed vehicle for many other good things. Alongside is a dish of buttery cabbage, with bacon lardons. These ingredients are meant to be together.
By now, I am certain Nuala will romp home. Come on girl, you can do it. But perhaps you've worked out how this one ends. Perhaps you always knew. Because what would be the point of such a strained and desperate literary device if the restaurant danced over the finish line. A longhorn ribeye steak for two at £70, with a bowl of dripping fries, passes us by. I think it looks rather marvellous. But I can't get this place to do me steak and chips. So instead we have suckling pig, with roasted calcots – half way between a leek and a spring onion – and a yellow pepper sauce. And it's merely OK.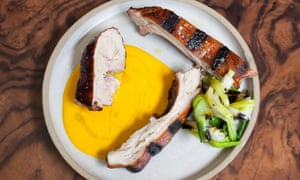 Apparently, it's been on the wood fire all day, but there's little sign of that in the meat. The skin has not crackled enough. It's all rather dull, which is not a word to be associated with suckling pig and certainly not at £26. It occurs to me that there's been little sign of that fire pit in anything. Much worse is the "fireplace pumpkin" with Mull cheddar. It's a mess of a dish, built of deathly, flavourless pumpkin and violent hits of acidity and a pronounced lack of enthusiasm. I hunt for the occasional caramelised walnut as respite.
Dessert is another one of those modern failures. They read well, but amount to little more than those creamy things in a bowl. One brings clotted cream, rhubarb and oats. Substitute the cream for yogurt and it's almost exactly what I'd had for breakfast. Another of chocolate mousse with a coffee and smoked chocolate crumble sounds clever, but is just a passable chocolate mousse. The trips and failures at the end do not detract from the brilliance and flourish of those early dishes. They gave us some beautiful moments. The problem is that there were just not enough of them, not with their form and not at this price. Put it this way: if I'd really had a betting slip, I would have had to tear it up.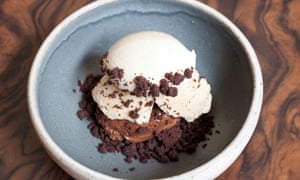 Jay's news bites
For a more classical take on the Irish sensibility, you can't beat Richard Corrigan's eponymous flagship restaurant just off London's Park Lane. Think prime ingredients, through the prism of bourgeois technique. So it's spiced mallard with Seville orange and celeriac. Start with Galway oysters. Finish with pumpkin and fennel sticky toffee pudding. Try not to think about the bill (corrigansmayfair.co.uk).
Arguably the only genuine edible aphrodisiac is grape juice, once fermented. But don't mention that to the founders of Edible Erotica, an online resource for recipes and ingredients (and more) designed to inflame lust. Recipes, by cookbook author Paul Hartley, will be posted monthly with a print edition planned for 2019 (edible-erotica.co.uk).
Which is the best chippie in Britain? Officially, for 2018 at least, it's Miller's Fish and Chips of Haxby, just north of York, which has won the overall title at the Seafish National Fish and Chip Awards. Congratulations to the Miller family, which has run the chippie for four generations (millersfish.co.uk).
Source: www.theguardian.com