Ezekiel Elliott celebrated a short touchdown run by jumping into an oversized Salvation Army red kettle and the Dallas Cowboys closed in on home-field advantage in the playoffs with a 26-20 victory over the Tampa Bay Buccaneers in the NFL on Sunday night.
The Cowboys (12-2) bounced back after their franchise-record 11-game winning streak ended, hanging on after what looked to be a festive night following Elliott's antics turned tense when Jameis Winston rallied the Bucs from a 17-3 deficit to a 20-17 lead.
Making his debut in the Sunday night spotlight, Winston threw for 247 yards and two touchdowns but had four turnovers, including an interception that led to Dan Bailey's 38-yard field goal that gave Dallas a 23-20 lead early in the fourth quarter.
Tampa Bay (8-6) had its five-game winning streak snapped and fell a game behind Atlanta in the NFC South. Dallas stayed two games ahead of the New York Giants in the NFC East and needs a win without any help to clinch the home field throughout the NFC playoffs.
Elliott, the NFL's rushing leader, had a career-high 159 yards, including a 42-yard run to set up Bailey's fourth field goal for the six-point lead.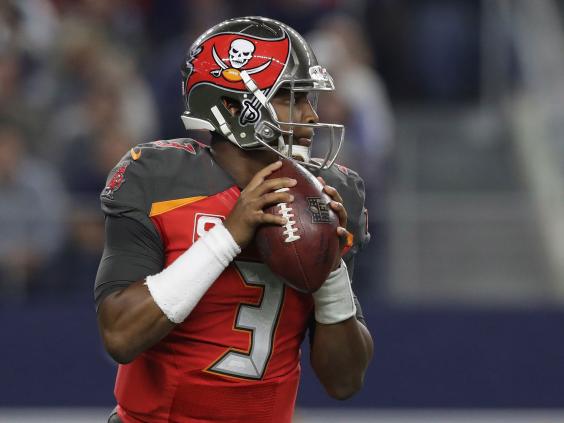 Fellow rookie Dak Prescott bounced back from his worst game as a pro, going 32 of 36 for 279 yards a week after completing less than 50 percent of his passes in a 10-7 loss to the New York Giants.
Elliott had NFL career rushing leader and former Dallas star Emmitt Smith and plenty of other people laughing when he jumped into the kettle and disappeared when he crouched down following a 2-yard touchdown in the second quarter. He drew a 15-yard penalty.
TITANS 19, CHIEFS 17
Ryan Succop kicked a 53-yard field goal into the wind as time expired Sunday to give the Tennessee Titans a victory on a frigid afternoon at Arrowhead Stadium.
Succop, who spent the first part of his career with Kansas City, came up short on his first try at the winner, but Chiefs coach Andy Reid had called a timeout just before the snap. Given a second chance, Succop knocked it through with a couple of feet to spare as the Titans poured off the bench to celebrate.
Tennessee rallied from a 17-7 hole, and Derrick Henry's second touchdown got the Titans (8-6) within 17-16 with just over three minutes left. But Titans coach Mike Mularkey went for the 2-point conversion and the lead. Marcus Mariota was pressured immediately and his pass never reached the end zone.
But the Chiefs (10-4), trying to clinch a playoff spot, were unable to run out the clock and Tennessee got the ball back with a minute left. With no timeouts, Mariota calmly found Rishard Matthews for 19 yards and Delanie Walker twice to set up Succop's field-goal attempt.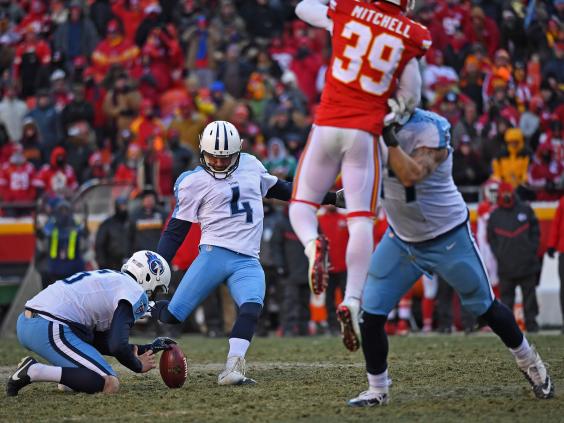 Tennessee is tied for the AFC South lead with Houston.
RAIDERS 19, CHARGERS 16
Sebastian Janikowski kicked a 44-yard field goal with 2:40 left, his fourth of the game, as the Raiders beat the Chargers in the Relocation Bowl to clinch a playoff berth for the first time since 2002.
Playing before what looked like a home crowd at 70,000-seat Qualcomm Stadium, the visiting Raiders (11-3) earned a playoff nod on the same field where they made their last postseason appearance, an embarrassing 48-21 loss to Tampa Bay in the Super Bowl on Jan. 26, 2003.
There was a surreal atmosphere to the game, which might be the Chargers' second-to-last in San Diego. Team chairman Dean Spanos seems almost certain to move the Bolts (5-9) to the Los Angeles area after failing to get a big public subsidy to help him replace aging Qualcomm Stadium.
The Raiders could be on the move, too, with owner Mark Davis eyeing Las Vegas, although they'd still play in Oakland until a new stadium is built in Sin City.
TEXANS 21, JAGUARS 20
Tom Savage threw for 260 yards after Brock Osweiler was benched in the second quarter, and Lamar Miller scored Houston's only touchdown with less than three minutes remaining.
The win was Houston's 10th straight in the division and left the Texans (8-6) tied with Tennessee for the AFC South lead. But Houston controls its playoff future with a 5-0 mark in the division.
Osweiler threw interceptions on consecutive drives in the second quarter to help Jacksonville build a 13-0 lead. Coach Bill O'Brien had insisted all season he hadn't thought about benching Osweiler, but he'd seen enough after that and brought in Savage. The move was met with a huge ovation from the home fans, who'd been booing Osweiler most of the day.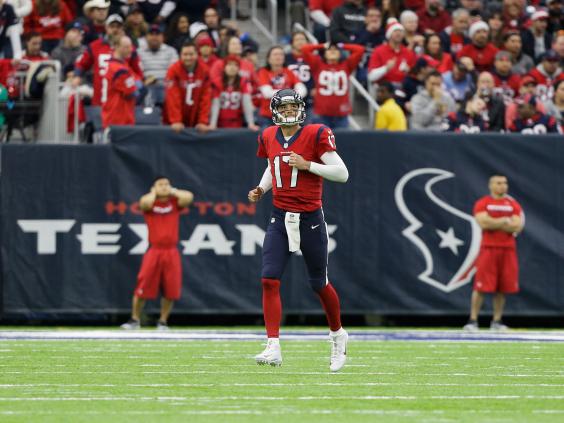 The Jaguars got the ball back twice after falling behind, but failed on a fourth-down conversion the first time and Blake Bortles was intercepted the second time. Bortles threw for 92 yards and ran for a touchdown for the Jaguars (2-12), who dropped their ninth straight.
PATRIOTS 16, BRONCOS 3
Tom Brady overcame a slow start to lead the Patriots to a rare win in Denver, dealing a crushing blow to the Broncos' playoff hopes.
Brady missed his first six passes for just the second time in his career; the first was way back on Oct. 12, 2003, against the Giants. But he came back to lead the Patriots (12-2) to a record eighth consecutive division title and a first-round bye.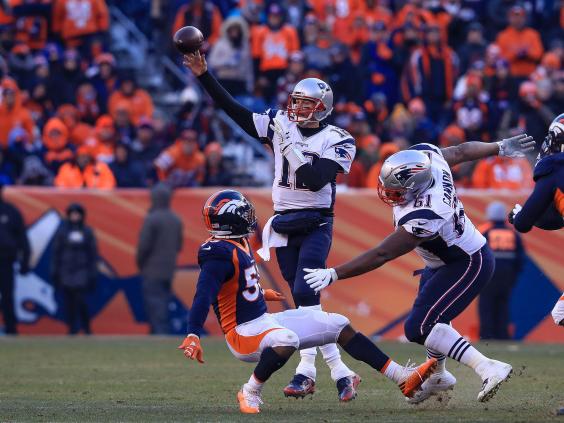 Brady returned to the site of his worst beating, a 20-18 loss in the AFC championship 11 months ago when he was hit a career-high 23 times. This time, he brought a power run game and a much-improved O-line with him.
The result was just his third win in Denver in 10 tries, and it was the Broncos' hopes of defending their Super Bowl title that took a beating. The Broncos (8-6) lost for the third time in four games and were supplanted by the Dolphins for the sixth and final playoff spot in the AFC race with two weeks remaining.
PACKERS 30, BEARS 27
Aaron Rodgers hit Jordy Nelson with a 60-yard pass to set up Mason Crosby's 32-yard field goal as time expired in one of the coldest games ever played in Chicago.
Wide receiver-turned-running back Ty Montgomery ran for a career-high 162 yards and two touchdowns, and the Packers (8-6) earned their fourth straight victory despite blowing a 17-point lead in the fourth quarter.
They also moved ahead of Minnesota for second place in the NFC North and pulled within a game of division leader Detroit.
The Bears (3-11) tied it on a field goal by Connor Barth with 1:19 left. The Packers took over at their 27, and on third down at the 26, Rodgers unleashed a deep pass down the middle of the field to Nelson, who got behind Cre'Von LeBlanc.
With no timeouts, the Packers downed the ball before Crosby booted his winner.
The game-time temperature was 11 degrees with a minus-4 wind chill. Chicago hosted the Packers in 3-degree temperature and a minus-15 wind chill — the lowest ever for a Bears home game — on Dec. 18, 1983. The Bears' coldest home game, temperature-wise, was against Green Bay on Dec. 22, 2008, when it was 2 degrees with a minus-13 wind chill.
The Packers tied the NFL's oldest rivalry for the first time since 1933 at 94-94-6.
BILLS 33, BROWNS 13
The bumbling Browns are two losses short of becoming the NFL's second team to go 0-16 in one season.
LeSean McCoy had a season-best 153 yards rushing and scored twice, and the Bills kept their slim playoff hopes alive.
Read more at independent.co.uk