he's back. Like the Backstreet Boys. Or Lazarus. But if Lazarus had had treatment for a "benign kidney infection". We talk of course of first lady Melania, who hadn't been seen for a full 24 days before an appearance on Monday night. (Which was closed to the press. So not really an appearance.)
President Trump hadn't seemed too concerned by Melania's disappearance, referring to her in a tweet as "Melanie", and at one point telling the assembled press corps, "She's doing great. Just looking at us, right there," before gesturing to a window in which neither Melania, nor Melanie, was visible.
Melania's only contact with the outside world was when she tweeted: "I see the media is working overtime speculating where I am & what I'm doing." Which is a sort of "rumours of my death have been greatly exaggerated" for the 24/7 news era.
Her friends told the Hollywood Reporter that she hadn't replied to any of their text messages. As though taking three weeks to reply with "heyyyyy! So sorry for the delayed response, coffee next week?" and then them replying six days later in turn wasn't absolutely routine practice.
But where has Melania been all this time? Here are some ironclad theories:
Having girls' nights in with Samantha Bee
The American talkshow host Samantha Bee is fresh from apologising for calling Ivanka Trump a C U Next Tuesday on television, but I'm convinced Melania has been hanging out with Bee this entire time, enjoying chats on the sofa, her heels kicked off, bare legs folded underneath her, downing a glass of pinot grigio the size of a fish bowl. She's staying in the spare room with the lumpy mattress and the unhung Jack Vettriano print, but in the night creeps downstairs to eat mini rolls and wonder how it all came to this.
Everyone needs their support group when they're trapped in an unhappy relationship. And let's just remind ourselves of how Melania herself characterised her marriage. When asked whether she would be with Donald if he wasn't rich, she responded: "Do you think he would be with me if I wasn't beautiful?"
Busy faking her own death
The Arkady Babchenko saga, in which a respected Russian investigative journalist faked his own death, apparently to foil an assassination attempt on his life, is not actually funny. It played straight into the hands of both Vladimir Putin and conspiracy theorists, as well as making me think the acronym for Ukraine's security services should be LMFAO. Though it wasn't quite in the league of John Darwin the canoe man and his wife.
But who could blame Melania for considering a similar course of action? There can be nobody who actually believes Melania enjoys spending time with Donald. The abundance of footage in which she eschews any physical contact with him is evidence of this. Then there's that infamous smile she dropped faster than a Tory manifesto pledge.
Working on her bizarre social enterprise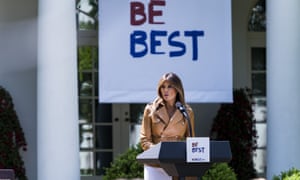 Melania has a new "cause", and it's the equivalent of writing every single idea you've ever had in the margin during the last 30 seconds of an exam. Be Best is apparently about social media, children's physical health and … opioid addiction. Imagine playing charades with her: she could literally have anything in mind. The logo for Be Best has a distinctly Microsoft Paint vibe, so it's unclear why it might have taken 24 days to refine.
Wooing Emmanuel Macron
Despite the fact that Emmanuel and Brigette have been together since Emmanuel learned to spell Brigitte's name in Crayola, nobody can deny the frisson between Melania and Emmanuel at the two couples' state visits. Look at this pair, don't tell me you wouldn't read the fan fiction. And we know Macron is keen on first ladies, thanking Malcolm Turnbull of Australia and his "delicious" wife.
Redecorating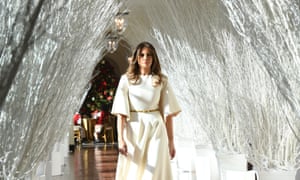 It's estimated that Melania has spent $2m redecorating the White House, and who can forget her Christmas tree made of books, almost certainly pinched from a Pinterest mood board?
My money is on Melania in an old pair of dungarees painting every single surface with the kind of scene mindfulness apps tell you to think about to chill out: beach scenes, forest pines, giggling babies, a phone with 100% battery life. A mural of Emmanuel Macron. Anyway, here's to Melania's return. Or at least, the return of her secret stand-in.
Source: www.theguardian.com