Where there is football there is analysis and where defeats sit there is reason and blame. Maurico Pochettino could not really offer a full explanation why Tottenham had lost at Liverpool or detail why they performed so badly other than recognising the obvious factor: aggression was absent from his team's play but present and raw in Liverpool's.
Though it was an accusation he contested, Tottenham's high line – deployed in stark contrast to the deeper defences that have been successful in frustrating Liverpool over the last month – contributed towards opportunities for Sadio Mané and Liverpool racing into a two-goal lead within the first eighteen minutes. That the score had not changed by the end meant that Spurs had been behind by more minutes (72) than they'd been since the start of last season (42).
As Anfield's stadium clock ticked past the hour mark, then, Spurs were in unfamiliar territory. What followed was not encouraging. Pochettino made substitutions but none of them seemed to make sense. Dele Alli and Christian Eriksen were anonymous – Eriksen was one of those removed – while Harry Kane remained isolated. Spurs managed just two shots on target and Simon Mignolet – a goalkeeper with mistakes behind him in each of Liverpool's two previous games – was tested only once, though his save in the first half from Heung-min Son was a significant one.
While it would be sensible for Jürgen Klopp to spend some time during the next 14 days until their next game analysing why Liverpool have achieved the insane feat of taking 26 points against the Premier League's top ten teams and only 23 against the bottom ten, this outcome meant that Pochettino had to face questions about why his side had failed to turn up in a pivotal trip to one of their top four rivals; why, indeed, Spurs have won just twice away from home since late September, a run that includes defeats at Chelsea and Manchester United, in addition to draws at Arsenal and Manchester City.
Before Tottenham play their next league fixture, their schedule is rather more taxing than Liverpool's, with two Europa League games against Belgian side, Gent, and an FA Cup fifth round tie at Fulham. That Pochettino reminded the assembled press of this without the need for him to be asked first suggested he might think this gives Liverpool an advantage in the tussle to secure Champions League football for next season.
His response to a question about the ability of his squad to deal with this period was hardly reassuring. "We will see," he said. "That is important. We are in a different project to Liverpool, Chelsea, Manchester City, Manchester United and Arsenal. We are a club fighting for the Premier League with different tools in a different project. We will see if [we] can cope. If we have the squad, we will see. It is important that our project is long-term and we can see if we can cope with all the competitions now."
There are similarities, though, between Liverpool and Tottenham – in that both teams have suffered from injuries, while Chelsea have not. Equally, neither Liverpool nor Tottenham have the broad title winning experience of the players at Chelsea.
"Sometimes it is not only about pushing the player to train and run and play, sometimes it is about coping with the level and the competition," Pochettino believes. "It is important now to assess and be calm. Sometimes this happens. It is only our third defeat in the Premier League. Today we were poor and I feel very disappointed but be careful. We are one point above Liverpool still."
No Tottenham team has qualified for the Champions League in consecutive seasons and Pochettino realises that. He realises too it has been a decade since Tottenham last won a trophy.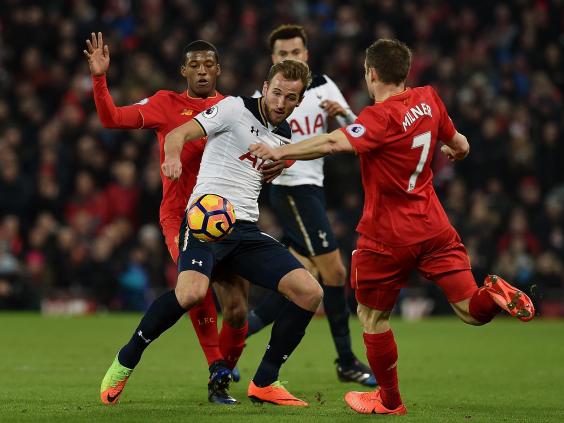 "The club is in a special situation, building the new stadium and there are many things which are important when you analyse the team," Pochettino added. But would he prefer to finish in the top four or win something?
"I need to think about that," he replied. "For our supporters winning a trophy is important but getting in the top four is important too. I don't know."
Read more at independent.co.uk