The Queen has marked Maundy Thursday by giving out commemorative coins to pensioners, as part of a traditional royal service at Windsor Castle.
Ninety-two women and 92 men were presented with the coins, some marking 100 years since women got the right to vote, in recognition of their service to the church and community.
The Duke of Edinburgh decided not to take part, Buckingham Palace said.
Maundy Thursday is a Christian holy day falling on the Thursday before Easter.
The event, dating back to the 13th Century, was held at St George's Chapel – where Prince Harry and Meghan Markle will be married in May.
Duke absent
At the service, the Queen carried a nosegay made up of daffodils, primroses, stocks, purple statice, freesias, rosemary, thyme and ivy leaves.
The recipients, who were chosen by ministers and members of the clergy, received a red and a white purse.
The red one contained a £5 coin marking four generations of royalty, and a 50p piece commemorating the Representation of the People Act 1918, which gave some women the right to vote for the first time.
The white purse has silver penny pieces which add up to the value of 92p – the Queen's age.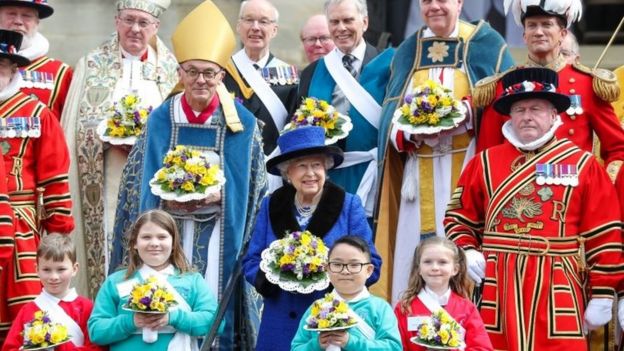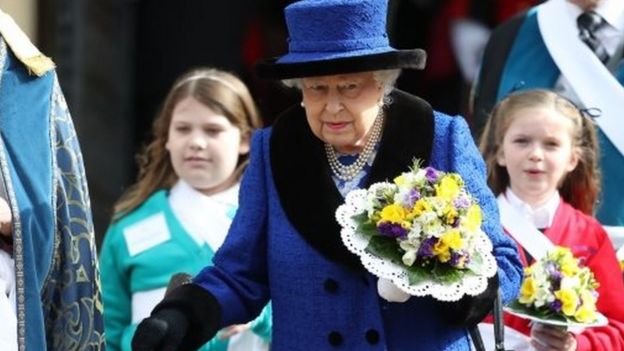 Despite Prince Philip taking part last year and being listed in the order of service, he was not present at the ceremony.
A palace spokeswoman said: "The order of service was printed some weeks ago when it was hoped the duke would be able to take part. His Royal Highness has since decided not to attend."
Prince Philip, who is 96, retired from royal duties in May 2017 but remains the patron of hundreds of organisations.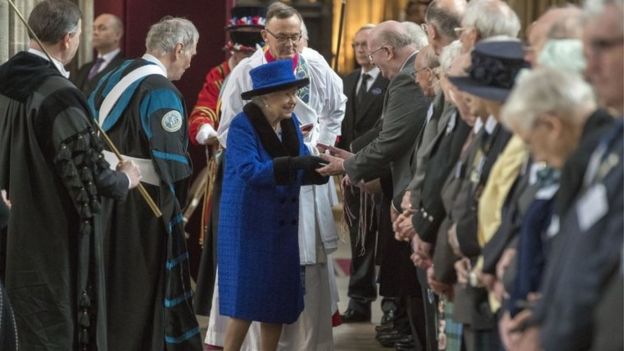 What is Maundy Thursday?
Royal Maundy is a religious service held on the day before Good Friday, which commemorates the night of the Last Supper as told in the Bible.
The origins of the ceremony, which is part of Easter celebrations, come from the commandment Christ gave after washing his disciples' feet.
Historically, it has involved handing out food and clothing and cleaning the poor.
The pope traditionally bathes and kisses the feet of 12 people who are normally members of the Church.
The royal family has taken part in Maundy ceremonies since the 13th Century.
Source:bbc.com