"A display of temper is more effective if used sparingly," Sir Alex Ferguson once said and though there were times when he would have been better off holding his tongue – his description of the "typical Germans" after Champions League elimination by Bayern Munich in 2010 being one of the more excruciating  – his anger was calibrated and calculated to put the fear of God into referees.
Manchester United thought they were buying a bit of this quality when Jose Mourinho was hired this summer, though his explosions have become ten-a-penny and devalued, coincidentally leaving the club facing the worst run of brushes with the FA disciplinary department they have ever known. On Monday night, he received his second FA charge in two months, for kicking a water bottle during Sunday's Premier League draw against West Ham United. He has been sent to the stands on three occasions in just 20 Premier League games.
A ridiculous sense of injustice was the catalyst for his latest fit of pique, which made it all the worse. Mourinho's midfielder, Paul Pogba, had feigned a foul against him and was booked for it and all the protestations and kicked water bottles in the world could not erase the fact.
It does not take much imagination to know how Sir Bobby Charlton will feel about what he has witnessed in the first 103 days of Mourinho's first Premier League season as Manchester United manager and the memory certainly drifts back to what Charlton told TV documentary makers about the man back in 2011. "He pontificates too much for my liking. He is a really good coach but that's as far as I would go, really."
That choreographed meeting between Mourinho and Charlton in the Carrington car park on the day the manager arrived to begin his work has helped erase that sense of two cultures clashing, though we are getting to the stage when it is reasonable to ask whether someone with Old Trafford will be taking the 53-year-old aside and quietly reminding him of his responsibilities.
The only individual who might have that kind of conversation is the executive vice-chairman Ed Woodward, though the word from the top of the club is that there are no plans to call Mourinho in for a chat. Intrusions of that kind from the board tend to come when conduct is becoming a problem with sponsors and things are not as serious as that. The view seems to remain what it was when this correspondent asked a senior board member in September if there worries about Mourinho's histrionics damaging the United brand. 'Ferguson was not averse to being at war with the establishment,' came back the reply.
The concerns of the board are far more likely to be the very public way Mourinho has called out players such as Luke Shaw, Chris Smalling and Henrikh Mkhitaryan in a way that Ferguson never would. What had actually impressed United most at close quarters in the early weeks was the way he seemed to act as a lightning rod, deflecting criticism away. That soon changed.
But the tantrums are damaging, contributing as they do to a sense that this is a club whose manager lacks modernity. Compare Mourinho at the weekend with the dignity of Eddie Howe – an individual who had reason to rail against several penalties not given for his Bournemouth side, yet who dealt with that injustice implacably. One of the most striking aspects of Pep Guardiola and Jurgen Klopp's management is the absence of complaint against officialdom or denied penalties. The post-match story of managerial rage against referees is actually becoming outdated.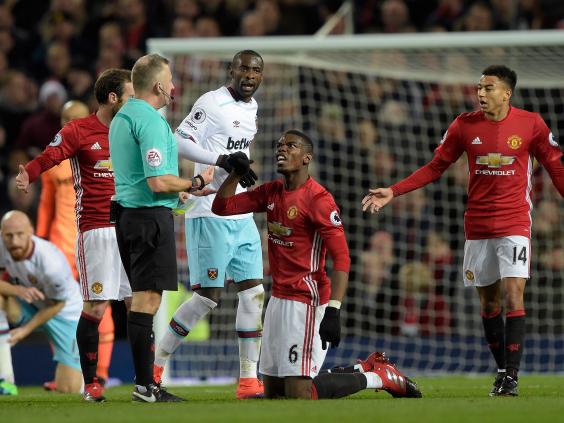 What supporters do not see at close quarters is the operational chaos that Mourinho being sent to the stands tends to cause. At Burnley a few weeks ago, we were treated to the sight of coaches and players running from dug-out to the stand with messages to and from him. As Mourinho trusts very few to deliver them properly, even Dutch defender Tim Fosu-Mensah was pressed into action as an emissary. When dismissed on Sunday, Mourinho seemed to watch some of the match from the dressing room, reducing his contribution even more. On both occasions, a post-match scramble then ensued to get his assistant Rui Faria lined up for the ensuing press conference.
None of this is an environment conducive to calm management. What the board want most of all from Mourinho is shrewd tactical skill and if his substitutions are anything to go by that is not in evidence enough. Too often, they are making United materially worse.
Perhaps it was just the way the cameras captured him on Monday, but the look on Mourinho's face at Carrington on Tuesday was the one of an individual living and operating under a cloud.
That's certainly how Ferguson wanted it, despite the rather superficial characterisation of the man. Losing your temper "for the right reason" was important, he once said. "If you look at all my teams it was evident that they enjoyed playing and they tended to express themselves on an uninhabited fashion," he reflected. "People do not to that if they are quaking in their boots or if their boss has made them afraid of their own shadows. If you explode for the slightest provocation, it can paralyse an organisation."
Read more at independent.co.uk