The fairytale might have ended, but might we now be seeing the beginnings of a story even more fantastic?
Leicester City are still be a long way from a Champions League final in Cardiff, and likely have much greater opponents in the way than a disappointingly tepid Sevilla, but they have already gone a lot further than anyone expected in reaching the quarter-final. The way that they did, especially given the one-sided nature of the first leg, also suggested that especially unique type of cup momentum.
There was definitely something special about this hurricane-paced 2-0 win over Sevilla, fired by goals from Wes Morgan and Marc Albrighton, if also something fortuitous. Leicester got the breaks in the way Jamie Vardy cynically used Samir Nasri's foolish dip of the head to get the playmaker sent off, and how Steven N'Zonzi took such a poor penalty on 80 minutes – the second spot-kick Sevilla had missed over 180 minutes. It was just another crucial save, however, that Kasper Schmeichel had made.
It means Leicester make club history by reaching the European Cup last eight, and can still have grander dreams, after this electric night.
In terms of setting up an exciting European second leg, the visiting side leading 2-1 is probably the perfect scoreline. The home side enters the game knowing they must score but that one goal will give them the advantage, creating a proper sense of anticipation, while the away team doesn't have enough of a safety net to really set up defensively. The fact everything can change in an instant creates an immediate tension and a rare heightened atmosphere.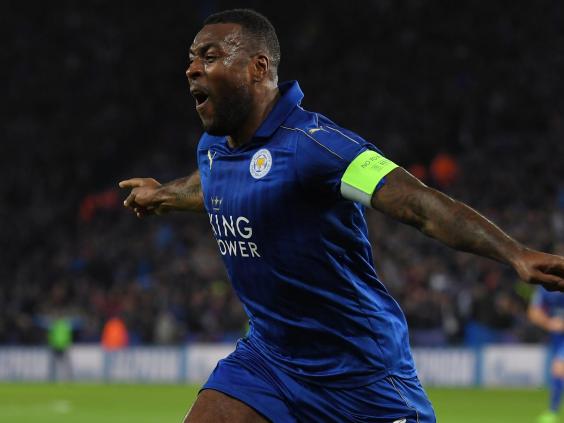 Undoubtedly buoyed by all of this as well the drastic shift in performance over the past three weeks since the second leg, Leicester started the game much higher up the pitch than might have been expected, while Sevilla seemed a little sapped of some of the energy they showed in the first leg. They had the first true threat of the game when Pablo Sarabia shot just wide, but there wasn't quite the same fizz about them at that point. They just weren't playing with the same speed or intensity. By contrast, Leicester were doing everything rather tidily, and strongly.
If it has become cliche by now to talk about the English champions getting back to the performance levels of last season, a goal from a set-piece should also have been a cliche and something you deal – but that was precisely what Sevilla were susceptible to.
On 26 minutes, Vardy's sharp 'busy-ness' brought a foul from Vicente Iborra, Riyad Mahrez stepped up to curl in a fine free-kick and captain Morgan arrived at the back post. It wasn't the most aesthetically pleasing finish, given it rolled down his shin and in, but that didn't matter.
What mattered was that Leicester were ahead, and Sevilla now had to attack a team never more comfortable than getting to play on the counter at home.
Perhaps the most surprising thing about the game was not Leicester's transformation in this tie, given their transformation in the Premier League has been so discussed, but Sevilla's. They suddenly couldn't live with the pace of Shakespeare's side. They were leaden, with none of the lively interchanges and full-backs arriving in the area out of nowhere of the first leg. Similarly, although Jorge Sampaoli has a justifiable reputation as one of the most meticulously prepared coaches in the game, his team seemed to so oddly and obviously be playing into Leicester's hands. They were hands evidently ready to grasp any opportunity, too.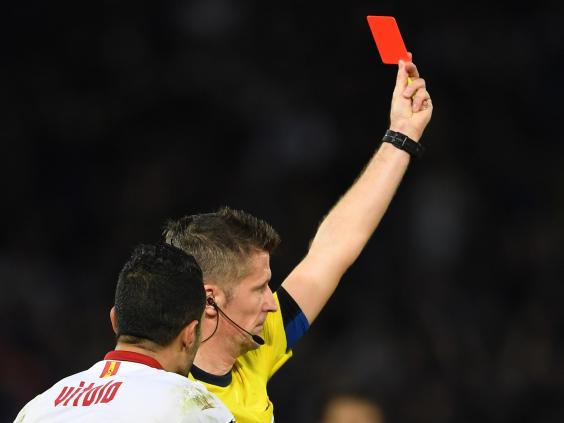 The difference between the sides was displayed again just minutes into the second half. Although the excellent Sergio Escudero smashed the crossbar with a brilliant strike from distance on 52 minutes, Nicolas Pareja rushed the rebound and sent it well when over when the goal was gaping.
Leicester went straight up the other end to ultimately put Albrighton into a similar but more difficult shooting position to Pareja, but there was nothing rushed about what he did. He calmed himself, teed the ball up with delicacy and then whacked it low and true past Sergio Rico with a driven belief.
A decisive minute? Leicester now didn't just have the advantage. They had security.
A single Sevilla goal would now only put the game into extra-time.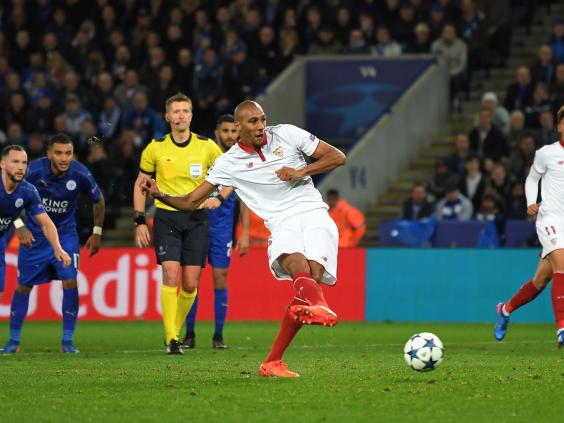 It was very soon Leicester who had an extra man, however. With Sevilla getting increasingly frustrated with their inability to get going and play their game, Nasri got right up to Vardy's face on 74 minutes. Although the French playmaker dropped his head a touch too vigorously, Vardy fully used the opportunity, going down in a way not really consistent with the contact.
It meant Nasri was going off, having received his second booking of the game.
It was soon after, though, that Sevilla got their best chance of the game. On 79 minutes, Vitolo was beautifully put through on goal, only to abruptly go to ground as Christian Fuchs went in one side and Kasper Schmeichel the other. It was the goalkeeper punished, but that only gave him the opportunity to again be the hero.
N'Zonzi stepped up… and feebly hit it down low, for Schmeichel to get across.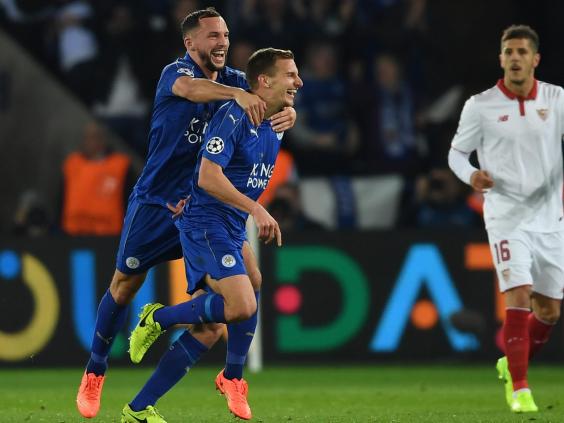 There was still one more chance – but for Vardy. He blazed over, and was literally smacking himself in anger.
He wasn't to regret it. Leicester, it seems, won't regret sacking the hero of their last fairytale in Claudio Ranieri. The interim boss Craig Shakespeare has already done something remarkable.
He was duly celebrated on a massive tifo quoting Julius Caesar before the game. You could say this might be a story conjured by Shakespeare, of course, but that would be far too predictable.
Leicester are still doing the unpredictable.
Read more at independent.co.uk