The main problem with Venice is the sheer number of people here. Step into St Mark's Square and you'll find yourself jostling with other tourists; head out in a boat and your driver or gondolier will likely have to dodge other vessels. It's a magical place, but it's no wonder the locals have such a strained relationship with the visitors who overrun their city.
So, how to experience La Serenissima without the crowds? Well, one way is by checking in to the JW Marriott Venice. This five-star hotel opened last year on a private island, Isola delle Rose, a 15-minute boat ride away from the heart of the city.
Originally a clinic and retreat for those with respiratory problems, its historic buildings have been restored and revamped, with the addition of an opulent spa and a show-stopping rooftop infinity pool with views over the water and the Venetian skyline. Elsewhere in the grounds you'll find a compact family pool, complete with a pool bar serving light meals and snacks.
A comprehensive breakfast buffet is laid on at the Cucina café, and the hotel also has a Michelin-starred restaurant, Dopolavoro. This was fully booked during my visit, so instead I dined at the Sagra Rooftop Restaruant, which has a menu of brilliantly executed Italian dishes.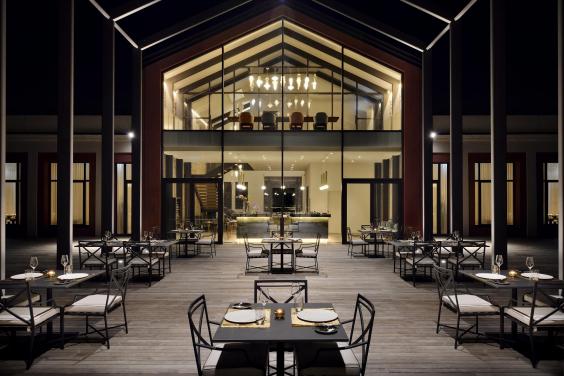 Despite the delicious food, there is a downside to dining on Isola delle Rose – at least if you're eating al fresco in summer, and that's that there are wasps everywhere, making for a rather stressful experience.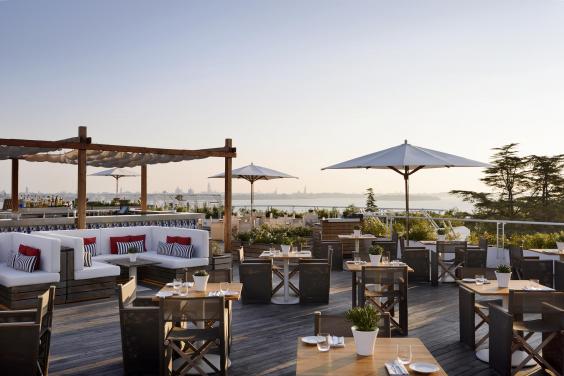 Location
The hotel's free shuttle boat will take you across the lagoon to St Mark's Square, from where you can see all of Venice's main sights on foot: the basilica, the Bridge of Sighs, the Rialto Bridge and the Grand Canal among them.
Until 27 November you can still explore the Venice Biennale, a huge international exhibition, where each country has its own pavilion dedicated to new ideas in architecture and urbanism. The German display is particularly impressive.
Like Isola delle Rose, the area surrounding the Biennale is blissfully free from the tourist hordes, so you can wander around quiet canals, gelato in hand, and catch a glimpse of everyday life in the city.
Comfort
The 250 rooms are spread across the main building and several outlying structures which have been sensitively renovated. My room, a La Maisonette Loft Suite, was in a low-level building, whose original brick façade has been retained, seemingly free-standing in front of the new floor-to-ceiling windows.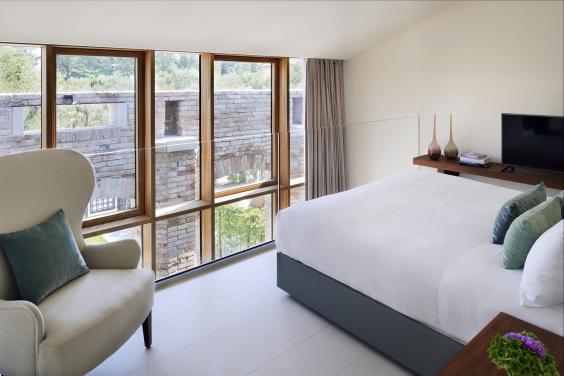 The suite I was in has a bathroom and bedroom on the mezzanine, and another loo and an open-plan living space downstairs. The huge windows are the real statement feature, letting in loads of light and looking out on to the room's small private garden, with its loungers and soft seating. The interiors border on bland, with a mostly cream-and-white colour scheme and obviously expensive leather couches and blown-glass vases.
The bathroom, however, is a lovely marble affair, with the deepest tub I've ever seen, and a walk-in shower.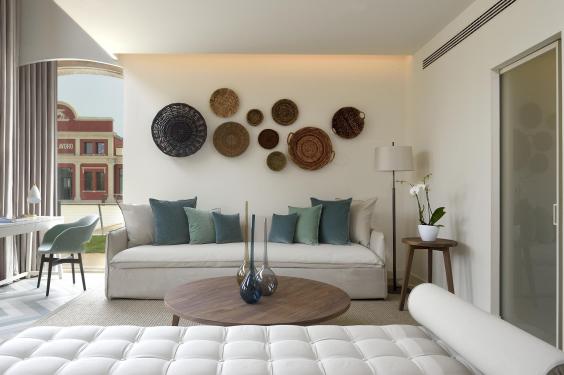 Other room categories range from Deluxe doubles, in the main house, to spacious villas with their own private plunge pools
Essentials
JW Marriott Venice Resort & Spa, Isola delle Rose, Laguna di San Marco, Venice, Italy (00 39 041 852 1300; marriott.co.uk). Double rooms start at €431 including breakfast. The hotel closes for the winter on 20 November, reopening on 16 March 2017.
Wifi: Free in public areas, €20 a day in-room
Access: Eight wheelchair-accessible rooms, and the boat transfer is also accessible, though the hotel warns that electric wheelchairs may be more difficult to get on board.
Rooms: ****
Service: ****
Value: ***
Read more at independent