The health secretary has accused the doctors' union of misleading junior doctors over changes to their contracts in England, ahead of a rally later.
Doctors are expected to march in protest at the changes which they say will lead to a drop in their salaries.
Jeremy Hunt said the proposals would benefit doctors by reducing their maximum weekly working hours.
The BMA denied it had misled its members and said the rally in London would be a wake-up call for ministers.
The government has indicated it will impose the new contract next year in England. Scotland and Wales have both said they will maintain the old contract; Northern Ireland has yet to decide.
---
Analysis

By Hugh Pym, BBC health editor
There is a sense that Jeremy Hunt's patience is wearing a little thin. His latest interview is in effect an attempt to sidestep the BMA and appeal to the wider body of junior doctors in England.
But the BMA's response is that the thousands of doctors who will protest on Saturday in London and Nottingham will demonstrate the strength of feeling and unity behind the campaign against the controversial new contract.
The question is how ministers will respond to the weekend's protests and the BMA's continuing planning for a ballot of members on industrial action.
---
Mr Hunt told the BBC: "I think it is incredibly disappointing, the way that the BMA has misrepresented the government's position.
"It's caused a huge amount of anger unnecessarily; we don't want to cut the pay going to junior doctors, we do want to change the pay structures that force hospitals to roster three times less medical cover at weekends as they do in weeks and that means that there's a 15% greater chance of you dying if you are admitted on a Sunday, compared to being admitted on a Wednesday."
'Good deal'
He told BBC Radio 4's Today programme that a reduction in overtime rates at weekends would be compensated with extra basic pay.
Mr Hunt said he wanted to remove financial penalties "that force hospitals to roster less at weekends" and was willing to negotiate over safeguards that will stop doctors from working too many hours.
"This is a good deal for doctors. We are reducing the maximum hours a doctor can be asked to work from 91 to 72 hours [a week]. We're stopping doctors being asked to work for five nights in a row."
Mr Hunt also called on the BMA to return to the negotiating table.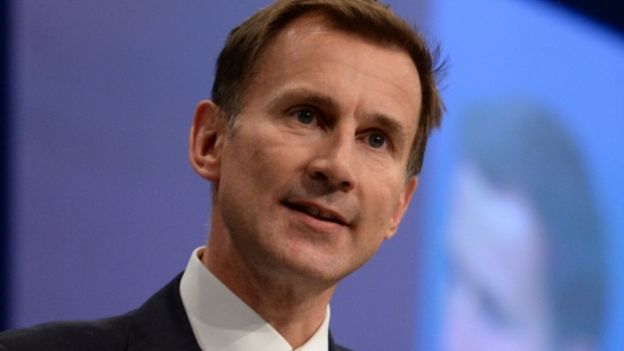 The BMA is demanding that the government withdraw its threat to impose the new contract in England from next year.
Dr Johann Malawana, chairman of the BMA junior doctors' committee, said Mr Hunt needed to listen not just to the BMA but to junior doctors themselves.
"The fact is we want a contract that is safe for doctors in terms of maintaining safe, clinical care and delivers a safe NHS for patients," he said.
'Financially unviable'
Commenting ahead of the rally in central London, Dr Malawana said the gathering would be "a wake-up call for ministers".
"The health secretary has accused junior doctors of misleading the public over the impact of his changes, yet at the same time he continues to conflate junior doctors' legitimate concerns and the government's rhetoric on seven-day services.
"The truth is that the junior doctor contract is in no way a barrier to seven-day services, with the vast majority of junior doctors routinely providing care to patients 24/7."
Dr Dagan Lonsdale, a specialist registrar working in intensive care medicine, said the thousands of doctors who will be demonstrating saw the proposed contract changes as "unsafe for patients and unfair to doctors".
"I already have a situation where I have to pay out fees for my training," the 32-year-old told BBC Radio 4's Today programme.
"If I am one of the doctors who loses out in this new contract, then again for my wife and I it becomes financially unviable for us to remain as doctors.
"Now that's not me being greedy, that's me just saying that the pennies coming in won't match the pennies coming out and I will have to leave medicine, that's a fact."
Gavin Brittain, a junior doctor in Greater Manchester, told the BBC: "We feel that the contract removes a couple of vital safeguards that are currently in place, that would lead to us working longer, unsafe hours.
"That might then lead to us becoming more tired, and as we all know, tired doctors are more prone to make mistakes and at the end of the day, mistakes can cost patients' lives."
Source: https://www.bbc.com