If you wanted to find a sense of perspective about Manchester United and, quite frankly, some class, then Mark Hughes, rather than Jose Mourinho, was the individual to listen to in the narrow back corridors of Stoke City's ground late on Saturday.
Outside on the pitch, Wayne Rooney had just become United's most prolific goalscorer of all time and while Hughes' tribute was commensurate with the accomplishment, Mourinho wound up talking in a way which – like almost all of his utterances – was political and designed to settle scores.
When the question was put to him whether Rooney would want to end his days in China, most would have hoped for a decent, heart-felt response. Namely, that he would always be welcome at the club where he has been a talisman during the difficult late years of the Ferguson era and scored his goals in a proletarian way – making endless yards of tracking and tackling, in the process.
No. Mourinho was not willing to go down that line. "You will have to ask him. The future belongs to him…" he said, having mounted a defence of the Chinese Super League which would have seemed weird to those unfamiliar with the little games he likes to play. Arsene Wenger and Jurgen Klopp have both questioned the money China is throwing in front of Premier League players and Mourinho wanted to spread a little poison in their direction. "I know some of my colleagues. They think they are more important than they are. They are critical with the lives of other people. I am not this kind of guy."
Mourinho knows the news machine well enough to intuit how his observations would look in print. And sure enough, by 10.30pm the finale of a Football Writers' Association gathering in London to mark Rooney's extraordinary career on Sunday coincided with their publication: 'Rooney can go if he wants.'
This was consistent with the struggle it has been to procure from the United manager a fitting assessment of Rooney's record. The prerequisite of managing such a storied institution as United is an understanding of its history. Yet when Rooney equalled Sir Bobby Charlton's record against Reading a few weeks ago, the best Mourinho could offer was that breaking it would be even better. And when he did so, Mourinho's prime message was: 'Why has it taken him so long?' "You should talk about Wayne's record today and tomorrow 24 hours and then finish," he said on Saturday.
If a Liverpool player had been on the brink of such a record it is hard to imagine Jurgen Klopp not being present in London at an FWA event to mark it. The same would apply to Pep Guardiola and a Manchester City player. Yet this is how things are with Mourinho, an individual too self-absorbed to understand that it's not just about him. His Rooney responses have been cold to the point of austerity.
While Mourinho was sending out his spite on Saturday, Rooney was down in the player/journalist mixed zone, declaring once again after his 23-minute cameo that he has not given up on getting his place back. "I want to win my place back. I have been in and out of the team and I need to keep trying to perform and score to stay in the team."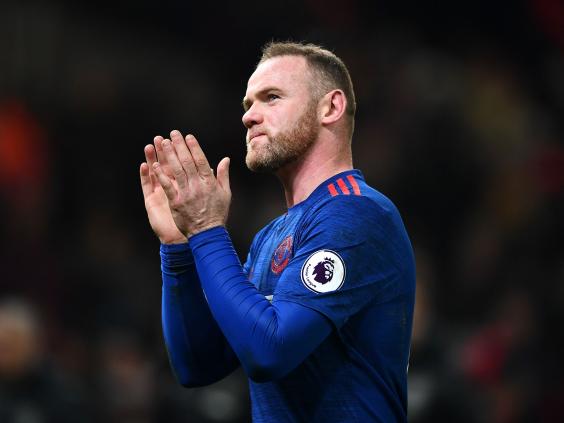 Say what you want about the way he has wrung two new contracts out of United in the past seven years and the fact that his light has dimmed. Lesser players would have withdrawn their goodwill having been reduced to the periphery, though he has seized his scant opportunities this winter, looked up for it and lost weight.
It took Zlatan Ibrahimovic, an individual who knows class when he sees it, to tell it as it is on Rooney. "I don't see any other strikers like him today," he said. "Give me some names. Tell me." None were forthcoming. "And still you're not happy…?"  The Swede's quotes don't tell the full story, actually. He was so indignant about Rooney's treatment that a United press officer hastened across to find out who on earth had upset him.Sir Bobby was straight into the Stoke dressing room to congratulate Rooney while Hughes, palpably devastated by two late dropped points, acknowledged his goal as one entirely in keeping with the United player's way. "It's an unbelievable achievement," Hughes said. "40-odd years and a lot of good strikers have been and gone and not got anywhere near it." Charlton and Hughes: Manchester United legends, displaying true Manchester United class.
Read more at independnet.co.uk