US regulators have formally approved the single-shot Johnson & Johnson (J&J) coronavirus vaccine, the third jab to be authorised in the country.
The vaccine is set to be a cost-effective alternative to the Pfizer and Moderna vaccines, and can be stored in a refrigerator instead of a freezer.
Trials found it prevented serious illness but was 66% effective overall when moderate cases were included.
The vaccine was developed mainly by J&J's Janssen Pharmaceutica division.
The company has agreed to provide the US with 100 million doses by the end of June. The first doses could be available to the US public as early as next week.
The UK, EU and Canada have also ordered doses, and 500 million doses have also been ordered through the Covax scheme to supply poorer nations.
The European Medicines Agency could approve the drug for the EU in early March, with a speedy rollout to follow, French Industry Minister Agnès Pannier-Runacher said on Sunday.
'All three are good'
President Joe Biden hailed it as "exciting news for all Americans, and an encouraging development", but warned that the "fight is far from over".
"Though we celebrate today's news, I urge all Americans – keep washing your hands, stay socially distanced, and keep wearing masks," he said in a statement.
"As I have said many times, things are still likely to get worse again as new variants spread, and the current improvement could reverse."
Mr Biden's chief medical adviser, Anthony Fauci, on Sunday advised people to take the Johnson & Johnson shot, when asked about its effectiveness compared with the other two approved vaccines.
Dr Fauci told NBC: "All three of them are really quite good, and people should take the one that's most available to them. If you go to a place and you have J&J, and that's the one that's available now, I would take it."
Dr Fauci, 80, won't need the J&J as he had his second dose of Moderna last week.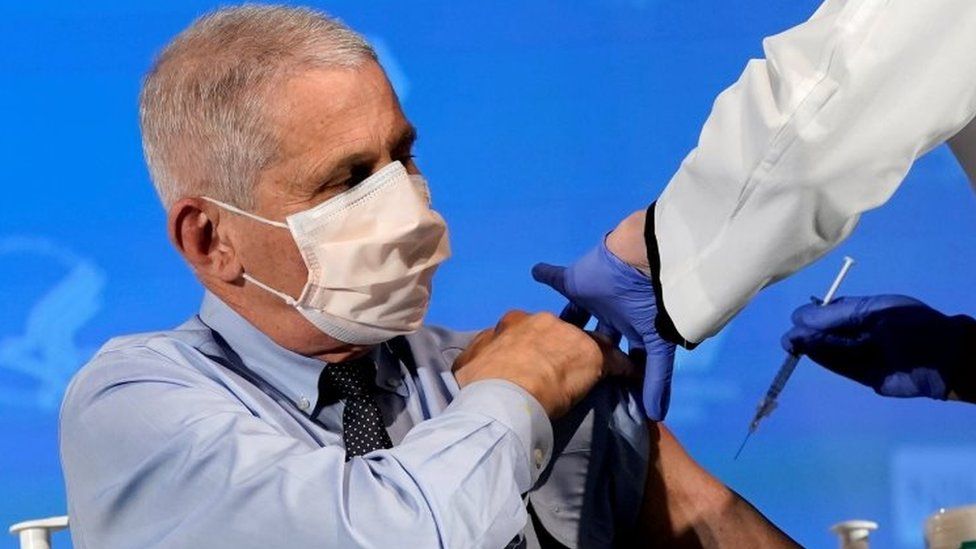 Results from trials conducted in the US, South Africa and Brazil showed it was more than 85% effective at preventing serious illness, and 66% effective overall when moderate cases were included.
The efficacy rate was lower than two doses of Pfizer or Moderna, but the trials were organised differently and the J&J tests came at a time when new variants were in circulation, making comparisons difficult.
Notably, there were no deaths among participants who had received the J&J vaccine and no hospital admissions after 28 days post-vaccine.
Overall protection was lower in South Africa and Brazil, where virus variants have become dominant, but defence against severe or critical illness was "similarly high".
www.bbc.co.uk