There had been something in the way Jermain Defoe discussed his return to the fold that told you he was not going to let the moment pass him by. "Try and tick every box," he told us a week ago, describing the significance of sleep, the right food and "all the boring stuff" that matters when you're that bit older.
Gareth Southgate evidently saw the look in Defoe's eye, too, because the decision to field him in the fixture that actually mattered in this international break provided more evidence that age does not have to hinder you. It was not just Defoe's poacher's instinct that we witnessed but the intuition which can be accrued by the age of 34. The little diagonal runs and the drop-offs into pockets of space were what he brought and they were necessary accoutrements against a Lithuanian team which displayed a stultifying lack of ambition.
Defoe's opening goal – 15 for the campaign – was payback for a discerning manager, given that Manchester United's Marcus Rashford looked a more obvious selection at the top of the team. This advertisement for what is achievable beyond the age of 30 can only compound the agony for a certain 31-year-old captain whose absence has not even been discussed these past ten days.
Jamie Vardy's second half goal made the scoreline a pass rather than anything approaching distinction. But there were more signs of Southgate's strategy to get Adam Lallana – whose touch was sublime again – and Dele Alli operating together between the lines. The triangle they formed with Eric Dier looked like a nexus on which a side is being built, with Raheem Sterling intermittently demonstrating that England have one world class winger. The Manchester City player operated with an appetite which is a far removed from his desperate days of last summer's European Championship campaign.
A pre-planned strategy just after Defoe had broken the deadlock felt like a metaphor for the confidence and pre-calculation with which way the young team are exchanging the ball. A rapidly shipped pass across ten yards, dummied by Alli, reached Lallana who clipped it into space for Alli, who was straight on the move.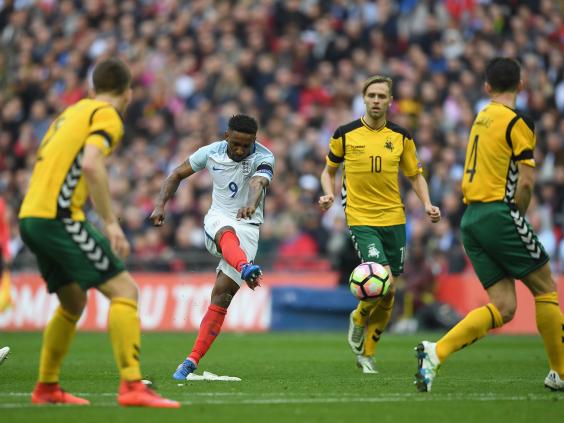 The challenge was always going to conjuring the unexpected, though, against the eight men Lithuania amassed behind the ball when England into opposition territory. Southgate's players looked to break from midfield at pace but the final pass had been missing before Sterling raced beyond the right back Egidjius Vaitkunas and levelled a low cross into the six yard box. Linas Klimavicius extended a foot to block and slipped in the process of missing it, allowing Defoe to rap the ball in right footed, his first goal for England since the two he scored in San Marino, four years ago last Wednesday.
England had commanded 78.5 per cent possession by then and Defoe's ability to locate space had already come close to breaking down the opposition. He'd predicted that Lallana would play a reverse pass into the right hand side of the Lithuania area after ghosting around his opposite number Arvydas Novikovas and was there to meet it, striking a ball that Ernestas Setkus stuck out a foot to stop. At times, the Sunderland player dropped deeper to pick up possession and it was from there that he struck a shot wide two feet wide just before the half hour.
It is a measure of the struggles Scotland are facing that Gordon Strachan's players needed 89 minutes to find a solitary goal which staved off defeat against Edgaras Jankauskas's side and injury was the greatest threat to England. Alex Oxlade-Chamberlain –who did less than teammates to warrant selection – and Sterling were both subjected to grim challenges.
Defensive concentration remained intact, though. Briefly in the second half LIithuania's one threat – Nerijus Valskis – was allowed to move into space as England's defence back-tracked but, his left-footed shot from 15 yards was comfortably saved by Joe Hart.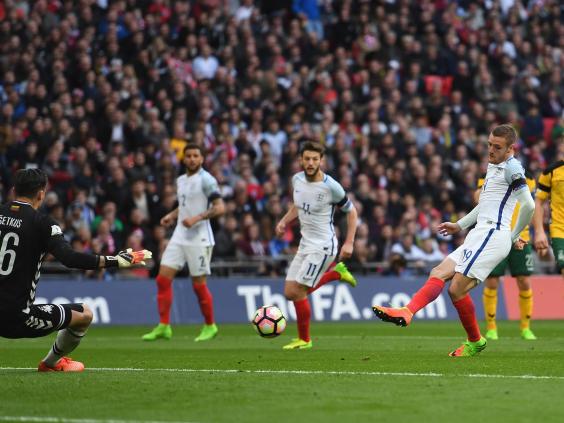 Southgate introduced new energy on the hour, with Vardy and Marcus Rashford arriving for Defoe and Sterling and it was a beautiful touch by Lallana – tickling a Kyle Walker pass around the corner and into Vardy's path – which allowed the Leicester player to double the lead. Vardy could have added a third when the Liverpool player sent him on one of the foot races he likes, through on the goalkeeper whose attentions were enough to see him clip the all over the bar.
The stadium was not sold out and there was never an atmosphere suggesting the nation believes its football team are going places, but Southgate moves forward with purpose and stealth. Defoe may be with him for some time yet.
England (4-1-4-1): Hart; Walker, Keane, Stones, Bertrand; Dier; Sterling (Rashford 60), Oxlade-Chamberlain; Alli, Lallana; Defoe (Vardy 60)
Lithuania (4-2-3-1): Setkus; Vaitkunas, Kijanskas, Klimavicius, Slavickas; Zulpa; Novikovas (Grigaravicius 54); Cernych, Slivka (Paulius 87), Kuklys; Valskis
Referee: R Buquet (France)
Attendance: 77,690
Match rating: 6
Read more at independent.co.uk