Jorge Sampaoli was evidently unwilling to deal in any of the usual diplomacy that these occasions usually involve. The Sevilla manager, in fact, spoke as abrasively as his team had played in their 2-1 Champions League last-16 first leg win over Leicester City. You could almost say he was quite cutting about the opposition, seeming to dismiss both their performance and approach.
"We were far superior in the development of the game, with 10 clear scoring chances," Sampaoli. "They did very little but succeeded in the end. I think we deserved a bit more.
"We had all sorts of chances but hit the post and crossbar. Our opponents only had a few chances, but now we have to go to Leicester for the win.
"We wanted to confuse our opponents a bit by getting our forwards to change positions.
"Still, it was possible to create many chances against a team that sat very deep. That's not easy."
Neither, however, is this tie.
Sampaoli was completely right. Sevilla were for the most part brilliant against Leicester, and should be confidently striding into the next round – via a trip to the Kingpower Stadium more a formality than a deciding leg – on the back of a healthy win.
That isn't the case, though, nor does it especially feel Sampaoli and his side were particularly emboldened by how well they played. They were frustrated, and probably a bit anxious. "The bad thing is we left our lead so slight after huge superiority," Sampaoli added.
Leicester, by contrast, were almost beaming. Jamie Vardy was cracking jokes despite coming out of a doping test so late, while a smile had returned to the face of Claudio Ranieri.
Such is the immense psychological power of an away goal.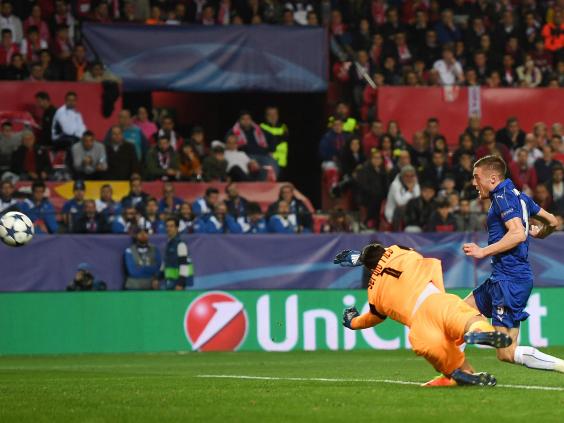 Because, if you were to take Sevilla's 2-1 win just on the performance, it would be very difficult to conclude anything else than that they will easily go through. They were that much better than Leicester. Sure, there might have been a little wobble before they got their second goal, and there were conspicuous nerves and some shaky defending when Jamie Vardy pulled one back but the difference between the teams was still so vast.
Sevilla were just so much more sophisticated and swiftly imposing than Leicester in absolutely everything they did, and it is very difficult to imagine Ranieri's side keeping a clean sheet in the return, let alone getting the win they need to go through. Sevilla will – or should – keep just doing what they were doing at the Sanchez Pizjuan and thereby repeatedly and resoundingly punch holes in Leicester's fragile backline to win easily.
Sevilla shouldn't be worrying about this tie, given how well they played, and yet you suddenly feel they have to
The only reason they didn't tonight was brilliant goalkeeping, blind bad luck and a small amount of unimpressive finishing.
No-one could say that this was a gritty ground-out 2-1 defeat from Leicester, but the aftermath began to make it feel like that. And that has already begun to foster the idea that the English champions can properly frustrate a slightly anxious Sevilla to go through.
Again, that is the power of an away goal.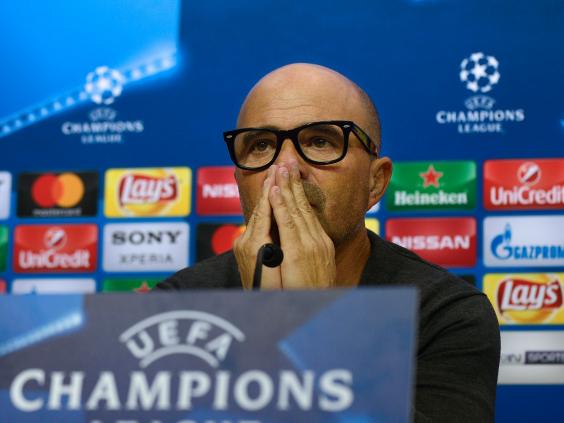 Whether it can actually enhance Leicester's performance is another issue. They are going to have to drastically improve to have any chance of going through. It simply isn't possible to imagine on the basis of what actually happened on the pitch in Seville.
The key, however, might be that the end result allows them to imagine properly putting it up to Sampaoli's side in the second leg; that it transforms their mindset; that it restores a confidence, a resilience, a level of application.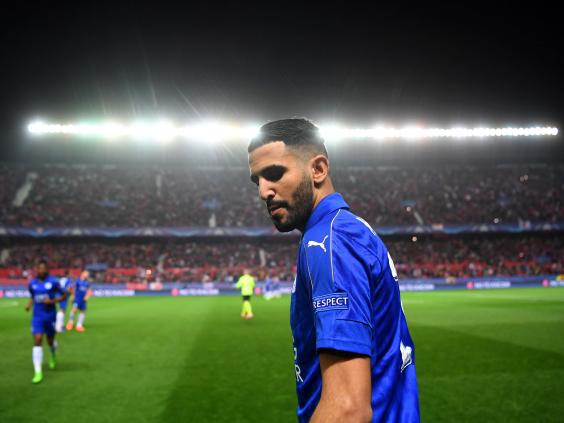 A huge theme of the last few days around the Leicester squad has been the idea of a "turning point" and how one good moment could change everything. If such moments are actually possible, then Vardy's goal surely fits that profile better than anything else: a hugely significant event that changes everything about a game, from the margin and perception of the scoreline to the scale of the challenge, coming when it was least expected.
Now, Leicester can suddenly expect that bit more from this tie; from this season.
Sevilla shouldn't be worrying about this tie, given how well they played, and yet you suddenly feel they have to. That is because they still have a big job to do.
Read more at independent.co.uk