Asia stocks joined a global market sell-off on Wednesday as a political crisis in Italy rattled investors.
The prospect of early elections and the possibility of eurosceptic parties strengthening their position raised concerns about eurozone stability.
Europe has struggled in recent years with a debt crisis and the UK's vote to leave the European Union.
Short-term Italian borrowing costs saw their biggest daily jump in 26 years, making it costlier for Italy to borrow.
Also hurting sentiment, the US said it planned to impose 25% tariffs on $50bn worth of Chinese imports "shortly" after mid-June.
Japan's benchmark Nikkei 225 fell 1.4%, South Korea's Kospi dropped more than 1.8% and Hong Kong's benchmark Hang Seng was down 1.4%.
"Italian political unrest remains in focus and has risk assets quivering which usually translates into regional losses," Stephen Innes, head of trading for the Asia Pacific region at research company Oanda.
Italy – the eurozone's third largest economy – is in the midst of a power struggle between eurosceptic populists, who won elections in March, and pro-EU establishment politicians.
In times of crisis, investors tend to favour safe-haven bonds over riskier stocks, pushing up bond yields.
While borrowing costs are still well below crisis levels, their increase brings back memories of the eurozone debt crisis in 2011.
Higher borrowing costs make it more expensive for a government to pay off its its debt, which in the case of Italy stands at at 130% of its economic output.
Some analysts say the Italian political upheaval could even affect the extent to which the US Federal Reserve, or central bank, increases interest rates which has a baring on the level of the dollar and other currencies.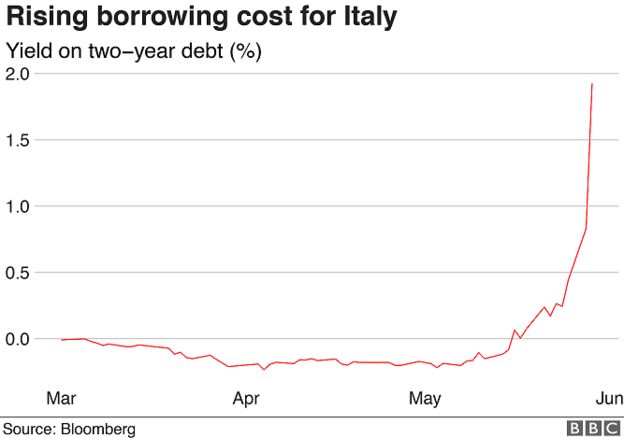 "These are worries that Italy's political woes may lead to stresses similar to what the eurozone faced in 2011/12 and prompt the Fed to take a more cautious stance on tightening," DBS Group Research said in a research note.
The falls in Asian stocks mirrored losses in Europe and in the United States. On Wall Street, the S&P 500 lost 1.2% and the Dow Jones 1.6%.
Falling bank shares dragged down Europe's main share markets. At the close the UK's FTSE 100 fell almost 1.3%, while Germany's Dax was down 1.5% and France's Cac 1.3% lower.
Source: www.bbc.com