Augusto rides through Testaccio market every morning at about 9.30, his bicycle cutting a pretty smooth and steady path between stalls and shoppers. He stops to buy vegetables from Il Velletrano, meat and offal from the butcher Sartor, then fish from the stall that used to be run by Mauro until he handed over to his young apprentice. Mauro and Augusto used to barter until their frontal veins bulged so insistently I worried they might burst, and they had been at it for years. These days, it is the young apprentice that stands firm as a daily deal is struck and a metal trolley of polystyrene boxes filled with silver-blue anchovies and mottled clams, tiny octopi and loose-mouthed groupers is pushed three streets from the market to Augusto's ristorante.
It has been an exceptionally mild October – days warm enough to eat outside with more to come, apparently – but last week they retired the line of tables under the drooping awning until next spring. Inside it is. The decor at La Torricella reminds me of the boardroom at my dad's work in the late 70s: dark wood fittings, drinks cabinet and a feeling of plush functionality. At La Torricella, the narrow front section opens up into a big room divided by pillars; there is a bucolic Roman scene painted on one wall and a large portrait that seems influenced by both Klimt and Barbara Cartland on another. There are double cloths on each table, yellow napkins, a salt-pepper-toothpick set, and glasses with squat stems that are nice to hold.
In his excellent book on Italian culture, Massimo Montanari described the evolution of eating establishments in Italy and Rome in the 19th century, how osteria, trattoria (which he calls urban inns) and family run restaurants were – and still are – extensions of people's homes, serving wine and "simple, traditional food of intense flavour based around local ingredients". In short, good almost-homestyle cooking with the occasional flourish, and with wine by the litre, for a good price.
Years ago I remember reading the advice written by an excellent if intimidating Roman food critic who said not just to ask the locals where they go, but to ask to go with a local and see what they order. Then, if you like the place, build up a relationship – even if it just for a few days. Finding La Torricella was like meeting someone I knew was going to be a good friend, It was the same with the food – good, and unfussy; the sort of thing I want to eat again and again: curls of fried anchovy and golden cod cheeks, fish soup, spaghetti tangled with clams or little octopus, Augusto's bean and chestnut soup, baked fish and sliced potatoes, custardy chestnut ice-cream with squirty cream. We come often, and my son has grown up here, eating spaghetti al pomodoro knowing kids are as welcome as adults, sometimes more so, even if they do put toothpicks up their nose.
There is also a trolley. What is it about a trolley? Is it the anticipation of it being wheeled towards you, rattling with good things? La Torricella's trolley is home to antipasti and side dishes, which vary from day to day and, like the rest of the menu, are mostly – but not exclusively – fish. There is usually a large Pyrex bowl of octopus salad – pink-edged chunks dressed in olive oil with a few thin slices of celery; also possibly a salad of flaked fish, lettuce and prawns; and now that artichokes are back in season, there are always at least two preparations of these – usually alla giudia (trimmed like a tulip then deep-fried until they look like bronze flowers) – and maybe wedges grilled with breadcrumbs. Lately there have also been fishballs, the size of a plump walnut, flecked with parsley and sitting in pool of bright red, rich tomato sauce.
As with Italian meatballs, bread is key in fishballs, not only to make things go further, but for an almost pillowy texture. We were with my partner Vincenzo's parents the day we first ate these, and his mother is a detective, guessing every ingredient and estimating proportions. In my recreation of Augusto's recipe I have suggested a 4:1 ratio of fish to bread, but you could add more bread if you wanted, in which case even more lemon and cheese are worth adding. Almost all white fish would work here, but I particulary like cod and hake. It really is worth making a fresh tomato sauce, letting it simmer until glossy and rich, adding a little sugar to the sauce if it is acidic, then poaching the fishballs in the sauce until plump. Eat with rice, or simply bread, with salad after and about half a litre of house white each.
Polpette di pesce al sugo (fishballs in tomato sauce)
The breadcrumbs are just for moulding, but I love the way they thicken the sauce – but if you can't get hold of very fine crumbs they are not essential. It is not traditional to serve these with pasta – but it is very good. Either the sauce (and then polpette as a second course) or both sauce and polpette with spaghetti.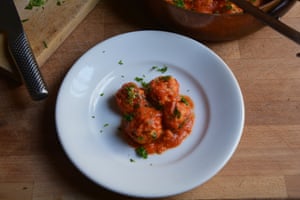 Serves 4
400g skinless fish fillets, such as cod or hake
100g soft white breadcrumbs
1 egg
1 garlic clove, very finely chopped
2 tbsp finely chopped parsley, plus more for finish
1 tbsp grated parmesan (optional)
Zest of 1 unwaxed lemon
Salt and black pepper
Dry breadcrumbs (optional)
For the sauce
1kg ripe tomatoes, or 500g tinned peeled plum tomatoes
Olive oil
1-2 garlic cloves, peeled and crushed
A sprig of basil
1 Chop or mince the fish. In a large bowl, soften the breadcrumbs with the beaten egg and then add the fish, garlic, parsley, parmesan if you are using it, zest, salt and pepper. Then use your hands to bring everything into a soft, consistent mass. If the mixture seems too wet, add a handful of dried breadcrumbs.
2 Scoop out a large teaspoon of the mixture at a time and then shape into a walnut-sized ball, rolling it in dry breadcrumbs if you wish. Once rolled, leave the fishballs to rest.
3 Make the sauce. If you are using fresh tomatoes, peel them by plunging them first in boiling water then in cold water, at which point the skins should slip away. Chop roughly, discarding any tough bits and the seeds if you wish. If you are using tinned tomatoes, use scissors to chop them directly in the tin or pass through a mouli.
4 In a large frying pan, warm 5 tbsp olive oil with the garlic. Once fragrant, add the tomatoes and sprig of basil and simmer for 10 minutes, mashing with a wooden spoon.
5 Now add the fishballs. Simmer for another 25 minutes or so, turning the polpettefrom time to time and adding a little more water if sauce looks too reduced.
6 Once the polpette are cooked through, pull from heat, sprinkle with more finely chopped parsley and serve.
Read more at theguardian.com